Seahawks rookies hit the field for the first day of rookie minicamp on Friday, a practice that, like most rookie camps, featured plenty of energy to go along with the inevitable mistakes that can also happen when a large group of players take the field together for the first time.
But more important than the execution this time of year is the mindset and energy on display, and in that sense, Seahawks coach Pete Carroll loved what he saw on Friday.
"There's a lot of enthusiasm and a lot of juice from these guys," Carroll said. "They're expected to figure that part out, so that when we get in Monday when the rest of the fellas get here, they'll fit right in."
Here are five things we learned from Day 1 of rookie minicamp:
1. Carroll is "really charged about this group."
As has been the case in some past rookie minicamps, the youngsters were eager to impress, so much so that they were on the field 20 minutes earlier than they needed to be. That level of enthusiasm may be a bit over the top, but overall Carroll loves what he has seen from this group, just as he and general manager John Schneider were expecting when they assembled a class of 10 draft picks and 25 undrafted free agents.
"It's a solid group of guys, like we've said from the beginning, the personalities of them," Carroll said. "It feels like there are a number of guys that will have the potential kind of make up to be leaders. You can just feel it. It's a very confident group, not cocky at all—they're ready to work.
"I really am charged about this group, and the whole offseason, there's been a sense that something special is happening. I've felt this before in other years coming off of the year before not quite getting the business taken care of, and you can feel that it's there for us. That why I was so excited to go into the draft with the numbers that we had and the opportunity that we had, and then we feel like we really accomplished a lot there that just adds to it."
2. The Seahawks are being cautious with first-round picks Devon Witherspoon and Jaxson Smith-Njigba.
The Seahawks are expecting first-round picks Devon Witherspoon and Jaxon Smith-Njigba to be big parts of their future, but they didn't have a very big role in Friday's practice, doing only limited work. Carroll explained that the team is just being cautious after both dealt with hamstring injuries in the offseason. Witherspoon was mostly a spectator after doing some early work, while Smith-Njigba took part in some individual drills but not the team portion of practice, spending that time staying close to offensive passing game coordinator/receivers coach Sanjay Lal.
"Both guys had hamstring issues in the offseason, so we just want to make sure we know where they are," Carroll said. "We don't want to go too far, too fast, there's no reason at this point. They can still get all the learning done, there's a lot of walkthrough plays in this process we go through, so they can get the learning and see what's going on. They've been on zoom calls since the draft with our coaches, so they do understand what's going on, now they're putting it together. But we're assessing more than anything to make sure we know where we are."
Smith-Njigba appeared in only three games last season due to a hamstring injury, but he said that the injury is behind him.
"I feel great," he said. "I feel 100 percent, ready to go. I'm happy I'm out here competing."
Said Witherspoon, "Just taking it easy on me. Trying to help get me back to the routine, nothing crazy."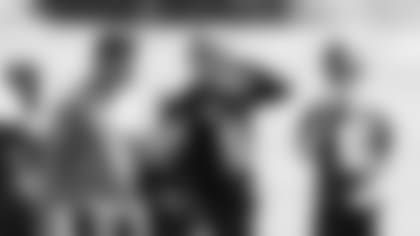 3. Cameron Young reported to minicamp heavier than his listed weight, which is good news for the defense.
The Seahawks had a hole at nose tackle heading into the draft, having released Al Woods, who has since signed with the Jets, and with Bryan Mone recovering from an ACL injury. Poona Ford, who can also play there as well as other positions, also recently signed with the Bills.
One player the Seahawks are hoping can fill that void is Cameron Young, a fourth-round pick out of Mississippi State. And while Young was listed at 304 pounds on Seattle's roster, Carroll noted he reported to minicamp bigger than that, which is what the Seahawks were hoping for.
"He's huge, 320-something," Carroll said. "He looked exactly like what we were hoping to see. We wanted to see a big guy who can play nose tackle for us, and there's no question—we've seen him on film and all that, but you've still got to get around him. He's a big man, he's real bright about the position, he understands it and all. He's going to do fine."
And Young isn't the only rookie who has a chance to contribute at that spot, with the Seahawks also signing a pair of undrafted free agent nose tackles, San Diego State's Jonah Tavai and Florida State's Robert Cooper.
"We're putting together a real competition there," Carroll said. "… The position already looks way better than it did a week ago. We were concerned too. We want to make sure we have guys in here to battle and to push Cam so he's got that fire burning under him too. And we're not done yet, we've still got work to do there."
4. Rookie DE Mike Morris looks the part.
If one player stood out Friday just with his presence, it was fifth-round pick Mike Morris, a 6-foot-6, 295-pound defensive end out of Michigan, whose height and length were hard to miss. Morris has played at different weights and different positions throughout his college career, but the Seahawks like the bigger version of him who can play defensive end in their 3-4 fronts.
"We're looking hard to watch how Mike Morris makes this transition we're putting him through," Carroll said. "Mike came at 290-something. He's 6-6, 290-something, he looks great out there. He's played some defensive line, but not as much as he's going to play now. He's really eager to learn it."
5. Veteran DE Mario Edwards Jr. is expected to sign next week.
Reports surfaced this week that the Seahawks will be signing veteran defensive end Mario Edwards Jr., and while that move hasn't happened yet, Carroll said it is expected to on Monday. Edwards, a 2015 second-round pick, has played 99 games with 32 career starts for five teams, most recently starting seven games and appearing in 13 for the Titans last season. Carroll sees a potential significant role on Seattle's line for the versatile Edwards.
"He has not signed yet, but he'll be in here Monday," Carroll said. "I'm really pumped about this, because I thought I saw something in Mario, a couple months ago when we started free agency, where he could help us. He's got versatility—he's played end, he's stood up, he's been hand in the ground, he's been inside as a three-technique, he's played everywhere along the line—that I really like. He's really quick and he plays really hard. He's got a real good attitude about him. So he'd fit in a lot of ways. So I see him adding to the pass rush for sure, and he'll be competing to be in that first group, the first four guys out there. I've seen him play enough, he can play football. He'll be a big factor for us."
Seahawks rookies made their first impressions with the coaching staff on a beautiful first day of rookie minicamp on May 12, 2023 at the Virginia Mason Athletic Center.