Seattle Seahawks Using Mobile Tickets
Using Your Tickets On Gameday
Follow these steps to access your ticket in the Seahawks Mobile App so you have it ready to scan on gameday.
If you're trying to use tickets someone sent to you, be sure to first follow the instructions in the "Accept Tickets" tutorial.
Need help on gameday? Look for Mobile Coaches around the stadium or visit the Northwest Box Office for assistance.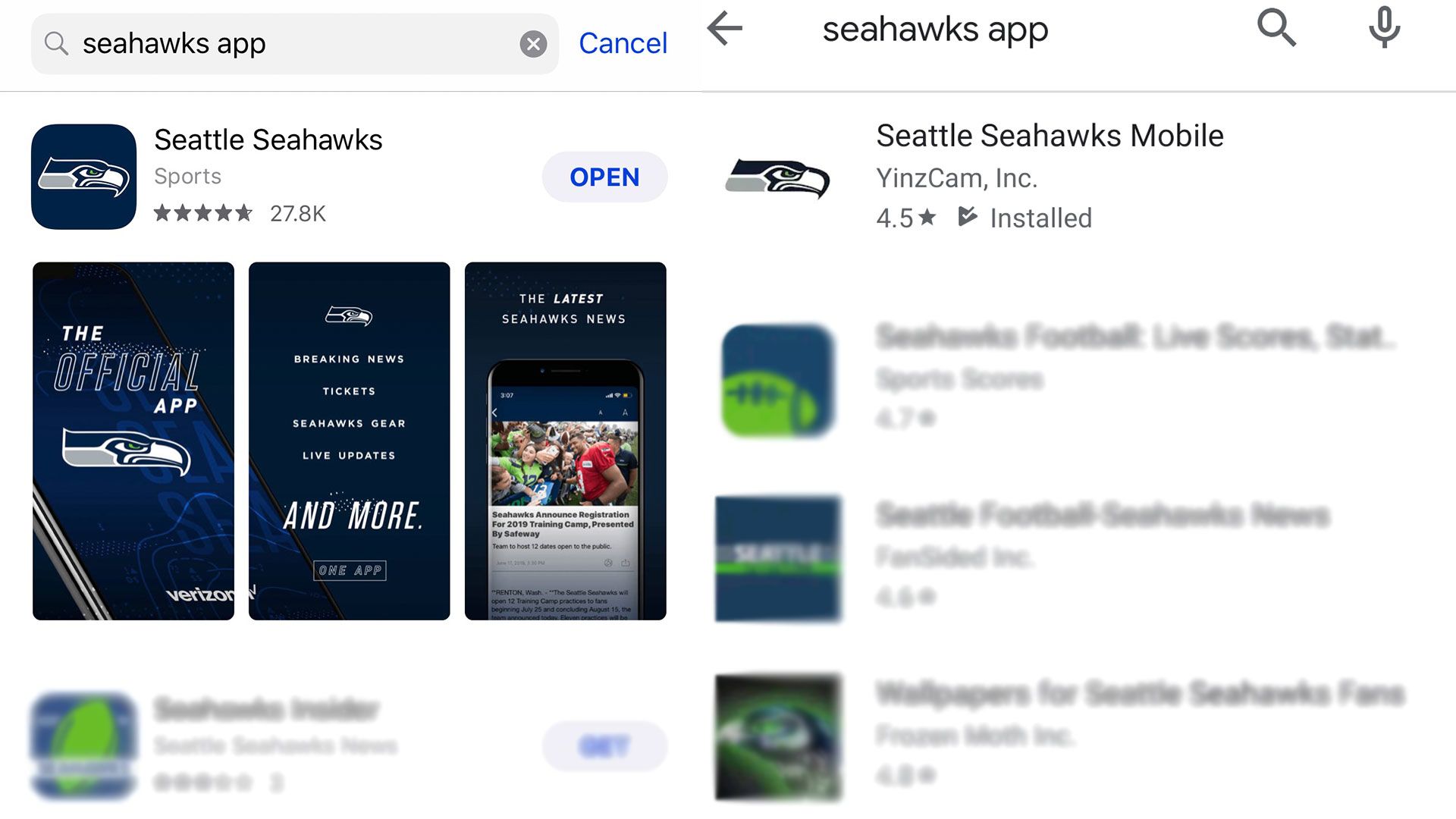 For greatest ease on gameday, manage your tickets through the Seahawks Mobile App, available in your phone's app store.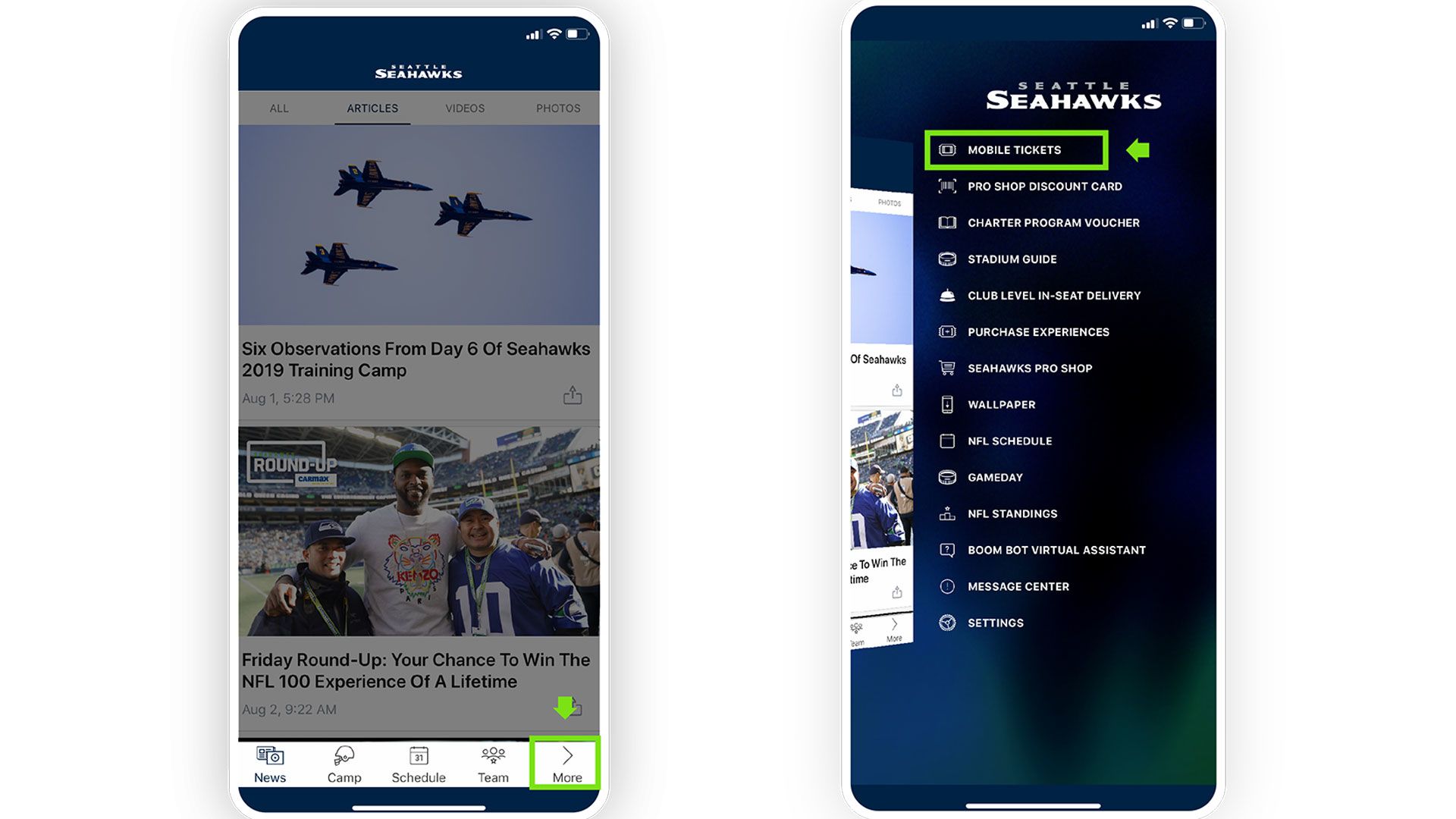 Open the Seahawks Mobile App and select "More" on the lower right of your screen , then "Mobile Tickets" from the main menu.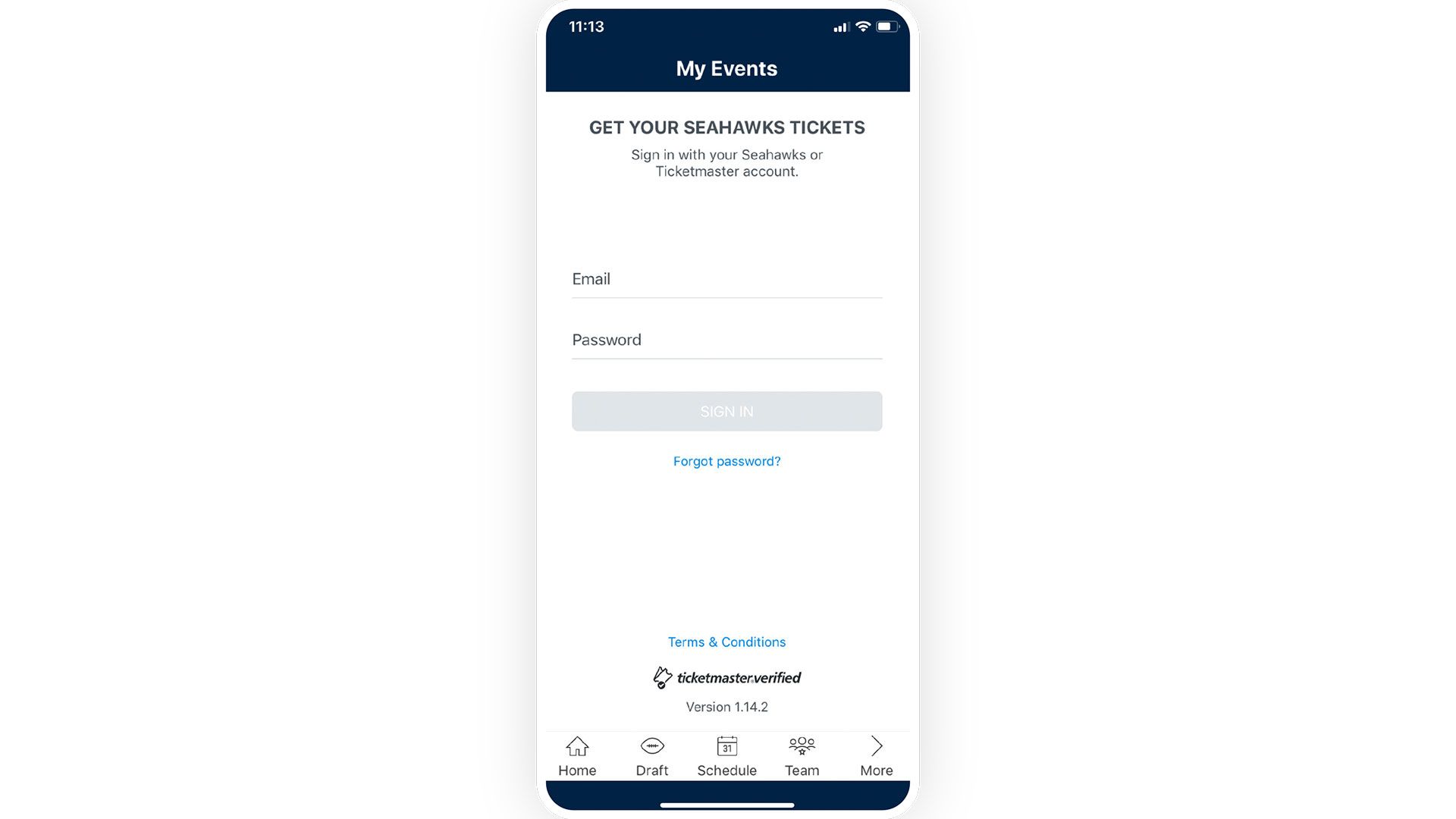 Log into Seahawks Account Manager using the email address and password associated with your Seahawks Account.
Note: This is the email address you used to purchase your ticket or accept a ticket transfer.
When logging in for the first time, you may be prompted to link your Seahawks account with Ticketmaster. Select "No Thanks."
Forgot your password? Select the "Forgot Password" option to reset it. You will receive an email with a link to reset your password. Be patient and check your spam folder if you don't receive the email immediately. Or, call the Seahawks Ticket Office at 888-NFL-HAWK during business hours to get a temporary password.
Once logged in to Seahawks Account Manager, you will see all your games. Select a game to view your mobile ticket.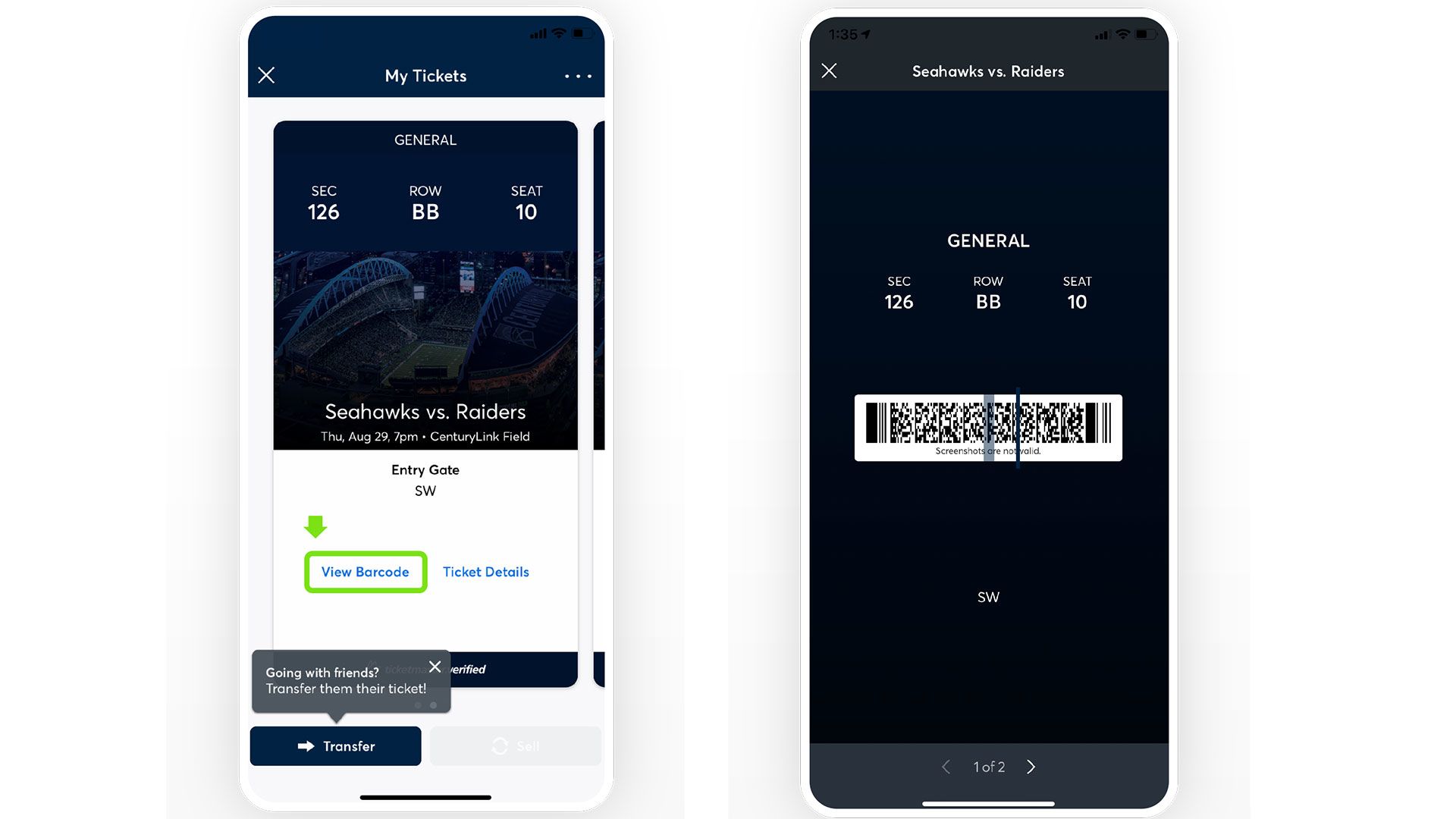 Tap "View Barcode" when you're ready to scan your ticket at the gate. Due to a rotating barcode on your mobile ticket, screenshots and printouts are not valid.
Apple users are encouraged to add your tickets to wallet for easiest access on gameday.
Frequently Asked Questions - Using Your Tickets On Gameday
Q: How do I access my tickets on my smartphone?
A: The first step is to download the Seahawks Mobile App from the iTunes App Store or the Google Play Store. Please follow our "Using Your Tickets On Gameday" tutorial above for full instructions.
Q: How much does the Seahawks Mobile App cost?
A: The Seahawks Mobile App and mobile ticketing are FREE. There are no costs associated with managing your tickets via the Seahawks app or using Account Manager on your smartphone, including accessing tickets for mobile entry, sending tickets or selling tickets online.
Q: Is the Seahawks Mobile App the only way to access mobile tickets on my smartphone?
A: While we recommend the Seahawks Mobile App since it is the cleanest and most user-friendly options, you can also use your mobile web browser to log into Seahawks Account Manager and access your tickets.
Q: Can I use a screenshot of my ticket?
A: No, due to new rotating barcode technology to keep tickets secure, screenshots will not be valid. You must present your mobile ticket on your phone for access into Lumen Field.
Q: What happens if my mobile ticket doesn't scan properly?
A: The first step is to ensure the brightness on your screen is turned to the highest setting. If that doesn't do the trick, our staff is here to help! If you have ANY trouble with your mobile ticket, you can ask one of our Mobile Coaches around the stadium for assistance or come visit us at the Northwest Box Office and speak to a Customer Service Representative. We will always ensure your ticket is valid for entry!
Q: What if I lose connectivity / can't connect to my account at Lumen Field?
A: Lumen Field has WiFi you can connect to throughout the stadium so this issue is extremely rare. We do however encourage you to log in and view your mobile tickets PRIOR to the game. The Seahawks Mobile App includes "offline mode" so once the mobile tickets have been viewed on your Seahawks Account, it caches and can be accessed in the future regardless of internet connectivity.
Q: When should I log in and view my ticket?
A: We recommend that you log in to Seahawks Account Manager on the Seahawks Mobile App at least 24 hours prior to gameday. That way you are prepared prior to arriving at Lumen Field!
Q: Can I have multiple tickets on a single smartphone?
A: Yes! When you view your mobile tickets, swipe to the left to view each ticket you have. You also have the option to send each seat partner their own individual mobile ticket. Please review our "Transferring Your Tickets" tutorial for instructions on how to do that.
Q: What if my entire party isn't with me when I'm ready to enter?
A: You can easily send each member their ticket individually! Please review our "Transferring Your Tickets" tutorial for instructions on how to do that.
Download Today.
Download the Seahawks app today for your iOS or Android device.