Featuring postgame quotes from the following: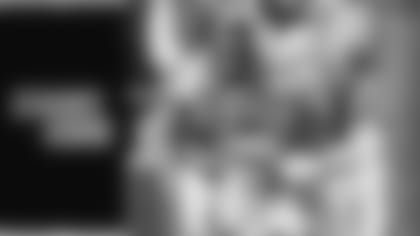 Re-live Each Game With The Seahawks Rewind Podcast
Re-live every Seahawks game this season with game highlights, player and coach postgame interviews, and a whole lot more. Available on Spotify, Apple Podcasts, and wherever else you get your podcasts.
PETE CARROLL: Some young reporters in the back I see. Good. It's really a satisfying win in terms of playing all together, everybody doing their part. With the exception of the punt block, it was really a good ball game for us in a lot of ways. And the balance was there and kind of responding to the situations. We gave up that one, then our offense came right back, went 75 yards and scored and answered those points that went on the board for them. Really happy with the whole group on defense. They've been fighting their tails off to get it done and to try to get to a point where they really feel like they're doing something. And the pass rush came to life today. And the guys were all over the quarterback. So really rewarding in that regard. It's a big deal to get a win today. Everybody in the division is the same, so we're starting all over again. So you could look at it a lot of ways. I'm looking at it like we're in first place and fired up to have -- after we've been through what we've been through to be in that position, feel fortunate. And so Geno had a really solid game today. We didn't protect as well. We held the ball a little bit. But he had a really solid day throwing the football, had some really good stuff and came through for us. I thought Ken Walker showed you how legit he is. He's really a special runner, and he's going to have marvelous, miraculous runs. He's going to shock you with the things he does. He's so laterally gifted and breaking and bursting and all that. I thought that was great today. The other thing that we -- I don't even know what to tell you about our pups, man. To be hawking the football like they are. What an exposition of their makeup, the way they play, their focus on the ball, their ability to make the plays when they're given the opportunities. Really, they're finding those opportunities, both Coby and Tariq. And it's just exciting to watch to and see it. I don't remember feeling like this about a young corner out there that goes week after week after week coming from where he came from and all that and to be this far along and having this much fun and success and all that. It's really fun to watch. And so -- anyway. So I'm just kind of -- I'm surprised that they've been so consistent. I wish we would get a -- if we get a few more guys involved in knocking the ball around and picking them up and all that, we'll be really rolling. So offense did a really good job in not turning the ball over today. That was a huge accomplishment for us. We need to keep going there.
Q. You mentioned the drive after the special teams touchdown to immediately answer. On a day when things might not have been as easy for the offense to get that drive in that moment, how big was that for Geno and them?
PETE CARROLL: I think it was exactly what we needed at the time so that momentum wouldn't swing the other way. Took time off the clock, and it was a dominant drive force. Finished up with a spectacular run Ken made. So, yeah, it was really -- that's the kind of -- playing with continuity and connection to the other side of the ball was really obvious today.
Q. What did you see is the biggest factor to awaken the pass rush?
PETE CARROLL: We were ahead. We were clearly ahead in the game, and they were playing from behind. And that's -- we've been in that situation so many times in our stadium. And that's how it goes. We've seen it like that for years. The pass rush lights up with the help of the crowd. And we get off the ball so well and all of that. And it really makes for a -- the kind of heyday that those guys are looking for. So it wasn't any one guy; it was everybody. We had six sacks by six different guys.
Q. You said magical runs and Ken is going to keep producing things. Is what we saw today exactly what you guys saw when you first caught eyes on him and said we're going to take that guy?
PETE CARROLL: He was this special in college, you know. He had great numbers after contact, big plays, exciting, spectacular runs and all of that. He's hard to tackle. And, again, he's got so much power in his lateral movement. When he gets in and out of breaks on the run on ride -- that was a spectacular run. I don't know how well you guys saw it or not. But it was right in front of us and we saw the way he made guys fall off and drip off and miss him. He almost scored on the play. There's just more of it. And the touchdown run looked easy, the one that he made. Pretty exciting.
Q. Did you think you'd be getting this much this soon from your rookie class?
PETE CARROLL: No. I could never have foreseen that really, honestly. I'd like to say, oh, yeah, I knew that, but I didn't. This is what we hope for. You hope when you draft a guy you can picture what he's going to do. And you hope he's going to fit in and be a factor for us. But I don't know, how many, like six guys or something are playing and starting and doing stuff. I don't know how many it is. But those guys, they're just coming through. Mafe played well again on his edge. So it's better than we expected. It's what we had hoped for. So, you know, we're just getting started. This is just warming them up, you know. So hopefully these guys will continue to grow and be creative and productive and keep giving us the thrills.
Q. The plays that Woolen is making for those interceptions, it doesn't look like there's anything flukey or lucky about those.
PETE CARROLL: No, no. The one last week, he comes back on a comeback. This one was a deep ball they tried to throw over the top of him. He had a couple of those earlier in the year in preseason too that he just wasn't as comfortable with. He's comfortable now. He's feeling it. And so he's capable of -- those aren't hard plays for him to make. He's just in the right place. And he's so dynamic as an athlete, he can get up and get off the ground on the high ball, and you really can't contest him. So it's pretty exciting.
Q. Speaking of Boye Mafe, he seemed to make a couple of really nice plays keeping runs contained on the edges for you guys today. Only 44 yards from their running backs on 17 carries. How big was that to get your defense moving in the right direction?
PETE CARROLL: That was the game plan this week. Those guys had to do a great job on the edge. And you saw why, the way Kyler was running around. He's a dynanmic football player. But the running backs couldn't get it done. And our guys did a great job of keeping them corralled. It was a big week of discipline, understanding what their game was like so that we would be available to make those plays. And really nice job by the defensive coaches to get that across to the guys because we played a little bit different today to take care of that. And the guys really took to the game plan.
Q. Al Woods not being there, obviously, he's a big part of what you do. The way the interior guys stepped up in his absence.
PETE CARROLL: Terrific job. Their running backs averaged 2.5 yards a carry. And it's all of those guys working inside and setting the thing in motion. We made a couple of adjustments this week that worked out great. And I think they're going to pay off as we move forward. And I think Clint did a great job to take a step back and take a look at some things and fix some things up to suit our players and take advantage of what our guys can do. And it worked out. And I know those guys, they'll feel it too. They're going to -- it's going to make a difference as we move ahead.
Q. All the 4th downs -- a lot of key 4th downs, especially kind of early in the game that you guys got stops on.
PETE CARROLL: Yeah. What a huge change. They're almost like turnovers almost. But to rise up and dominate on those plays. You know, we won those plays handedly. And we've seen that from this defense before. When it's on the line, they find their way. And they certainly did that today.
Q. Looking back at the match-up late last season with the Cardinals and then this game as well --
PETE CARROLL: Yeah. We beat these guys here, yeah. About time. I don't know how many games it's been, but that was really nice to get that done. Sorry. That's not what you asked.
Q. The opponent that you're playing against, how important is it against Kyler Murray to get that interior pressure with your defensive line because that seemed to be the recipe that finale last last year as well?
PETE CARROLL: Yeah. We've got to play him again, okay, so I'm not answering that question. Sorry.
Q. Back to Walker real quick. Obviously, you guys are aware of his ability. But were there any questions on whether he could carry the run game as the lead back from start to finish?
PETE CARROLL: No. Johnny thought that from the start that this guy could be the lead back, and thinking that it would be great to have two of those guys on the same team and to help share the load and all of that. Unfortunately, we weren't able to catch up with that yet. So I'm not surprised at all. It was like you give him a chance, he's going to show you this stuff. It was just a matter -- remember, he's had a number of plays in earlier games, he was a little bit out of sorts and a little bit out of whack one way or the other and didn't find his rhythm yet. He's just getting started. He's just getting started. This is the first chance he's had -- he carried the ball 20 times today, 21, something like that. That's a beautiful number for him to get out there. I think he had over 100 yards but we called one back or something like that. But he's the real deal in our eyes. And so -- it's really all that counts right now.
Q. Is this the first time you've played the way you wanted to on both sides?
PETE CARROLL: Yeah, yeah. This is the first game. Not even the first night, you know, the Denver night. It was okay. This was much more in line. We always want to rush the passer here at Lumen, you know. We want to be able to take advantage of the crowd and the noise. It's exactly what happened. That was coming together with the crowd and our guys really being able to recognize the benefits of that. That's happened for years around here. There's been sometimes when we haven't seen it, and that's because we needed to do our part. But today it was live and in color. Beautiful.
Q. Good to get Dee Eskridge going a little bit more?
PETE CARROLL: Yeah. And he did -- he showed up in some nice ways. That's great. You know, he was sick earlier in the week, and he didn't have a full week of preparation. We were a little bit concerned about that. But the last couple of weeks, he's really cleaned things up. He really is on his assignments and all of that. And you can see how dynamic a player he has a chance to be too. We need to just keep going with him.
Q. What did happen on the punt?
PETE CARROLL: We missed a pickup miserably, you know, and -- from what I understand. We haven't -- I haven't seen the look at it yet. I was talking to the coaches about it. We missed something.
Q. Shelby Harris, is he okay?
PETE CARROLL: Yeah. We're very fortunate. We got out of the game really clean.
Q. Austin Blythe too. Looked like he came off.
PETE CARROLL: Yes. Looks like at this point, we don't have anybody on the report.
Q. What can you say about Ryan Neal's play today?
PETE CARROLL: Yeah. I mean, the more he's out there the more he does. He'll tackle better. He got excited on a couple tackles and took a shot, a little bit more anxious than he needed to be. But he's just a good ball player for us. I love him out there and his excitement that he brings and the juice and his aggressiveness. That style really fits us. And I'm glad that he's really showing up.
Q. I know it wasn't easy for you guys on offense, but how nice was it in that 4th quarter to be able to get that responding touchdown and then close things out with a few touchdowns late?
GENO SMITH: It felt like one of those heavy weight fights, man. Division opponent. They know us, we know them. Was going back and forth. Their defense did a great job. But I felt like when we needed it the most, our guys stepped up. We were able to get like a 70, 75 yard drive against a really tough defense, score points, give us the lead. That's what we talk about, complementary football. That's what it's all about, everyone playing together. The defense played spectacular today. And that's what we're going to need moving forward. I think we're doing a pretty good job on offense, but I know we can be better. But it was a overall complete team win today.
Q. How do you think Kenneth handled his start back there next to you?
GENO SMITH: Man, he's explosive. It was one of those runs where he might have gained one yard, but he made like six dudes miss on a run. And that's just how special he is. He can make something out of nothing. And when the line is blocking great and he gets up to the second level, it's going to be hard to get him down. But today he did a great job, was great in protections. And I think he's really coming along.
Q. We're seeing you use your legs a lot more. Do you think that's going to be incorporated more directly into the game plan moving forward?
GENO SMITH: Yeah. You know, sometimes it's just about taking what they're giving you. Their defense did a great job at bracketing DK and Tyler. And they had a great plan. So we had to go to some other guys and they stepped up. Dee Eskridge, Marquise. Noah had a pretty good day. And then myself, you know, being a weapon as well using my legs. So if teams continue to play us that style, which I expect where they're playing off and bracketing off our receivers, then that means there's no one covering me, you know, if I take off and run.
Q. Geno, it's only week six, but you guys are tied for first place right now in the division. Does that mean anything to you right now, particularly when I think most people were sleeping on you guys this year?
GENO SMITH: It means everything. It really does. That's what it's about. We have to win our division first in order to get to the playoffs, which is our goal. And so obviously it's just week six. We've still got a long ways to go. But to be in first place right now is extremely good. We've got to look at that and say, okay, that's a good thing, but we've got further to go. We've got to keep building. I've got to step it up personally. I've got to play better. So I'll get that right. But overall, man, I think we're in a good spot.
Q. You already talked about Kenneth. You've obviously got the rookies starting to tackle, the rookies on defense causing turnovers, that whole class, what's it like seeing all those guys?
GENO SMITH: Man, I said it to Tyler, I was like that rookie class, they didn't miss. Every single one of those guys are studs. They're contributing. And you can see them growing every single week, each one of those guys. And for those guys to be young rookies and to be stepping up the way that they are, I think it speaks volumes to them personally as players and then to the organization and front office and scouts for selecting those guys.
Q. What was sort of the difference -- the drive after they scored and then you guys went right back down the field. What was the difference for you guys on that drive than maybe some of the other drives?
GENO SMITH: I think it started with play calling. Shane did a great job. The first half was kind of funky. We had some different situations, didn't really have the ball a lot in the first half. And so a lot of our calls were still up. So Shane did a great job of getting to the calls. Protection was there. We ran the ball a few times. I think I was able to use my legs a couple times. And, overall, I think the urgency was there. We knew, hey, man, we've been struggling a little bit all game, but here is our time to step up and give us a lead and let our defense go out there and play ball and take momentum back. And I think that's what we did there.
Q. You mentioned getting the ball to guys like Marquise and Dee. On days where teams are making it difficult, how nice is it to have guys like that to throw to?
GENO SMITH: Man, it's extremely nice to have guys like that who are capable -- more than capable. Dee Eskridge and Marquise and Noah, Will Dissly, Colby Parkinson, all those guys are capable, DeeJay Dallas. They can all make plays. And, you know, obviously we have our two lead horses with Tyler and DK. But if teams are going to just take them away and say, hey, you other guys beat us, we have the guys to do that.
Q. You mentioned the rookie class. Focusing on Tariq, too. I mean, as a quarterback seeing what he's able to do on defense, what do you think it would be like to face him? What do you think makes him effective?
GENO SMITH: I faced him in camp. He gave me a couple struggles. And to see him growing and learning the game and playing above the neck, it's scary because he's got all the physical tools and, you know, Coby as well. Those guys are doing a great job at processing and taking in the coaching and the game plans and executing on Sundays. And you see it showing up. And I think those guys will continue to do that.
Q. You said you think maybe you need to step it up a little bit. Was there something you felt you didn't do right today?
GENO SMITH: I just don't think I played my best game today. Hats off to their defense because they played a big part in that. But I have a certain set of standards for myself personally. And not to take away from what we did as a team. We did a great job. And winning is great always in the NFL. But I know I need to be better, and I will be. Thank you, guys.
(On Dee Eskridge) "Whenever we have asked Dee (Eskridge) to step up, he's come in and made plays; whether that's blocking, or you saw today he was catching the ball and getting up field. Hats off to his hard work, and his attention to detail."
(On how Eskridge opens up the offense) "Teams really gameplan for me and Tyler (Lockett) and now they have to worry about the tight ends, and with Ken Walker III running the ball the way he's running it. You can add Dee (Eskridge), Dareke (Young), and Marquise Goodwin in there. We've got weapons all over the field that people have to game plan for."
(On Tariq Woolen's growth) "Just his mentality. I would say his mentality in how he attacks the ball, and how he attacks every day is not rookie-like. Him and Coby Bryant just feed off of each other, and how they practice, is like professionals out there."
(On Ken Walker III) "I mean, 97 yards. He definitely lived up to his potential today. That's something we've seen in practice every day, he was just waiting on his opportunity to really get the ball and really star in our offense."
(On the defense) "We had six sacks, two turnovers on defense. We're going to win a lot of games if they continue to do that. We just have to continue to fight through adversity on offense. You know, when we start sputtering, having to punt the ball two or three times a game, we just have to capitalize when we get in the redzone and get those opportunities."
(On the contribution from the rookie class) "I told Pete (Carroll) congratulations because he did a hell of a job drafting this year. Especially with those two tackles (Abe Lucas and Charles Cross), Coby Bryant, Tariq (Woolen), Ken Walker III, Boye (Mafe). They all come in, keep their head down and just work. You can tell how much they really love the game."
(On getting his first start in the NFL) "It felt good. It was a blessing to be out there with the guys today, it was pretty fun. Give credit to the offensive line for the game, also for the wide receivers. They did their job too, so those guys made it a lot easier to play."
(On how the rookies are making contributions to the team) "A lot of us talked about this in OTAs. Those guys are motivated and want to be great. I feel like that shows on the field with preparation. We also have great vets here to show us the ropes, like Rashaad Penny for me and guys like Quandre Diggs for them. Having those vets is really helpful and it makes it easier for us as well."
(On what his state of mind was coming into the game) "First off, I wanted to play for Rashaad (Penny) because that's somebody that always supported me. Behind closed doors, he always supported me. He was like my biggest fan, and he wanted to see me do well. Nowadays, you don't get that a lot of the time, so I'm very thankful for Rashaad. I hate that he is going through that, but I was just coming out here and was playing for him. Everything that he taught me about reading my keys and everything about running here in the league, made my job a lot easier. He helped me a lot."
(On whether he maybe doesn't even know what he's doing out there sometimes) "I just embrace it because, it's kind of true, but I've just been trying to gain a lot of knowledge about the game. Just situations, and the different little things that go into it that help you better as a player. I feel like I've been doing that from the time I got here until now. I was blessed with the athletic ability, so when those two come together, and you know what you can do, it slows the game down a lot for you, and it's been slowing down week after week."
(On whether he is surprised that teams are still trying to beat him with the deep ball) "I was kind of surprised, because throughout the whole game, it was a quiet game. Is a pass going to come? Then, I lined up against the tight end in the situation we were in at the end of the game, and I was playing off, and I thought I would get some action. On the play where I got the interception, I had seen that Kyler Murray and Marquise Brown did a signal, or something like that, and just knowing who Marquise Brown is, and the situation it was, he's going to have to go deep, so I just made sure I stayed on top the whole route and I just made a play on the ball."
(On getting four interceptions in four straight games, after having only two interceptions in college) "It's crazy. I remember in college, my first interception, I had a broken arm. I had a whole cast and a club on. I thought, I like this feeling, I want to do it a lot more. In college, teams really didn't try me as much, but also I didn't really have as much confidence as I do now in myself. When I got the second one, I had both hands. One thing I wanted to make sure, is just to get the ball. I feel like in the NFL, it's about getting that ball out and getting it to the offense. That's one thing I've been trying to do, is to give the offense as many opportunities to score as they can."
(On whether he has heard from Richard Sherman after this game) "Just through Twitter. He always comes up to the facility, and I try to keep in touch as much as possible with a guy like that. I'm pretty sure when I go fix my phone after this, I'll see something."
(On the type of advice he's received from Richard Sherman) "He said to not care what people say, but to go out there and be you. Just go out there and trust in what you do. Just trust in your coaches and if guys make a play, then just move on to the next play."
(On the win today) "We kind of came out with a purpose and understood what the mission was. It was dope. The D-line, the linebackers, the secondary, everybody played really well. We still have some stuff we can clean up and get better, but at the end of the day, you hold a team to three points; their only score on us was the first drive when we're trying to get settled down. Great effort from coaches and everything. So, dope day."
(On the play of Al Woods and the defensive line) "Those guys know, when Big Al is down, things are definitely different. It was definitely a group effort. Mone came in and played a hell of a game, and Shelby and Q-Jeff and Poona. Just letting those guys attack and just be who they are was just super dope to watch."
(On whether the communication came together better today) "I just think when everybody's locked in and everybody knows what's going on, and you're seeing things, and you kind of get settled down. The coaches were able to let us settle down after that first drive, where those guys are going fast, and we get calls in quickly. We just play what we play, but just being able to see different formations and seeing things like that, which was really cool. Guys are bringing the defense to life, and it's cool when everybody's out there talking. When everybody's talking and everybody sees some, that's what makes the game fun to me. The running, hitting, interceptions, all that's cool, but the intellectual part of the game is what I love to see everybody on the same page about, because that's what slows the game down for everybody."
(On the key stopping them on fourth down) "Just keeping him in the pocket, putting our hands up, pressure in the pocket and just keeping everything in. When you get Kyler boxed in a little bit, it makes it harder. He's a great player; don't get it twisted. The D-line did a heck of a job."
(On watching the rookie cornerbacks) "It's special. It's like seeing your little brother shine. For me, those are really like my little brothers. I've been super excited about both of them since the jump. Seeing them go out there and make the plays and bring that to life, you can just watch it I have a front-row seat, I'm in the back just trying to patrol, which I'm happy about being in the back, being able to see those guys. Just letting those things go. Those guys are getting after it, and they have to continue doing it. We have 17 games. We're only in Week 6. When the turnovers come, they come in bunches."
(On the plays that Tariq Woolen is making on the ball) "I don't understand why you would try a 6'4" corner who runs a 4.2 on a go ball. It's like, even if you try to throw a perfect ball, he's going to be right there because he's so tall, his arms are so long. He's phenomenal. He's learning the game each and every week, and I don't even think he understands what he's doing right now. You just see him, and all he does is give a thumbs up. He's just oblivious to what's going on. I'm super proud of him, him and Coby. Coby is one of those feisty guys, anyways. I try to tell him something that he doesn't like, he gets an attitude with me. But, I still let him know I'm the big brother. But, it's cool. I'm excited about those guy's growth."
(On Kenneth Walker showing what he can do) "You all saw what he was doing in training camp before he got hurt. I've been super high on K-9; I remember watching him at Michigan State last year. Hell, he carried Michigan State last year. You see how those guys are looking this year. You see him, you see the things that he does, each and every day the way he brings that mindset to practice. He's just getting started. It's going to be dope to see. That rookie class is really, really special."
(On 6.0 sacks today) "We stopped the run, that's really what it was. The last four or five weeks, we've had trouble stopping the run, and that's what the game plan was going into this game: 'Stop the run so we can have some fun.' We did that, and guys were able to fly all over the field and get after Kyler Murray. Keeping him in the pocket was going to be a big deal in this game, and we were able to do that. Not one, not two, not three, not four, but six different guys got a sack, which is huge."
(On how important it is to get interior pressure and keep Murray bottled up) "It's very important. You know Kyler is on the shorter side of the quarterback scale, so if you get pressure right up in his face, it's hard for him to see, it's hard for him to make those throws. That was really important, so shout out to Q, and Shelby and Myles and Poona and Mone for getting that pressure up the middle. It helped me and D.T. get on the edge, and work the edges a lot. We all worked as one unit out there."
(On seeing the rookie cornerbacks produce turnovers every week) "It's amazing. They're both 4-for-4. Four forced fumbles by Coby, Four picks by Tariq. They're outstanding rookies. Credit to the GM and the owner for hitting on the draft class with those two guys, and we're going to need them, going down this long season."
(On the key to stopping their running game) "We knew we had to contain Kyler Murray. His legs, he's fast. You have to have eyes on him at all cost. We knew they were going to try to get the ball on the perimeter, so it might be a perimeter game. If we stop the perimeter, then we can handle their interior run. We thought their O-line wasn't as strong, so we knew we could get after them up front. That's what we were able to do."
(On keeping Murray under control after his early big run) "Just missed tackling. There was the one where he had the 30-yard scramble, where he kind of juked me. Just missed tackling. We have to run our feet on those extra tackles, continue to finish. Next time we'll get him."
CB Coby Bryant
(On the defense not giving up any touchdowns) "It was us working together and being on the same page this week. We honed in on the details this week and like I said, it was just us being together."
(On the defense sacking Kyler Murray six times) "Without the boys, in the backend, we can't do our job, so it all starts with them. I'm greatly appreciative of those guys."
(On if teams will stop throwing to Tariq Woolen after intercepting his fourth pass of the season) "That boy is a baller, I'm happy for him."
(On forcing a fumble that was recovered by Tariq Woolen) "At this point, it's all God. It has always been all God, but at this point, it is meant to be for us to play together. I have a great time playing with him, and not just him, but the whole team. It's fun each week seeing him right there with me. It's just crazy how the ball keeps ending up in his hands."
TE Noah Fant
(On the way the offense was spreading the ball around) "Like you said, we spread the ball around a little bit and was able to get some points on the board. We felt like we missed some opportunities down in the redzone early on, but there is always room for improvement. I'm glad we were able to come out of this one with a win. Obviously, the defense played a really good game by not letting them score and taking the ball away from them. It was a good all-around team game."
(On if this game was about grinding out a victory) "Yeah, definitely. I think it is really important to get back to .500 and build the morale of the team. Obviously, 2-4 is a lot different from 3-3, so it's a good thing and it is definitely a win that we can build off of."
(On Geno Smith using his running ability more frequently) "He's been playing his butt off, there is no other way to put it. He's been scrambling around, making the right reads, and getting the ball where it needs to be. There is not much I can say, he's been doing what he's supposed to do, and he has been doing it at a really high level. That's been really cool to see."
T Abraham Lucas
(On today's win) "A win is a win regardless. I don't really pay attention on how we did it. Obviously you want to do it the best you can, but it's nice to run the ball for sure. Some wins require more running, some require more passing, some require both. It's good to get this win."
(On the chemistry between him and Kenneth Walker) "I think a part of being a professional is being able to come in and perform and trusting the guys around you. Hypothetically if someone were to get shifted to another place for that week, you have to go and trust the guy next to you and get it done."
(On how this win builds confidence) "Yeah, we could play better offensively. Even with myself, just thinking about what happened in this game and some of the mistakes that were made. I don't want that to happen, people say 'oh, you're a rookie.' It's all about being as perfect as possible, taking what we can from this game and learning from it."
DE Shelby Harris
(On the team's production) "My teammates. Everybody out there was doing what they're supposed to do. Everybody in here stepped up to the bell and made sure that we treated this game like our Super Bowl. Every game is very important, and those divisional games mean a little bit more because at the end of the year those come back and with how close everything is, you want to make sure we get those division games. I love the tone that everybody had going into this. Offense, defense, it was a true, full team win."
(On containing Kyler Murray) "You're seeing all of the work that we put in, in practice finally starting to come out. Seeing guys get the rush, when we get the lead like this at the end of games, you get the rush. D-line gets to have some fun. Obviously, you look around the locker room and everyone is always happier after a win. You're not as sore after a win. Always remember this feeling, and go replicate this next week."
(On the coverage from Tariq Woolen and Coby Bryant) "Rush and coverage really work together. Shout out to the young guys, the way they step up, the way they make plays. They're not playing like rookies. I don't think anyone would say they're playing like rookies. Riq (Tariq Woolen) just set a Seahawks' record I'm pretty sure with consecutive games with interceptions. They're stepping up, and they're not playing like rookies. Everybody is doing their part and this is what you see. At the end of the day, you look at the defensive outings the last couple of weeks and they haven't been what we wanted. We came out here with a real focus on it and this is what you see today. No touchdowns on the defense, and it's a step in the right direction."
S Ryan Neal
(On the rookies making an impact on the team) "I think about 27 (Tariq Woolen), 8 (Coby Bryant), 35 (Joey Blount), and 9 (Kenneth Walker III), that's a special group of people. Fifty-three (Boye Mafe), that's a special class. They do it week-in and week-out, they just keep getting that dang ball. You see it, they are the future. That's all that I can say, they are the future, so it's exciting as hell to play with them."
(On the play of the defensive front today) "I mean, they knew what we were asking of them, and they knew it was going to be a tough battle. They knew the matchup, Kyler (Murray) is one of the best at it, running around and they knew that they had to get their stuff together this week. They've been playing like that in practice all week. The scout team quarterbacks, Drew (Lock), and the rest of them have been doing a great job. We threw DeeJay Dallas back there one time and he was running around, so they've been chasing them all week and it came to fruition today. It's a good thing to see come to life."
(On what he saw on the play where he got a sack) "Shoot man, we had a little something going. It opened up like the Red Sea, so go get them, you know what I mean? It opened up, he stepped up, and I just made the play at that point. It was just a good call."
The Seahawks face the Arizona Cardinals at Lumen Field for Week 6 of the season on October 16, 2022. Game action photos are presented by Washington's Lottery.