Good morning, 12s. Here's a look at what's out there today — Tuesday, January 11 — about your Seattle Seahawks. 
Seahawks Receive High Marks In Bob Condotta's Week 18 Report Card
The Seahawks played one of their most well-rounded games as a team in Sunday's 38-30 win over the Cardinals. The offense dominated, generating a season-high 431 yards and five touchdowns between Russell Wilson (three passing, one rushing) and Rashaad Penny (one rushing), and the defense consistently made plays behind stellar individual performances by the likes of Carlos Dunlap II (2.0 sacks), Poona Ford (1.5 sacks), Jordyn Brooks (20 tackles), and more. 
Starting with Wilson, Condotta noted that the quarterback played more like his old self than we'd seen for most of the year: "Wilson had two uncharacteristically bad plays that led to 14 Arizona points, and to his credit, he took full blame afterward," Condotta said. "But he also threw for three TDs and ran the ball tough a few times — more assertively than it feels like we've seen this season. He also finished the year with a 25-6 touchdown-to-interception ratio and a 103.1 passer rating that is better than his career rating of 101.8. The rumors of Wilson's demise might have been a little overstated. Grade: B." 
Tyler Lockett continued his run of dominance at State Farm Stadium and was the recipient of two of Wilson's touchdown passes in the first half. He led the Seahawks receiving corps to an A in Condotta's report card: "After a quiet last two weeks, Tyler Lockett again had a big game in a stadium where he has often had them, with five receptions on five targets for 98 yards and two touchdowns," Condotta said. "Lockett finished with 27 fewer receptions than a year ago — 73 — but with a career high 1,175 yards and an average of 16.1 per reception. DK Metcalf, continuing to battle a foot injury, had five catches on 11 targets for 58 yards. And Freddie Swain again just found himself wide open for a 25-yard TD … Grade: A." 
In his last three road games against the Cardinals, Lockett has 24 catches for 349 yards and five touchdowns. 
The Seahawks' defensive line turned in arguably its best performance of the season, with numerous players making an impact throughout the game. Condotta gave that group an A in his report card as well: "Here's maybe all you need to know — Seattle had a season-high five sacks, all from the defensive line. Carlos Dunlap, continuing his second half renaissance, had two while Poona Ford had 1.5, Kerry Hyder one and Darrell Taylor 0.5. Dunlap finished with 8.5 sacks to lead the team. Taylor and Rasheem Green had 6.5 each. And while the Seahawks were without Al Woods, who was on the COVID-19 list, the Seahawks held the Cardinals to just 38 yards rushing on 12 carries in the first half to set a tone for the game. Grade: A."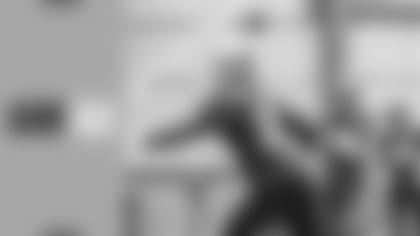 Listen To The Hawk Talk Podcast
Every week, Michael Bumpus and Nasser Kyobe release two podcasts analyzing the Seahawks previous game and previewing the next Seahawks opponent. Available on Spotify, Apple Podcasts, and wherever else you get your podcasts.
Social Post Of The Day
Despite having a losing record, the Seahawks finished the season in the top 10 in team DVOA ratings over the season: