Recapping The 2021 NFL Draft
Head Coach Pete Carroll & General Manager John Schneider
Schneider: "Thank you guys for doing this. We're not picking any more, so we wanted to be ready to get back up there and start being able to recruit as soon as the draft was over. So, I appreciate you adjusting your schedules for us. It was an amazing day. We traded all over the place and took two players.  Really excited about both players, obviously. We're not going to come out—after surgery, you don't get many doctors say, and we've talked about this before, well, the surgery was just OK. We feel really excited about what we did. We're really excited about Tre, excited about his competitiveness. The guy's just got a fire to him that's just off the chain. That's what all the cool kids say I guess, off the chain."
Carroll: "Four or five years ago, John."
Schneider: "I know. I apologize. Then, Stone. It seemed like forever we waited for Stone, we tried trading up forever to get him. Monster of a man, all business. Pretty quiet. Not lot a real vocal guy, but just a real professional that is a two-year starter at Florida. Big man. Super long arms. Hard for people to run the hop on him. The guy runs the track especially well with our new offense. We can see him as a big person out there running, getting outside. Just really excited, proud of everybody upstairs and what they did. Coaches, personnel guys, it was a very productive draft, and now we're getting ready to start the second phase of it."
On the value of playing against top competition, like Tre Brown:
Schneider: "I think you said it perfectly. The landscape is what it is. I'm sure Tre Brown would love to be 6 foot 2, and if he was 6 foot 2 he would be picked in the Top 10, right? You can see him every weekend running all over the place in the Big 12 with all these receivers and all the speed that's out there and competing his tail off. Yes, we would love to have big corners and all that, and we did, remember, when we got here. But, you have to adjust to the times, too, and there is only a certain amount of players that you can pick from. And more about the person, as we talked about last night. This guy's a true competitor. He's on the upswing, he's overcome a lot. Tulsa guy, he's got a confidence about him and a competitiveness that we love and we treasure."
Carroll: "Stone was a guy that because of his uniqueness, he's really a unique player. I mean how many times have I said that to you guys, we're always looking for traits and he really brings a great level of potential in what he brings. He's played a lot of football. He's had over 1000 pass rushes against him in the SEC, his numbers are really good. His stats are really good in pass protection. He can come off the football, he runs pretty well. He runs well for a big guy. So, he moves all right. We just have to get him where he's coming off the football the way we want to. That means he has front side blocks where he has to reach really flashy athletes and he also has to cut off big defensive tackles when the ball's going away. He's shown the ability to do that, so we're not worried about his foot quickness in that regard. We got to get him to play good and low, and that's always the question with guys. He's 6'8". Guys are going to try to get up underneath him. But, he has seen that against the best. We got to watch him against the best that the SEC had to offer in the last couple of years, and we felt really good about the potential for him to be a really good player for a long period of time, so we're excited about that."
Schneider: "Yeah, Hutch went down to work him out. Steve Hutchinson and Alonzo Highsmith were at the workout and Hutch spent a ton of time with him. He's not a real outspoken individual, he's just a real quiet, like, confident, calm guy. He doesn't come off like a, you know; he's kind of professional. He just kind of shows up every day, he's there, trying to get better."
Carroll: "Coaches count on him, great rapport."
Schneider: "So, it's pretty cool to have Hutch spend as much time with him as he did. And, obviously Aaron Hineline and those guys really had him nailed as a person. He's not going to be cruising around with his shirt rolled up and stuff like that, I guess."
On where they plan to play Tre Brown:
Carroll: "He's a corner. He's going to play outside and start there, and we're going to see what he brings to the competition. He played outside throughout his years. Hasn't played inside as a featured nickel guy, but we know that he would have the ability to do that. The one-on-ones in the Senior Bowl were really indicative of his ability to stick to people. He went against really good receivers, really good one-on-one opportunities, and whether he is playing inside or outside, he's going to do fine. We're thinking of him as a corner to play outside. We didn't draft him as a nickel, if that's what you're asking. We did not."
On whether they could move other DBs to outside:
Carroll: "You've already seen us. We've played with the tallest, longest guys you could play, and we've played with guys at the other end of the spectrum. D.J. showed really well. D.J.'s not the tallest guy in the world, but he's a heck of a football player and he showed that he could find his way to get through it. Tre plays with great aggressiveness and attack and he's always after the football. Very much like D.J. plays, so we'll see how that works. Remember that we also, in free agency, we signed a guy who's 6'3". And Tre [Flowers] is over there 6'3" as well. We haven't given up on any of our thoughts. We're trying to find the guys that bring something special, that can play the game. They don't have to be all the same. That's just the way it is. We're excited about this guy, he's a special teamer as well. He gets after it in the running game, he's a good tackler. He's a well rounded player."
Carroll: "We are pleased with where we are, and in particular with the depth and the competition, too. It's not just the guys who start. Gabe's going to play on the right side and D-Lew will be on the left side, bringing Ethan back for a second year as a potential starter. The confidence he'll gain from that will really help him. Like I've been saying, Kyle's going to be competing with him all along, as well. Simmons did a nice job for us last year, Jordan did some good things when he played. That gives us good depth there. Phil Haynes looks to be through his injury issues and will come into camp ready to roll and compete, too. And Cedric Ogbuehi, this is a guy that really has the potential to be a big time football player. He's going to get a great chance to go with Brandon out there at the right tackle spot and compete to the finish to see who wins the job. And knowing that he can also play the other side if we need him to, as he did last year. We feel really good about the depth of it and the experience. As always, you like these guys to get a good feel for one another, play together and communicate really well, and that really comes to the center spot and we'll get great leadership from Duane. I think it's an excellent position for us."
On how different this draft felt with only three picks:
Schneider: "It really did. Unique is the word we keep using, right? It was just very interesting to watch everybody work their way through this draft, and to talk to other teams, and how they viewed things and how they felt about their team. As we spoke on our pre-draft press conference a couple of days ago, same thing, we're going to be approaching this now like, ok, who's going to be letting go after the draft, what does that look like. The different phases of free agency. It was definitely an odd year. There are still a bunch of free agents, not free agents but for us free agents, rookie free agents that we're really interested in."
On Tre Brown's contributions to special teams:
Carroll:  "He's a one-speed guy. He goes all out, and he really does throw his body around, and it shows up on special teams when he gets his ops. He came across, we heard his interview as well, he came across with the confidence and the cockiness that is necessary quite often in the makeup of the guys that play out there, and he's not going to be wowed by any of it. I'm sure there will be guys ready for the challenge in camp when we get rolling, and one of them wears number 14. He don't care who it is, he's going to want to go against him and make it a battle. DK will look forward to it. That's what we need to find your best. We need the competitiveness, and that's why the kid really fits. We think we can really be in a very fortunate situation with him in the competition right now."
On trading up to get Stone Forsythe:
Schneider: "Just from an ammunition standpoint, being able to work your way up, I think it was in the early 190s where we felt like we had enough to go try. Then from there we just started the whole time. There was a situation where we could have gone back even further after we worked with Tampa, to see if we could get Tre a little bit later, which we just decided that was not the thing to do, we needed to just pick Tre. But, with the thought of acquiring another pick to try to get up to go get Stone. So, I want to say it was in the 190s that we tried, and then it literally seemed like two hours." 
Carroll: "Yeah, it seemed like forever." 
Schneider: "It seemed like forever. You know, that's what's fun and entertaining about the draft, right? Everybody sees things differently. I would think that if you want to nitpick, you got offensive line coaches that are gritty and tough and they want the guy that has a big old chew in and stuff like that, maybe, I don't know. I'm guessing. But, he's just a real buttoned-up individual. He's not a guy that's like not not tough, but just from a personality standpoint, he's just kind of quiet. Hutch talked about this a lot, playing next to Walter. Walter was never a guy—I'm not comparing him to Walter Jones, so don't do that, OK? But, you guys have been around Walter, he's just a real easy, laid-back, quiet guy. I remember when he was coming out of Florida State, he was only there for a minute. He was a one-and-done guy, people were very concerned about the personality because he was just such a nice, easy-going dude that was really quiet. He did a pretty dog-gone good job, right? Maybe that's the only reason I could think of."
On comparing Forsythe's run blocking to his pass blocking:
Schneider: "Exactly, it's hard to tell. The first game I ever saw him play was against Georgia, that defense is pretty good, right? Here he is out there these guys that are big time draft picks, some older guys, younger guys; he didn't flinch. Georgia was probably his most impressive game."
On what Steve Hutchinson added to the evaluation process for Stone Forsythe:
Schneider: "We're really blessed to have Steve working with us. He focuses on the offensive line, he gives a really fresh opinion on guys. We try to get him out as much as we possibly can to spend time with guys, taking them out for a cup of coffee or dinner or whatever and talking to offensive line coaches. Being able to really put his hands on them in the spring, he's a very, very clear thinking individual. He knows what he likes. He knows what it takes. I was blessed to be around him when we drafted him in 2000. He's just a blast to be around. He knows exactly how to communicate his thoughts. Pete and I were talking about it earlier today, he can go through everybody. I don't know who was more nervous there for awhile, Pete or Hutch. I was like you guys need to stop walking around in front of the table. They were making me dizzy."
On how they feel about their depth at linebacker after the draft:
Carroll: "We have a group of linebackers that we can really count on. We like our guys and how they play. We realize that we have flexibility there too. It is a competitive opportunity for young guys to come in and try to get on this team and be part of it, be part of the special teams and all that. Guys that are getting some opportunities right now as soon as we get off the call here, we'll be looking for a chance. We don't have a lot of depth, but we have really quality guys playing at the spot."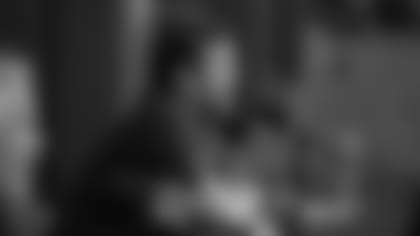 On if they'd want to bring in a veteran cornerback like Richard Sherman since they've had discussions with him:
Carroll: "We're always open. I've talked to Sherm quite a few times over the offseason. We have stayed in contact. He's out there and I know he's thinking about it. He's looking for an opportunity. I saw where he said there's three or four teams that he's considering. We'll see what happens but he's been a great player and he's still got some ball left in him I'm sure. At this point, we're going to clear through this day and figure out what happens with the [rookies] coming up and we'll see where it sits later on. Schneider: I think Pete said this publicly and we both feel this way, we'll both be supporting Sherm in some form or fashion. He's always going to be a Seahawk."
On if seeing D.J. Reed playing outside corner last season made it easier for them to project Tre Brown out there as well:
Carroll: "Not necessarily because I've coached a lot of guys over the years, all different kinds of sizes and shapes and all of that. Almost it could go the other way. Do you want two guys that are both 5'9" out there playing? You could think of it that way because we went through those conversations. Each guy is on his own side doing his own thing, playing his style and we're going to try and draw out the best that they have. We've had guys that have been All Pro guys that were 6'2" and we've had guys in my years in the past that were under six feet tall. It just depends on the kid and the style of player. We don't close the book on guys. We're looking for the ways that they offer their style of play and try to figure out if it fits. If it works, it works. But I would say that the fact that D.J. did such a nice job, it gave us a little bit more of a mold of guys. If a guy is a smaller guy, what is his style of play like? And what does it take to be a smaller guy that can be successful? One of the criteria that we've talked about in the offseason is they have to have this mentality about them that they go for it, they're aggressive and they make plays almost because they can, because of the way they are athletically and to make sure we have an open appreciation for the kind of player. I think D.J., just like Russell [Wilson] helped some other quarterbacks, D.J. will help some other cornerbacks. I don't think that that's a wrong statement. We're still going to look at these guys individually and see what they've got. I can't wait. We've got some real competition now coming up that's going to be really important to us moving forward."
On if the style of cornerback play changes with a smaller player:
Carroll: "Not necessarily. It depends on the matchups. And it also depends on the player. Some guys are better playing off, some guys are better working off the line of scrimmage. And some guys are better just planting down there and laying right at the line of scrimmage and start from there. It depends. I've been coaching guys for so long at this spot, you have to be open to their style. We have to kind of find that out with the new guys that come in. We had to do that with D.J. How much would he be on the line of scrimmage, how much would we mix and all of that. It's individual assessment that we make. Forever we've been doing that. And some guys you just want there forever and you don't want them off the line of scrimmage. It just depends."
On how they feel about the roster looking at it from a big picture standpoint and if they'll be adding veteran players after this:
Carroll: "I thought this offseason was really successful at situating the roster where we felt good going into the draft. Part of the draft, and John was helping me be prepared mentally for this all along, without the normal volume of picks, we needed to make our moves and make our decisions early to make sure the roster was situated well. We made it through that offseason and came to the point where we felt like we had guys at every spot and we didn't have any holes going in. We didn't have any glaring needs. We had concerns and issues for depth and competition and all that. We have firepower, we have big plays, we have pass rush now, we've got the leadership and we have depth and competitive depth which always helps you bring out the best in guys. We're situated very well right now. If the new guys and a couple of the free agents have a shot can come in here and make a spark and add something to us and give us a little flash or something on special teams or whatever they can bring, we're going to be a very, very competitive team. I have no hesitation in saying that. I'm excited about that. The last part of this is we're never going to pass up an opportunity to be involved and competitively involve is in everything. John does an incredible job. There's nobody that done it better than John over all of these years to continue to take advantage of every opportunity that comes along. There will be one after whatever the fallout that occurs as guys put their rosters together. We'll be sitting there right on the fence ready to jump. Hopefully we'll see a couple things that might help us out. But we'll be ready for it. We won't miss that opportunity, for sure."
On where they see Marquise Blair fitting once he's healthy:
Carroll: "Marquise is doing great. He's ready to get back to working. He should be in great shape, ready to compete. I think you asked about his versatility. He can play both safety spots and he does play in the slot nickel. We started the season with him and we were really with great anticipation on what we could do with him there in terms of the pressure he could bring off the edge, the tackles he can make as well as the disruptive type of coverage style. He has a unique coverage style that he plays on the slot there when he does. We're wide open with whatever he brings. We're really looking forward to it, even more so once we acquired Jamal [Adams] and we saw what Marquise could do and we had those guys on both sides of the nickel package. With great excitement, we went into the season and unfortunately, Marquise got hurt. Ugo [Amadi] plays they same spot. He has a totally different way of playing the game. He has his own flair and playmaking ability and can take a shot. Kind of like as D.J. does in that kind of mold that we're creating here. That gives us really great flexibility because you can see Ugo play in the back end at safety, both spots, as well."
On if Darrell Taylor could play strongside linebacker:
Carroll: "Darrell Taylor does give us some flexibility. We saw him in college play on the edge quite a bit where he did some drop and he was in coverage. We have that as part of what we're counting on as he comes to us and we get him out there on the field and kind of fit him in. But we do still have to kind of uncover some of that because we have not had a real chance to really get the work that we need to make those assessments. But very versatile football player and we're wide open to whatever he can do."
On how Stone Forsythe's athleticism fits into Shane Waldron's offense:
Carroll: "We've seen him move, he runs well. For a big man, he runs well. He can block on the perimeter, we've seen him get out and stay on his feet. He's not on the ground much at all for a big guy. He's got good coordination and all that and like I said, he does run well. You wouldn't think a guy that tall would be as fast as he is. But I don't think that there's going to be any restriction. The benefit that Stone has is he can learn from one of the best players in the league in Duane Brown. He's going to be able to study with him and work with him. Duane will take him under his wing, I know it. He'll teach him all the ins and outs of this position, as well as demonstrate what it is to be an effective perimeter run blocker. Duane's been famous for that stuff for us. This will be a really competitive opportunity for Stone, but the big part of the competition is he has this great example right there in front of him to show him how to play the game. This should work out really well."
On when the relationship with Richard Sherman was mended to the point where he could come back and play for Seattle again:
Carroll: "To me, it was never not like that. I think that's something that gets read into more so. Sherm and I have always shared thoughts about stuff. We go through the different cycles of things that have happened in the league and what's going on in our country at times. We have stayed in touch for a long time. I don't think that should surprise you because just think about all of the guys that have left here that have done so much for this program and in our area and all of that, and whether they're still playing or they're not playing, we've maintained really significant relationships. And Sherm's one of them. I've always thought of Sherm as he can be the leader of this NFLPA thing someday and run the whole thing. He's got so much potential to do so much. I don't want to limit him that way. There's nothing that Richard can't do. Fortunately, we've had a really good relationship and it's been fun to follow him. I give him crap whenever I can about games we're playing or whatever's happening. And he'll turn around and do the same things with me. I don't know what that means other than I'm really proud of the relationship that we've had, particularly all the things that we've done together as well as when he's left here too. We'll see what happens."
On how realistic it is that Richard Sherman returns:
Carroll: "I'm just going along with the conversation right now. That's not one of our thoughts right now that we're going out and getting another guy at this spot. But we're going to keep looking. We're not going to stop looking. We're going to compete. In that sense, I leave everything open and that's just one of them. Go ahead and do whatever you want with it, but that's where it is."
Schneider: "It wasn't as bad as everyone thought it was when he left. I was literally talking to him 10 minutes before he went and agreed with the San Francisco 49ers and talking in a very positive manner. It's been good."