1983: First Taste of Playoff Victory
Seven years after the team's inaugural season in 1976, Seattle faced the Denver Broncos in the 1983 AFC Wild Card. Seahawks Legend Dave Krieg led the way under center, completing 12-13 passes for 200 yards and 3 touchdowns in a 31-7 routing of their AFC West rivals.
The Nationally-broadcasted Christmas Eve game was a statement win in front of the football world. Seattle would go on to defeat the Miami Dolphins the next week before falling to the eventual Super Bowl Champion Oakland Raiders in the AFC Championship game.
1984: Revenge is Best Served At Home
After falling to the Raiders in the AFC Championship the year prior, Seattle was out for revenge in the 1984 Wild Card. The Seahawks defense gave Raiders quarterback Jim Plunkett fits under center, forcing six sacks. Hall of Fame safety Kenny Easley intercepted a pass late to seal a 13-7 victory at The Kingdome. Running back Dan Doornick combined for 146 yards from scrimmage to move the ball and the clock, while defensive end Jacob Green contributed 2.5 sacks.
2006: Snap Back to Reality
After reaching the Super Bowl the previous year, the Seahawks opened postseason play against the Cowboys in a game that would produce one of the most memorable finishes in Seahawks playoff history. After moving down the field, the Cowboys were in range for a 19-yard chip shot to take the lead with under 2 minutes to play. Kicker Martin Gramática lined up for what looked like a crushing upset for Seattle at home, but quarterback and holder Tony Romo bobbled the snap. Scooping the ball and taking off for the endzone, Romo was a few steps away from scoring before being dragged down by Seahawks Legend Jordan Babineaux, fumbling the ball. Defensive end Grant Wistrom pounced on the loose ball to secure the home victory to a deafening crowd.
2007: Unhappy Sendoff
The 2007 Seahawks Wild Card opponent was the-then Washington Redskins. Despite a struggle on offense, Seattle's defense came up big, forcing three sacks and two interceptions. Jordan Babineaux and Marcus Trufant combined for a takeaway each to send Washington's Hall of Fame coach Joe Gibbs home 35-14 in his final playoff game.
2010: BEASTQUAKE!
Seahawks Legend Marshawn Lynch was quite the running back before his days in front of the camera. In seven seasons with Seattle, the California alum rushed for more than 1,000 yards in a season four times. But the playoffs was when "Beastmode" truly came alive, and there's no better example of Lynch's uncanny balance of speed and power than his performance in Seattle's 41-36 2006 NFC Wild Card win. Coming into the game, much was made of the 7-9 team squeaking into the playoffs with a losing record. Led by the Oakland native, Seattle upset the defending Super Bowl champion Saints on national television. On 19 carries, Lynch rushed for 131 yards, including a 67-yard touchdown that was one of the best runs in NFL history, and one that will be engrained in the minds of 12s globally forever. Defensive end Raheem Brock secured the team's only sack, along with forcing a fumble.
2012: The Road to Landover
In 2012, Russell Wilson introduced himself to the world in Seattle's 24-14 road win. In the franchise's first road playoff win in 29 years, the 2012 third-round selection completed 15-26 passes and threw his first-career playoff touchdown. Lynch ate up the game clock on the ground, carrying the ball 20 times for 132 yards and a score. An interception from safety Earl Thomas and two sacks from defensive tackle Alan Branch and defensive end Bruce Irvin helped Seattle overcome a 13-0 first quarter deficit to score 24-underanswered points.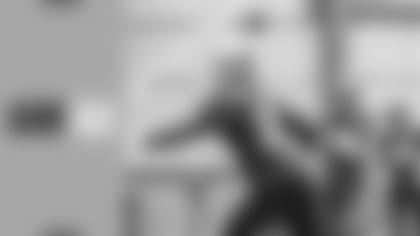 Listen To The Hawk Talk Podcast
Every week, Michael Bumpus and Nasser Kyobe release two podcasts analyzing the Seahawks previous game and previewing the next Seahawks opponent. Available on Spotify, Apple Podcasts, and wherever else you get your podcasts.
2015: Doug Baldwin Leap of Faith
In a low-scoring 10-9 game, the Seahawks defeated the NFC North champion Minnesota Vikings on the road in the 2015 NFC Wild Card. Subzero temperatures didn't stop 52,000 fans from attending the matchup - but it did slow down both offenses significantly. Quarterback Russell Wilson threw the game's only passing touchdown, but it was a one-handed catch by Seahawks Legend Doug Baldwin on third down early in the third quarter that will be remembered in Seahawks history. On third-and-10, Wilson launched a high ball over the middle under pressure. With a man on his trail in coverage and another coming downhill, Baldwin snagged the ball with one hand, securing the ball and landing to keep the chains moving, a catch that would have been impressive under any conditions, but was downright unbelievable given the negative-6 temperature at kickoff.
Seattle would hold Vikings Legend Adrian Peterson to 45 yards on the ground, forcing him to fumble once. Kam Chancellor's hard-hitting presence at safety was felt throughout, including a forced fumble that helped the Seahawks preserve their lead.
2016: Motown Mayhem
Seattle's 2016 26-6 road win over the Detroit Lions in the NFC Wild Card was a dominant display on both sides of the ball. Quarterback Russell Wilson completed 23-30 passes for 230 yards and 2 scores. Wideout Paul Richardson made some jaw-dropping catches in his time in Seattle, arguably none better than his one-handed endzone snag against Detroit. On a jump ball with a defender draped on him, Richardson reached low with his open hand to bring in another score.
Running back Thomas Rawls carried 27 times for 161 yards and a touchdown. Seattle's defense held quarterback Matthew Stafford scoreless, along with holding Detroit to just 34 yards on the ground.
2019: DK to the Stage
Fourth-year wideout DK Metcalf was selected with the No.64 pick in the 2019 draft out of Ole Miss. Disgruntled by dropping in the draft, Metcalf excelled in Seattle as a rookie, catching 58 passes for 900 yards and seven touchdowns. But it was Metcalf's record-breaking performance in Seattle's 17-9 NFC Wild Card win over the Philadelphia Eagles that truly put the football world on notice.
With seven catches for 160 yards and a touchdown, Metcalf dominated the Eagles secondary. Finding ways to get open across the middle and deep, the Ole Miss alum broke Seahawks Legend Darrell Jackson's single-game postseason record of 143 yards. Metcalf waved goodbye to Philadelphia's playoff run after a crucial 36-yard third down catch that put the game on ice.