The Seahawks have two games left in the 2022 season with their playoff fate still to be determined, but with the calendar year coming to an end this weekend, it's time to take a look back at some of the top Seahawks stories of 2022. This is by no means meant to be a definitive list of everything noteworthy that happened over the past 12 months, but rather a look back at 12 of the stories, in chronological order, that stood out in 2022.
February 15: Big changes on defense.
A little over a month into the offseason, the Seahawks announced significant changes to the defensive coaching staff, with Pete Carroll promoting Clint Hurtt to defensive coordinator while also adding Sean Desai as associate head coach-defense, and Karl Scott as defensive passing game coordinator and defensive backs coach. Those changes didn't just mean new coaches running the same defense Carroll brought with him to Seattle in 2010, but rather the most significant schematic changes the Seahawks had made to the defense during Carroll's tenure.
"We've been a little bit arrogant over the years, the way we play defense, because we've been able to just go ahead and play what we want to play," Carroll said at the NFL Scouting Combine last spring. "It's not that time right now. It's time to keep moving and keep growing. We've played the running game so well—3.8 (yards) per carry for the season, that's pretty darn good in this league. Maybe that's not the only thing we need to do well. We can do some other things too.
"Remember how people just talk about, 'God, all they do is play 3-deep, they don't play anything else, they must be stupid.' We were killing it for years. The fact that our coordinators went all over the league, on both sides of the ball, the offensive guy and defensive guys, it got harder. It was hard on us. So we stayed with it, but as I've been pecking away at it for, really like four years now, with stuff we've done subtly and we made a bigger shift last year than we had, to just continue to adjust. We just needed to make it a legitimate shift."
March 12 & 16: Moving on from a pair of franchise icons.
March brought a pair of roster moves that saw two of the greatest players in franchise history leave town. The Seahawks released linebacker Bobby Wagner in a salary cap-related move, parting ways with a six-time first-team All-Pro who was a member of the 2010s All-Decade Team.
"This is an extremely difficult day for the organization," general manager John Schneider said at the time. "Bobby has been at the center of our defense for the past 10 seasons and always represented our organization with class. He is a special player and person, and we are forever grateful. Bobby will always be a Hawk."
Four days later with the start of the new league year, the Seahawks made official the trade that sent Russell Wilson to Denver in a blockbuster trade that included Denver's first and second-round picks in 2022 and 2023, as well as defensive end Shelby Harris, tight end Noah Fant and quarterback Drew Lock, the first two of whom have been big contributors this season. It wasn't an easy decision for the Seahawks to move on from a player like Wilson, but after it became clear that Wilson wanted a change, Schneider was able to get a deal, with Seahawks chair Jody Allen signing off on the decision, that would help set the franchise up for the future, one that now will almost certainly be a Top 5 pick in the 2023 draft.
"While Russell made it clear he wanted this change, he made Seattle proud and we are grateful for his decade of leadership on and off the field," said Jody Allen, chair of the Seattle Seahawks. "We look forward to welcoming our new players and to everyone being fully engaged while working our hardest to win every single day. I trust our leadership to take us into the future, and know we all wish Russell the very best."
April 28-30: A potentially franchise altering draft.
With the No. 9 pick, which was part of the Wilson trade, the Seahawks landed Charles Cross, who has started every game at left tackle and looks very much like he will be, as Schneider called put it at the time, "the pillar at left tackle" the Seahawks will be able to count on for years. In the third round, the Seahawks found their other starting tackle in Abraham Lucas, but before they did that they added in the second round running back Kenneth Walker III, who has emerged as an Offensive Rookie of the Year candidate since taking over for an injured Rashaad Penny, and outside linebacker Boye Mafe, who has contributed as a rotational player and part-time starter, and whose future looks very bright. On Day 3 of the draft, the Seahawks added Coby Bryant, who has been their nickel corner all season, followed a round later by cornerback Tariq Woolen, who won a starting job in training camp and went on to earn Pro-Bowl honors as a rookie. The Seahawks also came out of the draft with receiver Dareke Young, who has been a standout on special teams, and after the draft they signed safety Joey Blount, who before going on injured reserve last week had been one of their best players on special teams.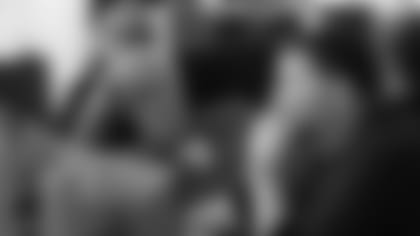 July 27: K.J. Wright signs a one-day contract and retires as a Seahawk.
After a 10-year career in Seattle in which Wright became not only one of the best linebackers in franchise history, but also one of the most beloved players to wear a Seahawks uniform, Wright spent one season with the Raiders in 2021. Heading into the 2022 offseason, however, Wright realized it was time to call it a career, and knew he wanted to be a Seahawk one more time before doing so, even if only for a day.
"This is a really special day for me to see you all here," Wright said in his press conference. "The people I love, the people that helped me get to this point, my teammates, my parents, my wife and kids, it's a beautiful day, man, and I'm so thankful that I laid it all out on the football field. And you're all truly a blessing in my life. So I'm here to announce that, after 11 fantastic seasons, that I'm retiring from the NFL.
"I fell in love with this game as a young kid just playing football in my grandma's front yard with my friends and my cousins, and here I am standing in front of y'all as a Super Bowl champ, a Pro-Bowler and Seahawks Man of the Year."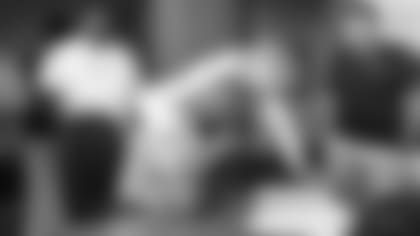 August 26: Geno Smith named starting QB.
Heading into training camp with a vacancy at the most important position in the sport, the Seahawks had Geno Smith, Wilson's backup for the previous three seasons, competing with Drew Lock, who was part of the trade with Denver. With the benefit of experience with the Seahawks, Smith opened camp as the No. 1 quarterback and never let that job go, with Carroll eventually naming the 10th-year veteran a starter for the first time since 2014, his second year with the Jets.
Smith rewarded that decision by being so much more than a serviceable starter; he has been, by just about any measure, one of the league's best quarterbacks this season, leading to his first Pro-Bowl selection and making him a frontrunner for Comeback Player of the Year honors.
September 12: The Seahawks open with a memorable win over the Broncos in front of a frenzied crowd.
There was no denying that Seattle's opener, a Monday night game against the Russell Wilson-led Broncos, came with a little extra juice, and Seahawks fans fed off of that to create a memorable atmosphere at Lumen Field. On Seattle's first possession, Smith gave fans a hint of what was to come, hitting Will Dissly for a long touchdown that led the first of many "Geno! Geno!" chants that have echoed throughout Lumen Field this season.
"It was a great night," Seahawks coach Pete Carroll said. "The fans were ridiculous. The 12s were so good tonight. God dang, they were great. I'm so pleased we could give them a game like this, and that they could have so much fun… They were incredibly good. We're so lucky. We're so lucky that we get to play here, and our fans love it so much, and they perform like that on game day. It was awesome."
There was one significant piece of bad news that came out of that game, however, with Pro-Bowl safety Jamal Adams, who was set to have an important role in Seattle's new defense, suffering a season-ending injury in the first half.
October 2: A star is born.
The Tariq Woolen hype train had already left the station before the Seahawks went to Detroit in Week 4. Not only had the rookie fifth-round pick, nicknamed "Riq the Freak" for his rare athletic traits, won a starting job out of camp, he was starting to emerge as a playmaker, first by blocking a field goal that was returned for a touchdown in Week 2, then by recording his first-career interception in Week 3. In that Week 4 win over the Lions, Woolen used his elite-even-by-NFL-cornerback-standards speed to run in front of a crosser intended for tight end T.J. Hockenson, catching the ball before turning up field for a 40-yard return for a touchdown. Woolen would go on to record an interception in four consecutive games, earning NFC Defensive Rookie of the Month honors for October.
"I don't remember feeling like this about a young corner out there that goes week after week after week, coming from where he came from and all that, and to be this far along and having this much fun and success and all that," Seahawks coach Pete Carroll said after Woolen's fourth straight game with a pick. "It's really fun to watch."
October 16: Seahawks win fourth straight by double digits, emerging as legit playoff contender.
The Seahawks always believed they would be playoff-caliber team heading into the 2022 season, even if they had made the tough decision in the offseason to part ways with a pair of franchise icons, but that most definitely was not the perception of the team from most outside of the organization.
Yet with Smith playing at a Pro-Bowl level, with rookies making huge contributions, and a mix of veterans like Tyler Lockett, DK Metcalf, Quandre Diggs, Al Woods, Uchenna Nwosu, Will Dissly and, before his injury, Rashaad Penny leading the way, the Seahawks have spent this season showing that in the ultimate team sport, a collective group effort can help overcome the loss of a couple of star players.
And yes, the Seahawks have hit a rough patch of late, but they're still in contention for a playoff spot in large part because of the way they hit their stride midway through the season, winning four games in a row by double-digit margins, including victories over two teams currently in playoff positions, the Chargers and Giants.
The next two weeks will determine if the Seahawks can make it to the postseason, but no matter what happens, the play of a young roster this season, along with the draft capital and cap space they'll have at their disposal in the offseason, show that Carroll and Schneider have the Seahawks in a very good place going forward.
November 3: Monthly honors for Geno Smith, Tariq Woolen and Kenneth Walker III.
Perhaps nothing summed up the best stories of the 2022 season for the Seahawks—Smith's incredible play after seven seasons as a backup, and the contributions of what is looking like it could be one of the best rookie classes in franchise history—that Smith, Woolen and Walker all earning significant honors on the same day, with Smith winning NFC Offensive Player of the Month and with Woolen and Walker being named the NFL's Defensive and Offense Rookie of the Month, respectively.
It marked the first time since the league started handing out rookie of the month honors in 1996 that teammates had been named Offensive and Defense rookie of the Month in the same month. Woolen had three interceptions, including a pick-six, as well as two fumble recoveries in October—fellow rookie corner Coby Bryant forced both fumbles—while Walker rushed for 432 yards and five touchdowns in five October games.
Smith, meanwhile, threw for 1,207 yards, nine touchdowns, one interception and a 111.7 passer rating while also rushing for 143 yards and a touchdown, helping the Seahawks win four of five games in October.
November 13: 12s take over Munich, game vs. Buccaneers "an unforgettable occurrence."
The Seahawks and Buccaneers played the NFL's first regular-season game in Germany this season, and while the game didn't go the way the Seahawks would have hoped, there's no denying that the four days the team spent in Munich were a memorable experience.
"The fans were extraordinary, and everything about this whole trip has been great," Carroll said. "… What a spectacle. This is an unforgettable occurrence. To be in that stadium with them all connected like that, I don't know. I was respecting the fact they must have done this a lot because they're really good at it. It is an unforgettable experience and really feel lucky to have a chance to be here."
Even Tom Brady, who has played just about everywhere and in more big games than anyone, said "That was one of the great football experiences I've ever had, so that says a lot for 23 years in the League, and for a regular-season game. I think the fan turnout was incredible. It felt like a very electric atmosphere from the time we took the field. At the end of the game with them singing 'Sweet Caroline' and 'Country Road' that was pretty epic. I think everyone who was a part of that experience got to have a pretty amazing memory for their life."
November 28: Throwback uniforms are coming in 2023.
For years, Seahawks fans have been clamoring for the team to join the growing number of NFL teams who feature throwbacks in their rotation of uniform options. For a long time, an league rule limiting teams to one helmet made throwbacks an impractical option—let's face it, the team's old royal blue jerseys with the current navy helmet would just look weird—but with the league loosening that restriction, the Seahawks can join the throwback party, and they announced they will indeed do so in 2023.
More details will come in the offseason, but in the meantime fans who want to know more can sign up here, and can also enter to win one of 12 throwback jerseys that will be given away.
Dec 21: Geno Smith, Quandre Diggs, Tariq Woolen and Jason Myers selected to 2023 Pro Bowl.
Earlier this month the Seahawks had four players named to the NFC Pro-Bowl roster, and for Smith, Diggs, Woolen and Myers, it was a special honor for different reasons.
Smith always believed in himself, but few others could have seen this from a longtime backup getting his first chance at starting since 2014. Woolen, meanwhile, was a former college receiver who played only 15 games at cornerback at UTSA, and coming out of the draft he was viewed as a developmental project with intriguing upside, not a Week 1 starter who would finish the year as one of the NFL's best cornerbacks and a top candidate for Rookie of Year honors.
As for Diggs, he made the Pro Bowl each of the past two seasons, so in one hand it might not seem surprising he made a third straight, but when you consider where he was less than a year ago, leaving the field in tears with a leg injury that would require surgery, there were no guarantees he'd even be on the field this season, let alone playing at Pro-Bowl level.
For Myers, this is his second Pro-Bowl nod, the first coming in 2018 when he was with the Jets, and he's been a great kicker for the Seahawks over four seasons, including a 2020 season in which he didn't miss a field goal attempt. Myers was, however, coming off of a 2021 season that was below his standards, missing six field goals and three extra points, so a 2022 season in which he has a league-best field goal percentage, making 27 of 28 field goals, including 6 of 6 from 50-plus yards, has been big both for him and for the Seahawks.
Only time will tell what 2023 brings for the Seahawks—they're hoping it starts off with a late-season surge that propels them into the playoffs—but there's no doubting that 2022 was a memorable and significant year in the franchise's history, and one that has the future looking very bright.