Here's a look at what's 'out there' for today – Thursday, March 28 – about your Seattle Seahawks:
Give Out Good, Get Good Back
The common phrase we've all heard growing up, "Treat others how you want to be treated," always seems to shine through and pay off. In this case, the Seahawks recently recognized a member of the community that consistently helps others in need, when she herself is in need.
Kristina Sawyckyi is a disabled veteran who's known for working closely with The Mission Continues, a national nonprofit with a goal to empower veterans to continue their service. An eight-year Navy veteran and student leader at Seattle University, Sawyckyi is pursuing a degree in political science with plans to apply for law school to become a disability attorney.
Sawyckyi's service in the community has unfortunately been put on hold since her wheelchair got crushed by a car in December 2018 and her ADA-equipped van died. Without transportation and mobility, the mother of two is limited in her efforts to help other vets and the homeless. It wasn't until Seahawks Vice President of Community Outreach Mike Flood reached out to Sawyckiyi did things really begin to turn around. Flood recognized her need for help and banded together with Candy Johns, an employee of an automotive repair shop and member of the Board of Central Council of the Sea Hawkers.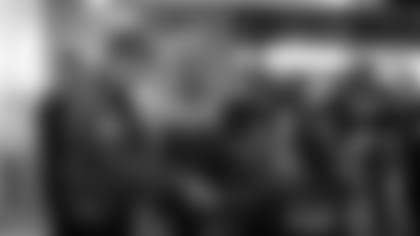 With the support of the Seahawks and their official booster club, Sawyckyi was able to get the help she needed. Johns contacted every service shop in her chapter of the Automotive Services Association Northwest to get the Navy veteran a new van. Multiple garages around the Seattle area came together to put together a used van fit for Sawyckyi. Johns says that the next step is to get her wheelchair fixed.
Sawyckyi said in an interview with KOMO 4 News, "It makes me honored that someone sees the hard work I'm doing in the community. You don't get a lot of 'thank you's;' this has been a huge thank you for all I have done and reminds me to keep doing what I'm doing to help others."
Social Post Of The Day
Today's 'Social Post of the Day' comes from Seahawks quarterback Russell Wilson, as he posts a celebratory video marking the end of a workout at a fitness & yoga studio in Bellevue, Washington he's helping open.