Good morning 12s, and Happy Thanksgiving. Here's a look at what's out there today — Thursday, November 26 — about the Seattle Seahawks.
Carlos Hyde Joins 710 ESPN's "Wyman & Bob" To Discuss Week 11 Win, Seahawks Culture
Week 11's Thursday night win over the Arizona Cardinals featured a return to what many would consider classic Seahawks football — an effective and efficient rush offense paired with a strong defense. On offense, the team rushed for 165 yards, spearheaded by Carlos Hyde's 79 yards in relief of an injured Chris Carson.
Here are a few highlights:
On how it felt to be back on the field:
"I felt great. It took me a couple series to get back into game shape, I was a little winded in the beginning. Settled down, it felt great to be out there with my guys."
On the performance by the Damien Lewis and the offensive line:
"The offensive line, to me, did a great job that night. Just opening lanes for me, allowing me to get downhill and also play physical. They also did a great job of blocking for Russ, giving him time to get the ball down to the receivers and make big plays.
"And also, D-Lew did a hell of a job … For that to be his first time playing center, to come in on a short week and take that challenge on head-first and do a good job is definitely an accomplishment for that guy. Hats off to him."
On the importance of the running game to the offense:
"The running game is the passing game's best friend. They go hand in hand. So when we're able to do both, we're a dangerous team, and the week before playing the Cardinals we were throwing the ball a lot, kind of getting away from the running game. So we just wanted to get back to our identity — that's playing balanced on offense, throwing the ball, running the ball, and taking care of the ball, and we did a good job of that."
On how the Seahawks' culture has made veterans like Carlos Dunlap II happy to come here:
"I think it's the winning part. You come here, you expect to win. We can be down 21, 30 points, we expect to come back and win, finish strong. I think it's that part, the winning part, the coach's energy, the team culture, the energy in the facility. You just have to be here, honestly, to feel it. It's kind of hard to try to explain. If you were here and a part of it, you'd definitely understand better."
Former Seahawks Dancer Stars In 12 Dates Of Christmas Dating Show On HBO Max
Looking for a new guilty pleasure this holiday season? Is the 11-day break between Seahawks games getting to you? HBO Max has got you covered.
The new series 12 Dates of Christmas follows three singles staying in a castle in Austria as they search for love — or at least someone to bring home for the holidays. Former Seahawks Dancer Christian, who goes by "Faith" on the show, is one of the show's three leads.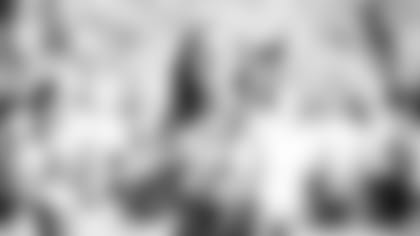 "It's a delightfully funny, entertaining and optimistic celebration of love and the holidays," executive producer Sam Dean told People. "12 Dates of Christmas brings all of the elements we love in unscripted dating shows — romance and drama, love triangles, diversity of cast, escapism, optimism and hope, but packaged as a funny and entertaining reality romcom."
The first three episodes of the show are available for streaming on HBO Max starting today; the next three episodes will be released one week later, on Dec. 3, and the final two episodes on Dec. 10.
Social Post of the Day
Pro Bowl voting is now open, and Jamal and Bobby are already campaigning for the Seahawks.