Good morning, 12s. Here's a look at what's out there today — Thursday, September 23 — about your Seattle Seahawks.
Alton Robinson Joins 710 ESPN's "Jake & Stacy"
Alton Robinson was one of the steals of the draft for the Seahawks in 2020. The fifth-round pick from Syracuse recorded 4.0 sacks, 4 quarterback hits and forced a fumble across 14 games as a rookie last year, providing a spark to a pass rush that lacked intensity at times.
On Wednesday, Robinson spoke with Jake Heaps, Stacy Rost, and Dave Wyman on 710 ESPN's "Jake & Stacy" show to talk about the Tannehill sack-fumble, how the team learns from and moves on from a loss like Sunday's, and the overall expectations for the defense this season. You can listen to the full podcast episode here — below are some highlights:
On the strip-sack of Ryan Tannehill in Week 2:
"It was just a pass play that I was able to be in on. I just took advantage of the opportunity to be out there and was able to get the hit and get the ball to come out … [The strip-sack], it's the best play in football. It felt good to just lay heavy on the quarterback again."
On the expectations for the defense this season:
"I think our expectation is to just play the way we know we can play. Every day we come to work ready to go, knowing that it's another day to get better. So just playing to the level that we know we can play at is an expectation for the whole defense."
Key things the team learned from the Week 2 loss:
"Just finishing. We had them down, and we just have to learn to finish. Not only learn, but stay true to it. We have them down, keep our foot down. No letting up."
On staying ready and motivated, even with uncertain playing time:
"It's hard, but I would almost say it's a little bit reversed — it makes it more exciting. Waiting there to play the whole time, then you get out there, it's easier to give your full effort and everything because you don't know when the opportunity will come back. So it's not as hard as it may seem."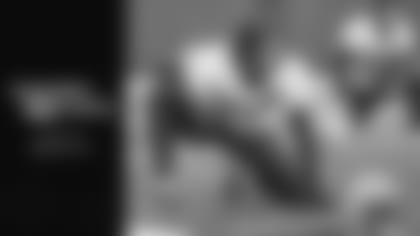 Listen To The Seahawks Insiders Podcast
Hosted by sideline reporter Jen Mueller and Seahawks Senior Digital Media Reporter John Boyle, the Seahawks Insiders podcast takes an in-depth look at each week's Seahawks game and analyzes the previous week's matchup. Available on Spotify, Apple Podcasts, and wherever else you get your podcasts.
Several Seahawks Legends Named Modern-Era Nominees For Pro Football HOF Class of 2022
The Pro Football Hall of Fame unveiled a list of 122 modern-era nominees for its Class of 2022 this week, and a number of former Seahawks made an appearance.
Some of the more recognizable names include Seahawks' all-time leading rusher Shaun Alexander (9,429 yards), and quarterback Dave Krieg, who compiled a 70-49 record and threw 195 touchdowns with Seattle from 1980 through 1991. Former Hawks' running back Ricky Watters, who rushed for at least 1,210 yards in three of four seasons with the Seahawks from 1998 to 2001, is also a nominee.
Other former Seahawks players listed include K John Kasay (1991-1994), P Jeff Feagles (1998-2002), C Kevin Glover (1998-1999), Merton Hanks (1999), Kevin Williams (2014), and Devin Hester (2017). Click here to check out the full list of nominees.
Social Post Of The Day
Carlos Dunlap is thankful to be playing in front of the 12s this year.