Episode 9 of The Sound serves as a happy ending of sorts for the Seahawks 2022 regular season. The series opened with the selections of the rookie class on draft weekend, a metaphor for the year to come for that group's freshman campaign. The series' latest episode begins with the team's 19-16 overtime win over the Los Angeles Rams in the season finale to keep playoff hopes alive.
Quarterback Geno Smith fought back tears following the game as he was interviewed by Fox Sports sideline reporter Laura Okmin about what the season meant.
"It's meant everything," said Smith. "I'm just thankful, glory to God. These fans, they've been rocking all-year, keeping us going. It was ugly, man we had to pull it out, got dang let's go!"
Week 18's overtime win over the Rams was the team's second of the year against their divisional foe. A necessary one for a playoff chance that required a Seattle win, and a Detroit Lions win over the Green Bay Packers. Contributions from all-three phases of the game helped squeak out the victory. But this week's episode highlights a particular veteran who Coach Pete Carroll discusses post-game during the episode, Pro Bowl safety Quandre Diggs who's overtime interception helped save the day for Seattle. 
"The ball hung forever," said Carroll. "He timed it up perfectly to get it on the sidelines over there. He's such a great ballhawk, of course he's gonna make that play if you give him a chance. But for him to make it, you know, he's a hero around here. These guys love him."
Year 9 brings Diggs another opportunity to make a playoff run. After earning a 2022 Pro Bowl nod, the Texas alum closed the season with four interceptions in his last five games.
After a gruesome injury that ended his 2021 campaign, Episode 9 gives a deep look at Diggs' humility.
"I'm blessed," said Diggs. "I'm thankful for the opportunity. I keep telling you guys tomorrow will be I think 365 days from when I broke my leg and dislocated my ankle. So for me, I'm thankful for the opportunity. I'm thankful to be back playing ball. I wouldn't be able to do it without my teammates, my coaches, my family. Everybody that's been with me this last year. It's super special to me, and like I said it's a blessing. I'm just having fun with the game, loving the game and enjoying the game as much as I can. I've had it taken away from me and I don't want to feel that anymore." 
Flashing back to Diggs' injury in the 2021 finale against the Arizona Cardinals, we get a look at Diggs' "driving force" in the road to recovery. Despite the physical and mental strain, Seattle's defensive captain stepped up as a leader in the absence of fellow safety Jamal Adams for the young guys like corner Tariq Woolen.
"A vet like him is hard to not listen to," said Woolen "With the accolades he got and just different things. I just got that trust in him, and he got that trust in me. That was something we gained throughout training camp, and once I noticed that he started trusting me it made it easier for me because I could be more comfortable."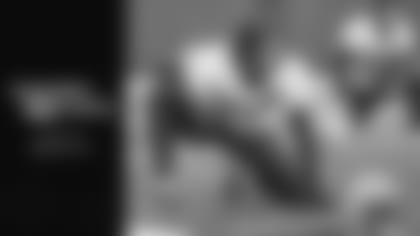 Listen To The Seahawks Insiders Podcast
Hosted by sideline reporter Jen Mueller and Seahawks Senior Digital Media Reporter John Boyle, the Seahawks Insiders podcast takes an in-depth look at each week's Seahawks game and analyzes the previous week's matchup. Available on Spotify, Apple Podcasts, and wherever else you get your podcasts.
Woolen tied for first place amongst all players league-wide with six interceptions in his rookie campaign, earning a Pro Bowl bid. Developing chemistry with the man behind him in coverage has pushed his game to new heights. The 6-foot-4 Texas-San Antonio alum tied for No.4 league-wide in passes defensed (16) along with two forced fumbles.
Fellow rookie cornerback Coby Bryant is another one of Diggs' "young pups" that he has helped develop, and the results are speaking for themselves. The Cincinnati alum was selected by Seattle in the fourth round, earning his keep early to play 17 games as a rookie as Seattle's nickel corner. Despite much love and appreciation for his teammates, Bryant jokingly stays out of Woolen's battle for premier rookie corner with New York Jets rookie Ahmad "Sauce" Gardner. The pair spent 2021 as the Bearcats' dynamic lockdown duo; Gardner earning the AAC Defensive Player of the Year, Bryant earning the Jim Thorpe Award.
The episode concludes with thoughts from the team on Saturday's NFC Wild Card matchup against the San Francisco 49ers as underdogs. Throughout the season, Seattle has been a feel-good story nationally, but still remains slighted. The Sound gives a glimpse into just how much of a chip is on the shoulder of the 9-8 Seahawks.