By any measure, Dr. Stan Herring's lengthy career with the Seahawks was remarkable.
Herring started working with the Seahawks in 1990 under team physician Kevin Auld, the start of a relationship with the team that would span 33 seasons, more than 400 games, 15 trips to the postseason, 10 division titles, three Super Bowls, one Super Bowl victory, and thousands of injuries treated.
But to fully understand Herring's legacy, one needs to consider the impact of his career that is immeasurable. How many retired NFL players are enjoying a better quality of life because of Herring, who was a pioneer in the field of head injuries? And most significantly, how many children and teenagers had their lives saved or greatly improved by laws Herring helped get passed to make football safer at the youth level?
"How many lives potentially have been saved?" said head athletic trainer David Stricklin. "How many, budding careers in the sport of football or the sport of soccer have been nourished from protecting the kid early, from getting them out of that situation so that they can heal and have productive lives? How many kids go on to become mothers or fathers because they've got fully functioning brains because they were protected early?"
In 2009, with Herring helping lead the effort, Washington passed the Zackery Lystedt Law, the country's first comprehensive mandate aimed to reduce concussion risk and protect student athletes. The law was named for Zackery Lystedt, who as a 13-year-old suffered a head injury in a football game, returned to action, then suffered another injury leading to a catastrophic brain injury. The tireless work of Herring helped get the Lystedt Law passed, and eventually, all 50 states passed similar laws over the next five years.
Early in 2014, as the Seahawks were getting ready to face the Broncos in Super Bowl XLVIII, a game they would win 43-8, Mississippi passed its own version of the Lystedt Law, making it the 50th state to pass a similar law.
"I'm fond of saying that the Seahawks victory over the Broncos was the second-best thing that happened that day," Herring said. "All 50 states and the District of Columbia now have laws. I'm very flattered to have been part of a leadership group that was able to get that law passed here and then work with many others across states to get it passed. I would say that it's my proudest professional accomplishment, because I think it was meaningful, I think it has service, and we were doing this for the right reasons. No law is perfect, but we have seen evidence that it's working and that laws are being modified, which is what we wanted. I would say to you that I could not have done that work without being a team doctor for the Seahawks, because that gave me a stage. Right? It gave me credibility."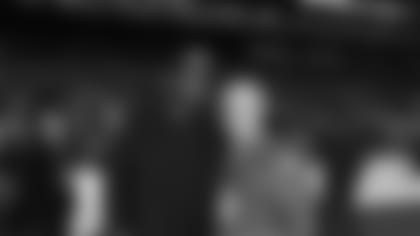 To Herring's point, it was his status as a team physician for NFL and MLB teams—he also worked with the Mariners until stepping down from that role in recent years—that helped him create laws to make kids safer. For all he has done outside of sports, including co-founding the Sports Institute at UW Medicine and serving as the co-medical director for orthopedic health and sports medicine for UW Medicine and co-medical director of the UW medicine sports concussion program, Herring's work in sports and in the field of concussion in particular that will perhaps be his greatest legacy.
"In our world, he is an absolute legend," said Seahawks VP of health and player performance Sam Ramsden, who has worked with Herring since 1999. "An absolute legend. But he's also just incredibly humble, incredibly modest. You would never know who he talks to and who he rubs elbows with. You would never know how well-known he is. And he also just makes you feel like you were the only one. You're the most important thing at the time."
Said Stricklin, "He's been really kind of a guiding light for three decades. He has not only held the line when it comes to patient care. He's pushed the envelope with regards to player, health and safety. He's always really put that first and he's lived that.
"He practices that way, and not just with our players but with any of his patients. You'll hear people say, 'I felt like I was the most important person in the world when I got done with him.' That's just him as a genuine human. Not to mention him being an excellent physician. He's done a lot of stuff. He changed the way that the NFL handled concussions."
When the NFL started taking head injuries more seriously, creating a concussion protocol every team must adhere to, the league worked closely with Herring, because he had those protocols in place with the Seahawks long before it became the norm for the NFL.
"A lot of the practices that were adopted in the past five to six years, the Seattle Seahawks have been doing for a really long time, and that's because of Stan," Stricklin said. "That's because of research. That's because of reading and conversations, and because this is the right way to do this when it comes to head injury. He revolutionized the way that we treat players with concussions, and he has championed that effort at all levels."
As one of the team's longest-tenured employees, director of equipment Erik Kennedy knows Herring as well as just about anyone in the building, and as someone whose job allows him to build strong relationships with players, Kennedy has seen first hand Herring's impact on players.
"When he came here, he brought just heart, care, and passion," Kennedy said. "And the way he treated people was just phenomenal. If anybody's interacted with Stan, he makes you feel like you've known him. It's just the way he treats people. He's classy. He's professional. You'd be hard pressed to find anybody who doesn't say something positive about that man."
Under Pete Carroll, the Seahawks have taken player safety very seriously, from how they handle players with concussions to changing the way players tackle—and teaching that technique to coaches at all levels via tackling instructional videos—but NFL teams haven't always taken head injuries as seriously as a doctor like Herring would have liked them to.
"Being one of the guys at the cutting edge of the awareness of it, he has been a voice," Carroll said. "When a lot of people didn't want to listen or didn't want to hear it, he's been shouting. I don't know if anybody could be more of an advocate than our football and the way we've done our stuff. And we've always dealt with Stan and his guys, how they think and how they teach us what we should understand and how we should appreciate the urgency and in the sense of seriousness about it, and that's what we've done. And he's been part of all of that, you know. It wouldn't have been the same without him."
Herring's passion for helping people recover from injury goes back to his days as a student at the University of Texas when he had a spinal injury of his own, and from his childhood when his brother had what he called "really significant illnesses and disabilities.
"I like helping people get better," Herring said. "I had that taste for helping people who were struggling. When I went to medical school, after we saw patients, I'd go back and get them out of bed and exercise with them and talk to them about their life. I'm attracted to the field of physiatry because it's multi-disciplinary care for people who are struggling with injury or disability. You think of stroke or spinal cord injury or brain injury, but it dawned on me too that people who are able bodied also struggle with injury. So I was attracted to the field and training as someone who took care of the most complicated brain injury and spine injury. I was able to apply those skills to active people and athletes."
And for more than 30 years with the Seahawks, and the 49ers before that, Herring has helped keep players safe and keep the game of football safer at all levels.
"One of the beautiful things about Stan is that, number one, he doesn't care that it's professional football," Stricklin said. "He understands the competitive aspect of it, but he cares about the patient. In this case, it's the players and he's unrelenting in his beliefs, in his integrity. There has never been a time where I've seen him waiver in a stance. If anything, like if there's pushback, he'll just get stronger in it.
"He's unrelenting when it comes to that kind of stuff, and that's really refreshing to see. For a long time, we have used him as a moral compass."