INDIANAPOLIS—The NFL Scouting Combine gives football fans a chance to hear from nearly every coach and general manager in the league, and while readers of this website are mostly concerned with what is happening with the Seahawks (see the links below for all of our Seahawks-related combine coverage), it's also good to check on Seattle's NFC West foes.
Here are some highlights from press conferences of the coaches and GMs of the San Francisco 49ers, the Los Angeles Rams and the Arizona Cardinals:
San Francisco 49ers Head Coach Kyle Shanahan
The 49ers believe they'll be able to recover from a tough Super Bowl loss: "Anytime you have a tough loss, there's a grieving process you have to go through. Everyone goes through that individually. It is disappointing, especially how much you put on the line for that. But that's life. I can deal with it. Nobody died. It is disappointing. We do have to grieve it. But I'm doing a lot better now than I was three weeks ago, and I plan on doing better three weeks from now. Our team is made of the right stuff. It's very important to our team not just individually to have a career in this league but we have guys that want to win. Those are the guys we're going to continue to bring into our building."
Jimmy Garoppolo is still growing as a quarterback after his first full season: "I think Jimmy deserves a ton of credit for what he did this year. I think people talk a little bit about how he was coming off an ACL. But I also think people don't realize this was his first year playing quarterback in this league. I think he got three games in New England and five games with us. This is his first time going through a full season. He had less games than Baker Mayfield going into his second year, and to do that with the pressure of everyone thinking you've already arrived and coming off the ACL, "I thought there was as much pressure on him at the beginning of the year as anyone I've been around. And he just took it, handled it all year and got better throughout the year. I was very impressed by him."
Deebo Samuel had a big rookie year and should only get better: "He's a very good receiver and will only get better. But Deebo is as fearless of a rookie as I've ever been around. Extremely tough. Wants the ball in his hands. Can play injured. The game was never too big for him. The moment was never too big for him. And that's why he helped us huge this year. He can get a lot better developing his routes and things like that. And while he continues to do that, it's nice that you don't to wait on all that. You can still use him because of how tough he is in every other aspect."
San Francisco 49ers General Manager John Lynch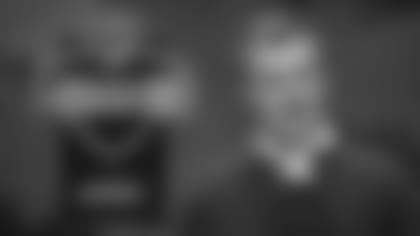 After several years of having high draft picks, the 49ers will pick 31st this year. That makes the draft process quite a bit different, but seeing as it is a result of winning an NFC championship, the 49ers will gladly deal with that: "I think the important part right now is that we are prepared for all scenarios and so the best way to do that is to do our due diligence in terms of getting ready for the draft class, the free agent class and evaluating our own players. So that's where our mind set—I think those things will take care of themselves is our plan, and kind of our vision for making our team better this year develops further but right now the most important part is that we work really hard in trying to assess the talents and the opportunities to improve our team.
"You know it's fun this time of the year having the low—being able to look at the (Nick) Bosas of the world and those guys but it's a lot more fun playing deep into the year so you take the later pick and, you know, we don't have as much equity as we've had in year's past so we've got to figure out a way. We've got to be creative. We got to be exhaustive in all the avenues we look at to improve our football team and we are committed to doing that."
The 49ers have full confidence in their quarterback: "We're extremely proud of Jimmy and committed to Jimmy going forward. He's our guy. As I said from the day he walked into the building he made us better and we continue to feel that's that case and that's the most exciting thing about him, the room for growth. He's not come close to hitting the ceiling and I think the room for growth, the more experience he gets in this system, the more experience he gets playing in general, we think the arrow is up and that's a good thing."
Los Angeles Rams Head Coach Sean McVay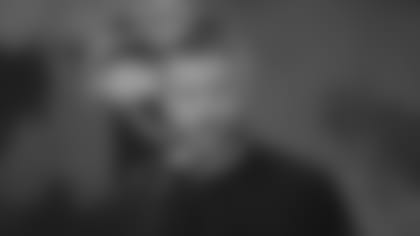 The Rams liked what they saw from quarterback Jared Goff late in the year: "The thing I'm most confident in is the way that he finished the season and I think to be able to work through, both of us together, a little bit of adversity this year and see the way he responded and I think, really, when you look at it, the last five games of the season, you can take a lot of the things that he did really well in that latter half to be able to draw on, to be able to grow from, and then – like anything else, you look at the good and the bad and you say, how can we get better and he's a resilient guy, he's got a great track record of being able to respond. I think he demonstrated that this past season and we're very confident in Jared."
McVay won't stay for the entire combine and will instead use that time to work with his new coordinators: "I think it's an interesting situation that presented itself this year. We've got great continuity in a lot of spots on our coaching staff, and we have two new coordinators on offense, defense and special teams. I'm not going to be here the whole week. I'm going to be leaving pretty shortly and what it looks like is, Les (Snead) and his group do a great job in the vetting process and then our position coaches have a great feel of, OK what do we want to do, what are the things that we want to get out of the combine, so being able to empower them and then feeling like, let's get back to LA, still be able to study the film which is the most important part of the evaluation, trusting some of the vetting on the backgrounds with these guys and then being able to kind of continue to get a jump on the schemes that we'll implement specific to the offense and defense. That's really what went into it. If it was a bunch of turnover, then I'd think you say, 'OK we can get a lot of stuff done out here,' but because of the continuity of the position coaches, we felt like that was the best approach and the most efficient way to utilize the week.
"It's really thinking through, 'OK, what is the intent of the week, what do we get out of that, and there's a lot of really good things to gain and I still think we can get all the things that this week entails out of it and not necessarily me having to be there present for all of it. And then you say, OK, what can we gain being back there with Kevin (O'Connell) and Brandon (Staley) and being able to go through some of the things that we're looking for as far as continuing to evaluate and do our due diligence with the draft process but then also start to have a vision for—OK, this is what we want to be able to do but how do our players fit into that, because it's always about adjusting and adapting to your players and as we're getting through just kind of the natural cycle of the offseason, that was really what went into it, was just feeling like that was going to be the most efficient usage of our time."
The Rams are still figuring out how they'll handle the work load of running back Todd Gurley: "We're working through that right now. With a guy like that, it's no different than an Andrew Whitworth has a different plan of approach. You want to be consistent, but I think certain guys, just understanding the workload that their specific position entails or what is the best way to really have a long-term solution for getting through the entire season, so we've been consistent with that with Todd, really from when I first got here, I think it was just something that was talked about a little bit more because he missed a couple games towards the latter half of the '18 season, but those are things that you want to be able to be specific with each player, while still being consistent in the big picture and those are things that as we get closer to those dates, we'll discuss a little bit more."
Los Angeles Rams General Manager Les Snead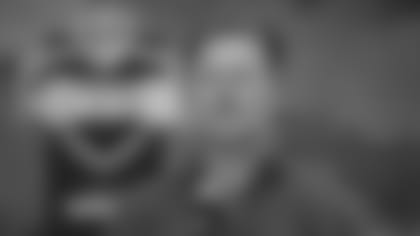 Not having a first-round pick changes things a bit for the Rams, and perhaps that opens the door for making a "boom or bust" pick at some point: "It does change. There will be some players that we ultimately will not really spend a lot more time vetting or evaluating because you've got a gut feeling they're not getting to 50. What you have to do then is the realistic players, really start spending your time vetting him. Good question on boom or bust. When you have less draft picks, you have to run that equation. Do you just get a solid, sound pick because you have less picks in the mutual fund so it's probably better to go just solid, sound. But you can always be tempted if someone fell that is more boom or bust, probably because you're saying he's got some element or better skills than where you would be picking him but something caused him to fall. But that becomes a volatile investment that you've got to weigh."
Arizona Cardinals Head Coach Kliff Kingsbury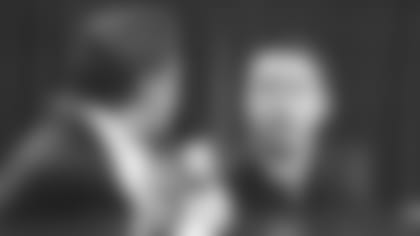 The Cardinals are in a different place now that they know their future at quarterback: "That's huge. That's what all 32 teams are always going to be looking for. A guy who they feel like can take them all the way at that position. That's what makes this league go. To feel like you have your guy definitely helps, and we just have to build around him."
Kingsbury is still learning after one year as a head coach: "You don't know what you don't know. Sixteen games is a long time, dealing with professionals each and every day and their needs and wants are different than college players. Just learning on the go is tough, but you do the best you can."
Asked what he might do differently going forward, Kingsbury said, "There are a few things. Definitely we'll handle the bye week differently. We played really poorly that next week so that's one that jumps out. But you're always trying to evolve and improve your process. We're going to see, after the new CBA, what we have to adjust and what needs to be better."
Arizona Cardinals General Manager Steve Keim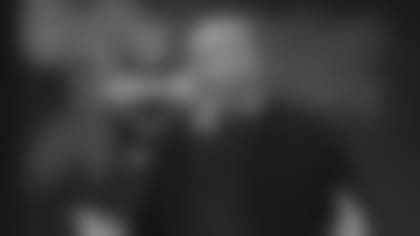 The Cardinals hope to re-sign Kenyan Drake before he hits the open market: "He's certainly a guy we would like to have back but again not sure what the market is going to do. I do know this, he took full advantage of his opportunity. I was really proud to see not only his work ethic but the skill set he has is so unique, his ability to run, stretch the way he does, ability to catch the ball out of the backfield … To be able to have him and David (Johnson) and Chase (Edmonds) in the backfield really presented some problem for other teams."
Having Kingsbury and a talented young quarterback in Kyler Murray could make the Cardinals more attractive to free agents: "I think people have termed Kliff as somewhat of a players coach. I'm not sure exactly what that means but I know our players play hard for them, they like playing for him and then to have a young guy that you can build around it certainly gives you hope and in this game that's what you need from the get go, to have a quarterback in place that gives you that hope from the beginning of the season."
RELATED