INDIANAPOLIS—Not long after the Carolina Panthers decided to part ways with veteran tight end Greg Olsen, Russell Wilson was making his pitch to the three-time Pro-Bowler about joining the Seahawks.
As Seahawks general manager John Schneider noted, Wilson is a natural recruiter when it comes to free agency, and the Seahawks quarterback had at least some role in Olsen's decision to sign with Seattle, not just because of what he told Olsen about playing in Seattle, but because players know that one of the keys to winning is quarterback play, and in Wilson the Seahawks have one of the NFL's best at that position.
While talking to the media at the NFL Scouting Combine on Tuesday, Schneider highlighted how having Wilson can be beneficial in free agency. More on that and other takeaways from Schneider's session with the media:
1. Russ the recruiter.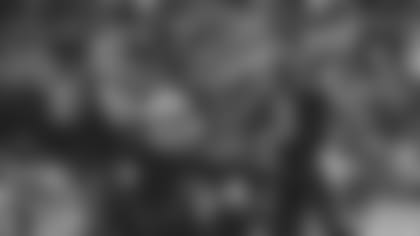 While money usually is the biggest factor when it comes to free agency, having a great quarterback who is willing to make a pitch for his team certainly doesn't hurt. Wilson did his part in helping get Olsen to Seattle, and the hope for the Seahawks when free agency begins next month is that his presence on the team helps Seattle retain its own players headed for free agency and also add outside talent.
"He's competitor, so he loves it," Schneider said. "He's got a lot of relationships, works out with a lot of different guys. He just knows a lot of people. He's a natural recruiter, right? Because you look at our games this year, why wouldn't you want to play with a guy like that, right? So he's just a natural recruiter, especially with the way he finishes games. Guys want to play with a guy like that. He's a pretty inspirational dude."
2. Schneider wants more superstars too.
While doing an interview during Super Bowl week, Wilson mentioned that he'd like to see his team add more superstars this offseason, a comment that gained a lot of attention, including from people who took it as Wilson calling out his team's decision makers. Schneider, however, took no issue with those comments because, well, who doesn't want to add more good players every offseason? As Schneider always says, roster building is a never-ending process, and the goal is to always be improving the roster, so it's hardly controversial that Wilson said he wants to see his team get better between now and the start of the 2020 season.
"I agree," Schneider said. "We all want superstars. We all want great players. I think Pete (Carroll) would say the same thing. I stay awake at night, my gut churns all the time thinking about how we can improve in every aspect of our football operation. We're doing it non-stop, and we have been ever since we walked in the doors here, and we'll keep it rolling."
3. The Seahawks know their defense, and pass rush in particular, needs to get better.
When asked about where the Seahawks need to improve in 2020, Schneider noted that, just like every year, the goal is to get better across the board. He didn't stop there, however, noting that Seattle's defense wasn't up to its usual high standard in 2019, a point Carroll made in January after Seattle's season came to an end in the divisional round of the playoffs.
"It's every position," Schneider said. "That's why we're down here this week trying to figure out what the landscape is going to look like for the whole spring. The three or four phases of free agency, the draft, the trades, cap casualty guys, what have you. It doesn't stop. Obviously defensively, we were 26th, I think. We need to improve our pass rush, we need to try to get the coaches as many players as we possibly can on both sides of the ball, but obviously defensively we were ranked a little bit lower than we were on offense."
When it comes to the pass rush in particular, Schneider said it's hard to say exactly what went wrong, but the Seahawks know they need to find a way to get better at affecting quarterbacks.
"It was hard to figure out," he said. "You know, we were moving the quarterback, we just weren't necessarily—the sack numbers just weren't there. You know, some people, some analytics people, would say sacks end drives, so sacks are important. And then some analytics guys would say, as long as you are moving the quarterback you are fine. But, we just have to play better on defense. And obviously it starts up front. There wasn't one or two things. It was kind of like, a bunch of things."
4. The Seahawks are excited to see what L.J. Collier can do in Year 2.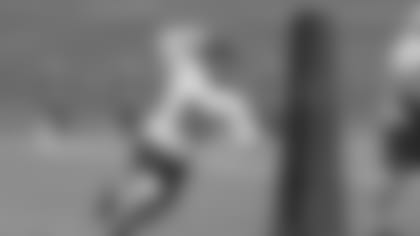 And speaking of the pass rush the Seahawks hope that at least part of the solution in 2020 is a big second-season leap for 2019 first-round pick L.J. Collier after a quiet rookie season. Collier sustained an unusual ankle injury early in training camp, one that caused the Seahawks to fear he was done for the year, Schneider said, and after missing the preseason, he never really got going once the season began.
"We were lucky that we had him," Schneider said. "We thought we were going to lose him for the season that day (in training camp). We're lucky that we didn't have to place him on I.R. Obviously we would have liked to have seen him make a little bit more of a dent, but his checkout meeting was awesome. He's really excited about next year and what that brings. So yeah, we would have love to—we had traded Frank (Clark), so we were really excited that we were able to acquire L.J., then unfortunately he had that really funky ankle injury."
Asked how Collier might fit in in 2020, Schneider said, "He's a powerful rusher, he's got great hands, he can rush inside, he can rush outside. He can rush the five (technique), rush the three. We're excited."
5. The Seahawks added some help for the 2020 draft process.
As the Seahawks go through the process of evaluating players for the 2020 draft, they'll do so with the help of two experienced personnel men added to their scouting team, Eliot Wolf and Alonzo Highsmith, both of whom worked with Schneider in Green Bay. Wolf, the son of former Packers general manager Ron Wolf, most recently served as the assistant G.M. in Cleveland for the past two years after spending 14 seasons in Green Bay. Highsmith, a former NFL fullback, also spent the past two seasons in Cleveland as the vice president of player personnel.
"I worked with those guys in Green Bay for a number of years," Schneider said. "I've known them both—shoot, Eliot was probably five years old. He's kind of like a little brother, Zo is like a big brother to me. I worked with those guys in Green Bay for a number of years. It's not a reflection of our staff at all and the job they're doing because our staff is awesome. These guys were not in our last draft meetings. They will be in our next meetings, the second meetings closest to the draft. But, you know, having a pair of two experienced eyes—both of them have different connections in different ways, too. It's pretty cool."
Asked if their pre-draft roles could evolve into full-time jobs, Schneider said, "We'll cross that bridge when we get there."
RELATED