The Seahawks wrapped up their first week of 2021 training camp with what Seahawks coach Pete Carroll jokingly called a "players' day" due to the cool, cloudy weather, and it was a day in which several players on defense stood out, though the offense had its moments too. Players will enjoy a day off Sunday, then the Seahawks will be back on the field Monday to start gearing up for a mock game the following weekend at Lumen Field.
Here are six observations from Day 3 of Seahawks camp:
1. An impressive day for the defense and Ahkello Witherspoon in particular.
Early in the team portion of practice, the Seahawks were working on third-down situations in the red zone, and while they did convert several of the third downs, the defense got several stops, and none of those third-down conversions found the end zone. That session set the tone for what was a strong overall day for the defense, with highlights such as D.J. Reed sniffing out a wide receiver screen and, were tackling allowed, making a play that would have resulted in a tackle for loss; Alton Robinson blowing by a tackle for a "sack" of Russell Wilson; and big defensive tackle Bryan Mone hustling to track down a play from behind to get huge reaction from his teammates.
Two of the best plays for the defense came on consecutive plays and from the same player, cornerback Ahkello Witherspoon. During a red-zone session of practice, Witherspoon first broke on a pass over the middle, allowing him to step in front of DK Metcalf to break up a Wilson pass. On the very next play, Wilson floated a pass in the corner of the end zone toward tight end Gerald Everett, but Witherspoon was able to bat it away with a perfectly-timed leap.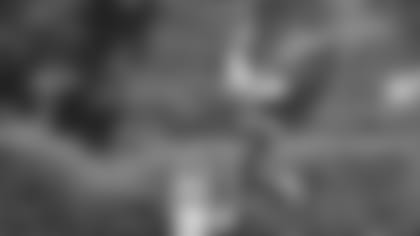 2. A big day for DK.
While the defense might have one the day, there were still plenty of offensive highlights, and DK Metcalf was involved in several of them. While Metcalf's best grab didn't count because he was out of bounds, he had plenty of catches all over the field that did count. Most notably, he hauled in a touchdown of about 70 yards on a deep ball from Russell Wilson early in practice when the No. 1 offense was going against the No. 2 defense. Throwing into a decent breeze, Wilson's deep ball still traveled 50-plus yards in the air but did require Metcalf to adjust, and he did well to move in front of cornerback D.J. Reed to make the grab between Reed and safety Quandre Diggs, then Metcalf used his speed to get to the end zone.
3. The competition continues at multiple spots.
Carroll noted on a number of occasions this offseason that he felt like last year's abbreviated preparation for the 2020 season hindered the team's ability to compete at some positions, and he doesn't plan on letting that be the case in camp this year. Two spots that are particularly competitive are right tackle, where Brandon Shell and Cedric Ogbuehi are battling, and cornerback, where there are several competitors for both starting spots. Early on in camp, Shell and Ogbuehi are alternating days working with the No. 1 offense, while at cornerback, the starters have also changed from day to day. When Ethan Pocic gets healthy, he and Kyle Fuller will split days with the No. 1 offense, Carroll said.
4. Big man on the move.
When the Seahawks selected tackle Stone Forsythe in the sixth round of this year's draft, on thing general manager John Schneider referenced was how well the 6-foot-8 tackle could move in space. Forsythe got a chance to show that off on Saturday, doing his best Duane Brown impersonation on a play that called for him to get out in space and make a block near the sideline on a defensive back, a play that earned Forsythe praise from coaches immediately after. On the very next play, Forsythe showed off his pass blocking, switching off of one block to pick up a free rusher and knock him off track to buy his quarterback more time.
5. Personnel updates.
Center Ethan Pocic, who sat out the first two days of camp with a hamstring injury, was in uniform for Saturday's practice and did limited work, though he was not a full-go. Safety Jamal Adams and left tackle Duane Brown were again spectators as they have been in the previous two practice, while defensive back Marquise Blair sat out after being kicked in the heel on Friday, though Carroll said the injury was nothing serious.
Rookie receiver D'Wayne Eskridge remains on the physically unable to perform list, and asked for an update on the second-round pick, Carroll said, "He ran well yesterday. I don't know what he did today, I didn't see him yet, but he ran well and ran hard. He had one little tweak thing in there somewhere, but didn't sustain it, it was OK, so he's making progress. I don't know much more—we can't project yet."
6. Seahawks still COVID free a week into camp.
On Wednesday Carroll noted that the team was voluntarily taking daily COVID-19 tests, which is more frequent than the league requires, and so far the Seahawks have returned negative tests for five straight days.
"Today all of our guys tested negative again, so we went through five full days of our guys testing negative," Carroll said. "So we know that the transition that we made from being home to getting here and starting up camp went perfectly. I'm really happy for that, really proud of the guys for getting that done."
Photos from Seahawks Training Camp practice, held on Saturday, July 31 at Renton's Virginia Mason Athletic Center. Seahawks Training Camp is presented by Safeway.