The Seahawks were back on the field Friday morning for their second practice of 2018 training camp, then players will enjoy a day off Saturday before returning to action Sunday.
Here are seven things that stood out on the second day of camp:
1. David Moore had a big day.
It will take a long time to figure out what receivers beyond Doug Baldwin and Tyler Lockett are going to make the roster and earn playing time this season, and the nature of that position means different players will get a chance to shine on different days throughout camp. On Friday, it was David Moore who was one of the biggest standouts, making several catches all over the field, including a couple of deep balls.
The second-year receiver spent most of last season on the practice squad, and has made big strides heading into his second season.
"Thrilled to see that," Carroll said of Moore's productive day. "Today, in particular, to get him going. He's a real natural athlete. Real, natural ballplayer, he's got good instincts and feel, and he's really strong—weighs 215 pounds or something like that. You don't think he's as big as he is. He came from a real small school and had a background not quite like the kind of stuff we play now, and so he's got a lot of growth and a lot of potential to grow into our stuff. But, he's got enough ability that we're looking for ways to get him the football, so if you noticed today, it was a good example of that and we try to show what he can do so that we can make that evaluation. I don't feel like we got that done totally last year. It just couldn't come along fast enough. But now, he's ready and it was a very exciting day for him out there today."
2. The Safety Shuffle Continues.
On the first day of camp, Carroll noted that finding the right combination at safety will be "a real fascinating challenge" because the flexibility of some of the safeties, and of Bradley McDougald in particular, gives Seattle several good options. A day after McDougald and Tedric Thompson spent much of the day running with the first team, it was evident Friday that this "fascinating challenge" will include trying out a lot of options. During parts of practice, McDougald was again at strong safety while Thompson played free safety with the No. 1 defense, but we also saw McDougald at free safety with Delano Hill playing strong safety, as well as McDougald at free and Maurice Alexander at strong.
For a coach who is himself a former safety and who has a long history of coaching defensive backs, this is a fun position battle for Carroll to help oversee.
"Really, it's a blast," Carroll said. "It's because we're trying to figure out what unique qualities each guy brings and then how we will bring that to the surface. We haven't seen Mo Alexander much yet. He'll be two more days before he's cut loose out here, and he'll bring something special too. It's going to be a process and we've got to be patient with it and make sure that we watch real well, listen real well and evaluate properly and continue to connect with these guys to bring out the best. That's what we're doing."
3. Update on the kicking competition.
While kickers and punters work on their own for much of practice, they are brought into the action during the team period of practice for a few higher pressure kicks. A day after both Sebastian Janikowski and Jason Myers made all three of their kicks in that part of the competition, Janikowski again went 3 for 3 Friday, while Myers made 2 of 3 kicks, narrowly missing his first attempt. What perhaps stands out most early in this battle is how well the ball jumps off the foot of both kickers. That's to be expected from Janikowski, who has long been known for his big leg, but Myers, who is significantly smaller, can also thump the ball.
"This is a great competition going on here with both the kickers," Carroll said. "We're just going to take our time, play it out, see what happens, see how it goes. Both guys are kicking the ball really well. They both pound the football now. Seabass continues to hit the heck out of the ball. We'll just wait and see, it's going to be a long time before we figure that out."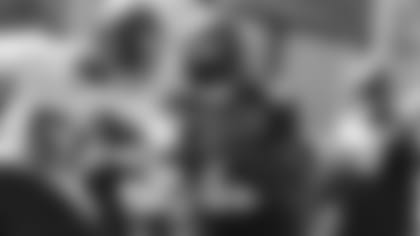 4. Chris Carson is "tearing it up."
One of the best competitions at camp might be the battle for playing time at running back. Chris Carson, who was the starter last year before sustaining a season-ending leg injury in Week 4, appears poised for a big role again, but battling him for carries will be a group that includes first-round pick Rashaad Penny, Mike Davis, who finished the year as the starter, and versatile backs C.J. Prosise and J.D. McKissic, who are both talented pass-catchers and dynamic runners.
As Carroll has noted on a few occasions, Carson was one of his favorite acquisitions in last year's draft, and early indications suggest that the second-year back is on track to make his coach look good for that evaluation in 2018.
"He has been remarkably fit," Carroll said. "He's a beautiful looking athlete out here, he has just worked so hard, he's so well-conditioned and so strong. He's really tearing it up. We're really excited about it. When we left off, he was just getting going last year, and I think would have been a very impacting football player on our team; we missed him terribly, but he has picked up and is way ahead of where he was."
5. D.J. Wagz.
Early in the day, Bobby Wagner used a break between plays to go put in a request with the D.J. who was providing the soundtrack to Friday's practice. Wagner asked to hear some Kendrick Lamar, noting that he was talking about "Pulitzer Prize winner Kendrick Lamar."
After Wagner returned to the field, D.J. Roscoe honored the linebacker's request, playing a pair of Lamar's hits, Humble and DNA.
6. Frank Clark, man of the people.
In the midst of a heat wave—or at least what qualifies as one in the Puget Sound region—fans attending training camp spend two-plus hours in the sun with little to no shade available. Apparently sensing that fans might need a relief from the heat, defensive end Frank Clark went to a cooler on the sideline and removed several bottles of Gatorade, delivering the cold beverages to some grateful fans.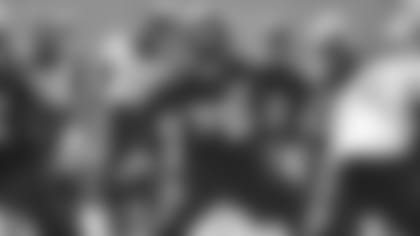 7. Duane Brown's got wheels.
When practice wrapped up Friday, Seattle's offensive linemen and quarterbacks lined up to run a few wind sprints on a practice field bordering Lake Washington. On the final 53 1/3-yard dash across the width of the field, a hustling Duane Brown crossed the line ahead of all his fellow linemen while running stride for stride with Russell Wilson (Brown insists he edged Wilson across the line).
That's notable for a couple of reasons, not the least of which is that the 32-year-old Brown is a four-time Pro-Bowler heading into his 11th season. He's hardly a fringe player trying to crack a 53-man roster, so Brown could probably get away with taking it a little easy on a hot afternoon, but instead he was out there leading the way.
And speaking of Brown's leadership, Carroll has noticed Brown's presence in his first full season with the Seahawks after joining the team midway through last season in a trade with Houston.
"This is a real leader," Carroll said. "He's a real man in that huddle and in the locker room, and we're very, very fortunate to have him. A great worker, a really astute ballplayer, he's got a great voice and perspective that's going to help other guys. Last year was right in the middle of everything, he couldn't have the effect that you could see the potential for, and he has just taken off this offseason and done a great job. He's a big factor for us right now, we love having him on our team."
Photos from the second day of 2018 Seahawks Training Camp, presented by Safeway at Renton's Virginia Mason Athletic Center.