The Seahawks and Cardinals met for the first time on October 25 for Week 7 of the 2020 season. It was a back-and-forth battle, with Arizona ultimately coming out on top after kicker Zane Gonzalez delivered a 44-yard field goal as time expired to send the game to overtime, then making a 48-yarder to win it.
The loss was Seattle's first of the season, moving them to 5-1, while Arizona improved to 5-2. Now, less than a month later, the two teams meet again, this time with identical 6-3 records.
Having played such a tight game just 25 days ago, it would be perfectly reasonable to expect a replay of Week 7. But between roster moves and player health, there are several reasons why this week's Thursday Night Football game may play out differently.
The Seahawks have improved their pass rush
The Seahawks added veteran defensive end Carlos Dunlap II to their roster two weeks ago and defensive tackle Damon "Snacks" Harrison made his debut against the Rams. They also activated defensive end Rasheem Green from injured reserve, culminating in more depth and experience up front. Defensive tackles Jarran Reed and Poona Ford have also impressed in recent weeks. Reed had a multi-sack performance against the Bills, and Ford continues to demonstrate that he's more than just a solid run defender – he can be effective on third downs as well.
Over the last three games, the Seahawks recorded 13 sacks – an upgrade from the nine they tallied over their previous six games. Increased pressure could help the Seahawks contain Arizona's dual-threat quarterback Kyler Murray. Seattle pressured Murray on just 9.6% of plays in their last meeting. Of course, slowing Murray also means limiting his legs.
The Cardinals are a little thinner along the defensive line
As AZCardinals.com Kyle Odegard noted in this week's Opposing View, the Cardinals are a bit depleted up front. Arizona signed outside linebacker Markus Golden to fill the shoes of an injured Chandler Jones, but defensive tackle Corey Peters (knee) and defensive end Jordan Phillips (hamstring) have already been ruled out for Thursday. Arizona also struggled to get to Bills quarterback Josh Allen last week. They ended the day with zero sacks and four quarterback hits, despite pressuring on 20% of plays. The Cardinals are ranked ninth in defensive efficiency according to Football Outsiders, but depth concerns up front could prove challenging, especially on a short week.
Arizona defensive coordinator Vance Joseph could take a blitz-friendly approach against Seattle's offense. The Cardinals blitzed 26 times against Russell Wilson in Week 7. Last week they blitzed 27 times against Josh Allen.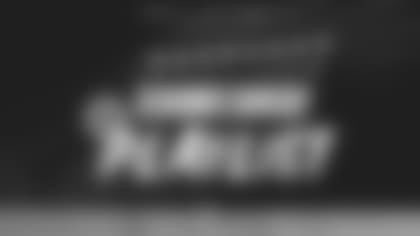 Follow the Seahawks Gameday Playlist on Spotify
Follow this playlist to hear what the Seattle Seahawks will be listening to all season long, curated by DJ Supa Sam, the official DJ of the Seahawks. Now playing: Week 1 at Colts
Seattle's secondary has seen some shake-ups
Starting cornerbacks Shaquill Griffin (hamstring) and Quinton Dunbar (knee) have been ruled out for Thursday's game. Both started in Week 7 against the Cardinals. Griffin played 45% of defensive snaps before injuries forced him out and Tre Flowers replaced him. With both Griffin and Dunbar out, Flowers and newcomer D.J. Reed will likely get the starting nod. "We're getting to know him and liking everything that we are seeing," Carroll said of Reed on Wednesday. "We just get excited about the guy because he's got good feel. He's got excellent burst. He's got terrific speed. His catch-up and change of direction is really remarkable."
The good news is Seattle will have safety Jamal Adams on the field this time around against the Cardinals. Adams recorded two sacks and a forced fumble last week against the Rams, despite playing through shoulder pain.
Russell Wilson and Kyler Murray are still two of the best
Seahawks quarterback Russell Wilson threw his first multiple-interception game of the season in Week 7 against the Cardinals. Wilson's uncharacteristic turnover struggles continued - he threw four interceptions and lost three fumbles over the past two games. Last week also marked the first time Wilson was held out of the end zone this season. "I've got to make clearer decisions," Wilson explained on Tuesday. "I don't want to overcomplicate it."
Seattle's offense still leads the league in points scored and passing touchdowns. They are ranked fourth in Football Outsiders' offensive efficiency, several spots ahead of No. 12 Arizona. Wilson just needs to rely on his strengths, according to Seahawks head coach Pete Carroll. "It always comes back to just doing what you're really good at and staying with that," Carroll said Wednesday. "Not trying to do anything more than that. You don't need to. He's an incredible player and competitor. And he knows, let's get back out on the field again. Let's get going again. I'm really looking forward to his play this week. This is a challenging defense. He needs to be on it. He knows that and he's prepared really well to get that done."
On the other side of the field, Kyler Murray continues to impress in his second season. He's thrown 17 touchdowns and added 10 with his legs. He's improved his completion percentage from 2019. He's also led three fourth quarter comebacks that resulted in wins, including last week's Hail Mary victory against the Bills. In Week 7, Murray rushed for 67 yards and a touchdown against Seattle. It's his ability to scramble on designed pass plays that Carroll is particularly focused on. "There is a portion of their run game where he is involved in the reads and the runs, as a design of it," Carroll explained. "They'll get him on the edge, they'll draw, they'll do a lot of stuff with him. And those are difficult, just because he is so quick. But the biggest problem is really when it's a pass and then he takes off and makes space, and makes yards getting out on the edge or getting up through the middle. He's got all kinds of tricks and he's very, very bursty. He's so quick with his feet that he's hard to tackle. He poses a ton of problems, whether it's the running game or off the passing game."