On Monday, the Seattle Seahawks agreed to a trade, sending safety Ugo Amadi to the Philadelphia Eagles in exchange for receiver J.J. Arcega-Whiteside. With the Seahawks on a short-week before taking on the Chicago Bears at Lumen Field, Arcega-Whiteside is just trying to learn a new city and team—and most importantly compete.
As of last week, Arcega-Whiteside was preparing for his fourth season as an Eagle out of Stanford. Through his first three years with the Eagles, Arcega-Whiteside played 40 games as he dealt with nagging injuries. In 2021, Arcega-Whiteside played 16 games, contributing on offense and playing 54 percent of special teams snaps. Philadelphia began experimenting with Whiteside at tight end in the spring, before agreeing with Seattle to make the exchange for Amadi. 
Tuesday, Arcega-Whiteside took the field at the Virginia Mason Athletic Center, practicing back at wideout for the Seahawks. Following his first practice, Arcega-Whiteside discussed his reaction to the trade news.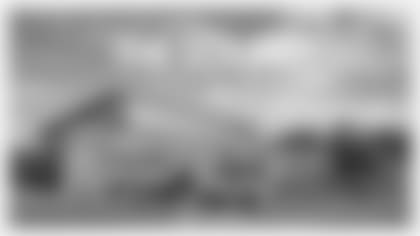 Watch The Latest From The Sound
Watch the latest from the season-long docuseries featuring unprecedented access and stories from inside the Virginia Mason Athletic Center like you've never seen before. This is The Sound of the Seahawks.
"Just like anybody's reaction, shocked and full of emotions, but very excited," said Arcega-Whiteside. "I've heard a lot of great things about Seattle and this organization and the players. Super excited to see what the hype is about and just excited to be here."
One of the first calls Arcega-Whiteside took following the news was from a friend, Seahawks tight end and former Stanford teammate Colby Parkinson.
"He said 'I don't know when you're coming in, but I'm excited to see you,' and I was like, 'Well, I'll be there tomorrow! I'm on the flight right now.' So it was a quick turnaround," he said.
The former 2018 second-team All-Pac 12 selection discussed how the Seahawks plan to utilize him on the field. 
"Yeah, I'm playing receiver and getting back to receiver," he said. "As far as like a specific role, we haven't gotten into that yet—today is my first day, so it's a lot to learn from names, to plays, to how things go, but just everything I have done in Philly in terms of blocking and special teams, carrying that over and building from there."
Seahawks coach Pete Carroll explained that Arcega-Whiteside is a player the Seahawks have been interested in dating back to his days at Stanford. 
"This is a guy we really liked coming out (in the draft)" Carroll said. "He's an aggressive catcher, contested catch guy was really what we liked about him. He's so strong and physical and all that. He made a lot of big plays, was a real go-to guy in the program at Stanford. And he's unique. He's a big strong kid. He was 225 (pounds) coming out, he's like 230 right now. He was playing some tight end even for them, which we like all of that just that diversity. I'm always looking for unique guys, and this guy brings something possibly unique… Knowing who he is, he's got terrific hands, he's got a great catching range and he's a physical kid."
Arcega-Whiteside is learning the playbook on the fly in preparation for Thursday's preseason home matchup against the Chicago Bears. The similarities of the concepts in Seattle's offense to his Stanford playbook of old have aided in speeding up the process.
"The league has a lot of concepts that are similar," said Arcega-Whiteside. "It's just learning the names and the language, but it's a lot of terminology that carried over from Stanford that's carried over here. Just west coast offense in general, so I am excited to learn and there's a couple terms where I'm like 'Oh yeah I remember that." Or that'll be easy to remember, but then there's also other things that I have never heard of before that I just have to keep repeating to myself, but over time it will get picked up."
With a fresh opportunity on the horizon, Arcega-Whiteside holds no bad blood for the learning experience he got in Philly. For him, it was a learning experience.
"Mostly just growing up," he said of his first three years in the league. "Learning how to be a professional. I made some incredible friends there, life-long friends. There are some incredible people in that organization, and yeah just learning a lot about the league. How to handle the ups, how to handle the downs, and just keep pushing and keep going. You never know when things can change, and obviously one day I was there and the next day I'm here. So, just taking every day and counting every day as a blessing learning from the bad and building on the good."