Scott Engel is in his 11th season as the official Fantasy Football writer and analyst for Seahawks.com. He is an inaugural member of the Fantasy Sports Writers Association's Hall of Fame. Scott is a four-time FSWA award winner and a 11-time nominee, including being a finalist for the 2020 FSWA Fantasy Football Writer of the Year Award, which he won previously. Scott was the No. 1 fantasy football draft accuracy ranker at tight end and No. 6 at running back on fantasypros.com in 2021. You can find more of his fantasy football analysis at The Game Day.
For so many fantasy football players, the game is a year-round activity. When the 2022 campaign ended, those who play in yearly leagues already started to look ahead to the next season. Participants in keeper and dynasty leagues are actively planning to shape their rosters for the 2023 season. In dynasty formats, players are making trade offers and considering their positions and options in upcoming rookie drafts.
If you won a league or finished among the top teams this past season, or are playing in an NFL playoffs league, I always encourage fantasy players to donate portions of their winnings or any amount to player charities. The players drive our fantasy teams to victories, and they are also the ones who make fantasy football possible.
In an interview with Seahawks Fantasy Insider, Noah Fant said that he sees fantasy football as a good way to connect the fans and players. He believes it gives followers of the NFL another unique way to enjoy the league and appreciate the players.
"I think it's good for interactions between players and fans. It's a good thing and a cool way for fans to choose their favorite players to be on their teams," Fant said. "I think it's good for the NFL because it's another source to get fans engaged. A lot of people love playing it and trying to win their leagues. It gets competitive and people enjoy playing fantasy football."
Every season, when I win league championships or finish among the top teams, I distribute some donations to the charities of the players on my rosters. Fant caught three TD passes in four games from Weeks 13 to 16 of the 2022 season and may have helped your fantasy team make a push to the playoffs.
For those who rostered Fant this season, you can consider making a donation to his charity of choice, the Open Door Mission, a Gospel Rescue Mission based in his hometown of Omaha, Nebraska.
"I've partnered with them quite a bit," Fant said. "They hold a special place in my heart, having family members go through there, close friends, younger kids and people that I have known. They help homeless people and homeless families get back on their feet and be able to get a job, get cars, get clothes and much more."
Fant added that he thought it was a tremendous gesture that many fantasy football players have already made significant donations to Damar Hamlin's Chasing M's Foundation and he appreciates any more generosity that is shown by the fantasy community to the players.
"Just showing their support is a great thing," he said.
Seahawks Fantasy Football Advance Scout For 2023: Early Outlooks, and Fant's Insights
As we look ahead to the 2023 campaign, Fant joined me to provide his insights on some of the Seahawks' top fantasy options for the next season. Here are the combined views of Seahawks Fantasy Insider and a guy who truly knows the strengths of his offensive teammates.
Kenneth Walker III
Walker's 2022 Fantasy Stat Line: After taking over as a starter for the Seahawks in Week 6, Walker performed at a top 10 fantasy RB level the rest of the way. He averaged 15.9 Fantasy Points Per Game in points per reception formats from Week 6 on. He had eight rushing TDs in his 11 starts.
Fant's Take: "I've really enjoyed watching Kenneth grow throughout the season. He came in, obviously already super talented and he was already able to make special plays right off the jump. He's grown throughout the season, he's learned patience and how he wants to read things at the NFL level. He's just gotten better and better each week. It's been really fun to be a part of that and block for him and see those special plays happen right in front of me. The sky is the limit for him. He's played very well and he's continued to improve."
Seahawks Fantasy Insider Spin: As Fant indicated, Walker certainly became more of an offensive force as the season progressed. He came into the league being capable of scoring or delivering a big play from anywhere on the field. Later in the year, he showed much improvement as a consistent ball carrier. In the final five games of the season, Walker averaged 100.3 rushing yards per game. Not only can he make defenders miss and break tackles, Walker developed into a more complete runner who can pick up tough yardage. He might be drafted on the fantasy RB1/RB2 borderline next season, and he should be considered as a second or third keeper in those type of formats. Walker has significant upside in dynasty leagues and he can be a locked-in prime starter for several years to come.
Geno Smith
Smith's 2022 Fantasy Stat Line: He was one of the top fantasy football waiver wire additions at QB in 2022. Smith finished as a top 5 fantasy QB and he averaged 18.5 points per game. He was a regular starting option after Smith was undrafted in most leagues. His 30 TD passes were fourth-most among NFL QBs.
Fant's Take: "He's done a good job of leading the offense, diagnosing the defense quickly and getting us into the right positions and right plays to be successful. That can be attributed to him being in the league for as long as he has, and can also be attributed to a lot of different things such as learning under different guys. He's had a phenomenal season. He's delivered the ball well, and he has read defenses well. I don't see that dropping off any time soon and I think that he'll keep that up."
Seahawks Fantasy Insider Spin: Fant was signaling that experience and savvy led to Smith's success, and those same qualities translated into quality fantasy production. Smith displayed tremendous poise when reading defenses and had an immediate and a strong on-field rapport with his top pass-catchers. He demonstrated outstanding command of Shane Waldron's schemes. According to playerprofiler.com, Smith was third in the NFL on Money Throws (passes that require exceptional skill or come in critical moments) and deep ball accuracy rating. Smith showed he was the ideal QB to lead the Seahawks offense in 2022, and he will be drafted among the top 10 to 12 QBs in many fantasy football seasonal leagues in 2023. He will be a regular top streaming choice.
Tyler Lockett and DK Metcalf
2022 Fantasy Stat Lines: As always, Lockett and Metcalf were must-start fantasy players, and both performed as quality WR2 options. Lockett, who was drafted as a WR4 in some fantasy leagues during the summer, finished as WR13 in PPR leagues. Metcalf finished as WR16 and demonstrated his reliability in PPR formats with a career-high 90 receptions.
Fant's Take: "I think that Tyler is definitely very underrated. He's played very well. He's a really shifty guy and very fast. DK is obviously very fast and he can go up and get the ball."
Seahawks Fantasy Insider Spin: Lockett is underrated in both real life and in fantasy football. He was one of the best value picks at WR in 2022. He has caught eight-plus TD passes in each of the past five seasons and his 84 receptions were his second-highest total ever. Lockett's annual fantasy consistency cannot be doubted. He will be a very safe pick as a fantasy WR2 in 2023 with a statistical floor of 80-plus catches, 1,000-plus yards and eight-plus TDs.
Metcalf will again be drafted as an upside fantasy WR2, and we still may have not witnessed his best season yet, which makes him a very good trade target in keeper and dynasty leagues. He became an even more dependable option for the Seahawks offense on key passing downs in 2022, and he finished with a career-high 141 targets, which ranked 11th in the NFL. His 27 red zone targets were second in the league, so Metcalf obviously has a lot of TD promise heading into 2023. Fant said that Metcalf can "go up and get the ball," and you should see him win often in those type of situations for TD catches next season. He may finish as a top 10 fantasy WR in 2023.
Noah Fant and Colby Parkinson
2022 Fantasy Stat Lines: Fant was a Top 12 fantasy tight end during the second half of the season, as he scored 71 PPR points from Weeks 9 through 17. Parkinson showed that he may be a player to watch in larger dynasty leagues, as he had five catches on seven targets and a TD in Week 17 and a 32-yard reception in Week 18. The Seahawks run many three-TE sets, so Fant, Will Dissly and Parkinson are always on the radars of savvy fantasy players. 
Fant's Takes: On his play in Weeks 13 through 16, when he also scored 14-plus PPR points twice, Fant said "I think it was just a matter of being involved in the red zone. Geno was able to find me on a couple of different plays. It was definitely a stretch of time where things clicked."
Regarding the three-TE sets, Fant said "It's cool to have three TEs on the field at once. I think it's an aspect of the game that defenses have to respect. It's good to have three big bodies that can run routes and catch balls. It's certainly a positive."
He also talked about Parkinson's role and how the two of them are continuing to progress as key parts of the Seahawks passing game: " Colby's played very well. It's was kind of a focus to get him more involved when Will got hurt. He's played well. I'm still learning as I go and make sure that I'm growing also. We always share tips, help each other out and try to get better."
Seahawks Fantasy Insider Spin: Fant has played in four NFL seasons, so it is easy to forget that he is only 25 years old and he still may have his best fantasy seasons ahead of him. He is a big, fast target who can be a matchup problem for many pass defenses. Fant should be drafted among the top No. 2 Fantasy TEs in 2023. 
While the Seahawks running multiple TE sets would appear to make fantasy production less predictable, Fant should remain a consistent streaming option. Parkinson showed late in the year that he may develop into a viable fantasy option in the seasons ahead. If you can roster him in a large dynasty league, stash Parkinson for the future.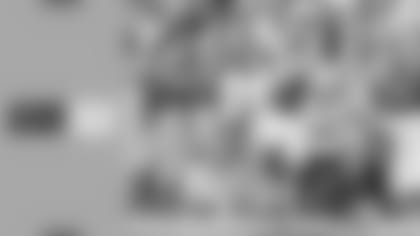 Listen To The Hawk Talk Podcast
Every week, Michael Bumpus and Nasser Kyobe release two podcasts analyzing the Seahawks previous game and previewing the next Seahawks opponent. Available on Spotify, Apple Podcasts, and wherever else you might get your podcasts.
Seahawks Fantasy Insider Top 30 Players Overall For 2023
An early look at our Top 30 overall PPR players for the 2023 season.
Justin Jefferson
Ja'Marr Chase
Christian McCaffrey
Austin Ekeler
Stefon Diggs
Tyreek Hill
Travis Kelce
Davante Adams
CeeDee Lamb
Cooper Kupp
Saquon Barkley
Jonathan Taylor
Amon-Ra St. Brown
A.J. Brown
Travis Etienne
Josh Allen
Jalen Hurts
Patrick Mahomes
Jaylen Waddle
Dalvin Cook
Nick Chubb
Derrick Henry
Josh Jacobs
Joe Mixon
Kenneth Walker III
Lamar Jackson
Justin Fields
Joe Burrow
Garrett Wilson
Breece Hall
For more fantasy analysis from Scott Engel, visit The Game Day during the fantasy football offseason.