There are athletes who make their mark with their on-field play, with the stats they accumulate or the games they win or the honors they receive. And then there are those whose biggest impact comes in the lives they touch, in the relationship they forge, in the respect they earn in the locker room.
Tarvaris Jackson fell into the latter category when it came to building a legacy with the Seahawks. That's not to say Jackson wasn't a good quarterback—he performed well when given the chance, particularly when he started most of the 2011 season despite a torn pectoral muscle that should have probably landed him on injured reserve early in the season—but his impact on the Seahawks, who he played for in 2011, then again as Russell Wilson's backup from 2013-2015, was so much bigger than the 23 games he played in a Seattle uniform.
Jackson's life was tragically cut short when he died in a car accident in 2020, but his legacy lives on both in Seattle and in his home state of Alabama. And to honor that legacy, Jackson's alma mater, Alabama State University, is starting the Tarvaris Jackson Legacy Scholarship, in part with the help of a donation made by the Seahawks earlier this month when Mario Bailey, the team's director of legends & player engagement, traveled to Alabama to present a check for $20,000 to the school.
"Tarvaris was a fantastic member of our team," Seahawks coach Pete Carroll said. "Our players loved him, he had one of those personalities that everybody gravitated towards. He was tough, he was really athletic, he could throw the hell out of the football, and he loved to play. Nothing bothered him, he was just an unflappable guy. He was just loved around this place, and we miss the heck out of him. I'm glad we're able to make a statement to help him."
The Tarvaris Jackson Legacy Scholarship is a current-use scholarship with the Alabama State University Foundation, Inc., and it will support former football players with completing their academic study programs as a way to honor of Jackson's commitment to excellence on the field and in the classroom.
Those looking to support the Tarvaris Jackson Legacy Scholarship can visit www.alasu.edu/tjackson to donate to the scholarship fund.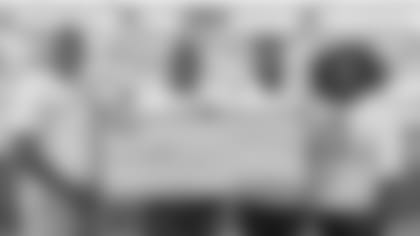 "He always led with his heart and he really demonstrated love to us, to the younger guys as we came in," said Seahawks Legend Doug Baldwin, who was a rookie in 2011, Jackson's one season as a starter with the Seahawks. "After my rookie season, during our off-season training period, we had Wednesdays off, so we'd work out on Monday at the facility, work out on Tuesday, and then Tuesday night, we called it 'Tuesday Takeover.' Basically, it was all the young guys on offense, we would go over T-Jack's house or to (Sidney Rice's) house, we'd take over Sid's house, and T-Jack would be there. T-Jack would cook for us, Sid would open up his jet skis and just allowed us to really have a good time, feel safe and be with guys who genuinely cared about us."
"And I just remember T-Jack imparting so much wisdom, and more so than that, just being present. Just showing up and willing to give his time to us and allow us to ask questions. It was just a very thoughtful and intentional, deliberate thing that he did for us. And I'll never forget it… When people really take the time to see you as a human being and to love you and to recognize you for your flaws and all, it does something to you, and T-Jack did that for me. I'll eternally be grateful to him for that."
Backup quarterback Tarvaris Jackson agreed to terms on a new contract with the Seahawks.