Here's a look at what's 'out there' for today - Monday, July 8 - about your Seattle Seahawks:
'Inseparable: How Family and Sacrifice Forged a Path to the NFL'
In advance of their book release this week, Seahawks players Shaquill and Shaquem Griffin joined the _Today_ show Monday morning to discuss what inspired the brothers to share their unique story that has seen the identical St. Petersburg pair go from UCF standouts to NFL teammates in Seattle.
"What motivated us was, first off, the way we were raised, in a household that was based off of family, faith, love, caring, and if you've got a story to tell, tell it," Shaquill said of their book, Inseparable: How Family and Sacrifice Forged a Path to the NFL. "Just going off the situation that he went through and that we've both been through and to overcome it, we always wanted to relate to everybody and get a chance to give back and kind of share and be able to relate to others."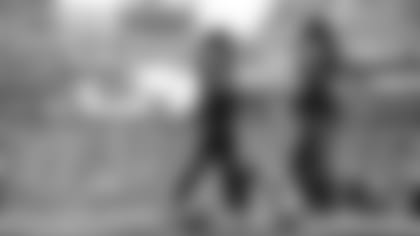 A large part of that situation Shaquill refers to is how his brother Shaquem was born with amniotic band syndrome, which resulted in the amputation of Shaquem's left hand when he was 4 years old. Living with and overcoming that type of challenge to make it to the NFL has motivated other limb-different individuals to achieve their goals, and the Griffin twins felt it was important to dedicate a section of their book to tell stories of the limb-different kids they've helped inspire.
"Me growing up, I didn't see it much," Shaquem said of his experience with limb-different youth. "Now that I have the opportunity, now that I have this platform, I'm able to use it and share it with my brother, be able to see so many different kids and so many different people come out that's lived their lives, lived their best life and be able to accomplish their goals and their life dreams. When you're able to see that and see more of it, that means you're doing something right. That's the whole thing, we want to be able to use our platform in the right way to motivate others to be the best you."
Social Post Of The Day
Today's 'Social Post(s) of the Day' comes from us and the rest of the Seattle sports community, as we congratulate the U.S. Women's National Team on their 2-0 victory over the Netherlands in the 2019 Women's World Cup Final.