April marks National Autism Awareness Month, and in an effort to promote autism awareness, Seahawks general manager John Schneider and his wife Traci joined 710 ESPN Seattle's 'Brock and Salk' show Monday morning to discuss their involvement with Ben's Fund, which in partnership with Families for Effective Autism Treatment (FEAT) of Washington provides grants to families across the state to help cover costs associated with medical bills, therapies, and support systems for children on the autism spectrum.
The Schneiders started Ben's Fund in 2012, naming the fund after their son Ben, who was diagnosed with autism at three years old.
"We always knew that we wanted to give back to the autism community because we knew how much of a financial struggle that is and we're living what other parents are going through," said Traci. "We wanted to give back not only financially, but also speaking about what it's like as a parent and what it's like as a family to have your child diagnosed with autism, and to create that support and that awareness in the autism community."
With the Seahawks Women's Association's annual Prime Time celebrity waiter event, which sees current and former Seahawks players, coaches, and staff serve food and drinks to fans and club partners all in support of Ben's Fund, more than $3.5 million has been raised for the cause. The foundation, now in its eighth year, has helped provide more than 1,800 grants to Washington families.
The Schneiders said they have watched Ben, now age 17, change "tremendously" through the years.
"It's amazing to watch him be a young adult now," said Traci. "When he was diagnosed at three we couldn't get him to communicate with us, we couldn't get him to talk to us, he would never tell us he was hungry or thirsty. We had to dissect and try to become this detective to try to figure out what was going on with him. And now…"
"Yeah, he's a normal teenager," added John. "'Dad, can you get away from me?' 'Stop talking to me now please.' 'Can I have some alone time? I'm tired of you.' Yeah, there's a lot of people that are tired of me, buddy."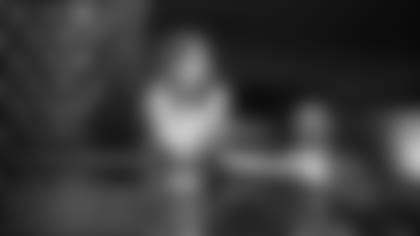 Ben's Fund
Help provide financial support to children and young adults with autism along with guidance and support as they continue their journey.
As Ben transitions from adolescence to young adulthood, the Schneiders have added to their autism efforts to better serve those young adults and their families. Last year, Ben's Fund began offering grants to 19-23 year olds to help support education, job training, life skills, and social skills.
"This autism community in Seattle is amazing and is doing really wonderful things," said Traci. "As we grow into the young adult side, too, just getting to know more of the providers and know more of that community here and it's been amazing just to be part of that autism community and hopefully do great things."
As an organization, the Seahawks are supporting the Schneiders' autism awareness efforts by donating 10% of sales from regularly-priced hat and knit caps at The Pro Shop to Ben's Fund. An online charity auction featuring autographed Seahawks memorabilia will also run from Tuesday, April 2 to Thursday, April 11, with Ben's Fund reaping 100% of each item's proceeds. And throughout the first week of April, CenturyLink Field will light its arches blue as part of the Light It Up Blue campaign to support autism awareness.
To apply for a grant, make a donation, or learn more about the online auction, head to Seahawks.com/BensFund.