The Seahawks returned to work Monday looking to bounce back from a close Week 3 loss to the Falcons, a game Seahawks coach Pete Carroll found encouraging based on what he saw from Geno Smith and the offense, but also a game that showed that the defense has some things to clean up.
"We had some good strong meetings today to make sure we're on the topics of the things we've got to be on to make sure we're getting better," Carroll said. "We saw a lot of improvement offensively. It looked like the type of game we've been hoping to see—it was balanced and we protected and we ran the ball some. Guys were making their plays, we converted on third down, all those things; we didn't turn the ball over until the last play of the game. So a lot of good things there that we can build on.
"On the other side of the ball, we didn't get it done on the early downs. They were able to make enough running the football where they stayed with it and were really consistent about that. The runner did a nice job and we didn't get enough stops in critical situations… We've got stuff we've got to zero in on and get done. It's obvious."
Here are five things we learned from Carroll's Monday presser:
1. Travis Homer is "really sore" after leaving the game with a rib injury.
Running back Travis Homer gained seven yards on his first carry of the game, but unfortunately that was also his last carry, as he exited after taking helmet to the ribs.
"He's really sore," Carroll said. "He got hurt. He had significant bruised ribs, a little bit of a cartilage issue. I don't know how far this is going to take him, I don't know, but I know he's really uncomfortable today."
If Homer were to miss time, multiple people will need to step up for a player Carroll described as "an integral part" of Seattle's special teams units. Homer being out would also mean DeeJay Dallas taking over as the third-down back, something he has done throughout his career.
2. Cornerback is getting back to full strength.
The Seahawks opened camp with Artie Burns and Sidney Jones IV as their starting cornerbacks, but eventually rookie Tariq Woolen and Mike Jackson were able to take over those roles after the two veterans ahead of them missed time with injury.
Jones was inactive on Sunday, which Carroll said had to do with special teams—the reserve corners who were active had big roles on special teams—while Burns, who returned to practice last week from a groin injury, was also inactive, but should be getting back to game shape soon. Carroll likes what he has seen from Jackson and Woolen so far, so no changes to the lineup are imminent, but with Jones and Burns both back, cornerback is a deep and competitive spot for Seattle's defense.
"Artie practiced last week," Carroll said. "We anticipated he needed to get a couple of weeks to get back in shape to make sure that he was well on his way to being fine and healed and all that. So he'll be practicing this week trying to get on the game field… The guys are just doing well. Both Tariq and Michael are doing a good job. We're in a rhythm a little bit and we want to see if we can keep those guys growing as young players. But it's always competitive, of course. We know that Sidney can play and we know that Artie can play. So the position that went from looking pretty bleak, like we don't have any backup experienced players, to now that those guys are back out there, we've got a good group."
3. Boye Mafe and Darryl Johnson are earning bigger roles in the edge rotation.
Darryl Johnson (20 of 57 defensive snaps) and rookie Boye Mafe (19 of 57) both saw their most significant playing time in terms of percentage of defensive snaps, and their roles should only increase based on what they have shown coaches so far, Carroll said.
Through three games Darrell Taylor and Uchenna Nwosu have started at outside linebacker and played the bulk of the snaps there, and while neither would seem to be in any danger of losing their starting jobs, Carroll does want to see more of Mafe and Johnson.
"He did do well against running game, he played the edge really well yesterday," Carroll said of Mafe. "We're looking to continue to add for him. He's looked like he's played strong and he's been active and he's made a few plays in every game that he's been in. We just need to keep going with him and just keep the rotation going. I don't think we've found the exact rotation for us yet, but we're working on it."
When the Seahawks claimed Johnson on waivers prior to the start of the season, Carroll said the move mostly was related to what the former North Carolina A&T standout showed in special teams during his time with the Bills and Panthers. But after stepping into a bigger role last week when Shelby Harris went down with an injury, Johnson has shown his coaches that he can help the team on defense as well.
"I just have come to really appreciate his general ball sense and awareness," Carroll said. "He's got really good feel and he's really good technician, and he's got flexibility and he can play different spots. And you could have read into that that if he could contribute on special teams in a big way, he might have maybe better awareness and other guys—covering kicks 260 pounds, man, again that's a special player. So he's given us some stuff. Like with Boye, we want him to continue to be part of the rotation and keep growing that thing… We're going to use him. I want him to play more on early downs."
4. Defensive communication was a big topic in Monday's meetings.
The Seahawks have a new scheme on defense and a lot of new players as well, which has been a factor in some of the early-season struggles. But while that might explain some of the issues, Carroll isn't comfortable letting that be an excuse moving forward.
"We need to get rid of it and get it ironed out," Carroll said. I think we're going to be fine and I like what we're doing and I like how we're doing it, but we need to get our wins… Those are things we need to iron out and get rid of so we can play a more consistent game and complement what the offense did."
One way the Seahawks hope to get that ironed out is by having defensive players communicate better on the field.
"We talked about communication a lot today, because there are alerts coming in and alerts in the game plan preparation that can help us there," Carroll said. "When there's an experienced player next to you and he tells you something, you hear it. It's not that's he's not making the communication, but we (need to) act on it well. So those are all things that will get better, but there's no time. We need to get going."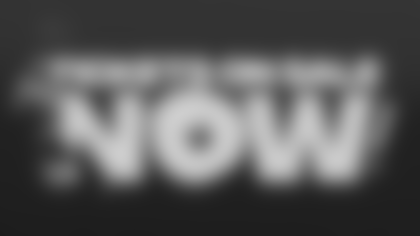 2023 Tickets On Sale Now!
Secure your tickets today to experience the best gameday in the NFL!
5. The offensive line had a "really solid day."
A big reason why the Seahawks were able to put up a season-high 420 yards and get a big game out of Geno Smith was the play of an offensive line featuring three new starters from a year ago—center Austin Blythe and rookie tackles Charles Cross and Abraham Lucas. That unit held up well on Sunday, keeping Smith clean other than two late-game sacks, and paving the way for a solid performance on the ground.
"Really solid day," Carroll said. "The protection was great—we gave up a couple sacks late in the game, but the protection was really good. The running game was right around five yards a clip, it was a nice day for the guys. The tackles continue to just show a consistency we're counting on. They're not wowed by what's going on, they're OK about it. They're handling it really well. It's kind of like the twins, those two guys kind of hanging together, but I really like what they're doing."
The Seahawks take to Lumen Field for their second home game of the 2022 season against the Atlanta Falcons on September 25, 2022.