Happy final Blue Friday of the season, 12s. Here's a look at what's out there today, January 7, about your Seattle Seahawks. 
Calkins: Seahawks' Recent Offensive Surge 'Could Be A Hint Of What's To Come For 2022'
It's been a down year for the Seahawks across the board, and unfortunately it's been no different for wide receiver DK Metcalf. After a breakout 2020 sophomore season in which he grabbed 83 catches for 1,303 yards — breaking Steve Largent's franchise record — and 10 touchdowns, Metcalf has just 70 receptions for 909 yards through 16 games this year. 
However, Metcalf does have a career-high 12 touchdown catches this year, three of which came in last Sunday's big win against the Lions. Metcalf's increase in production comes as the Seahawks' offense has begun to hit its stride late in the season — Metcalf himself has four touchdown grabs in the past two games after not recording a touchdown in the six games prior. The run game has come alive as well, with Rashaad Penny running for at least 135 yards in three of the team's last four games. 
"Metcalf's statistics reflect [Russell] Wilson's absence," Calkins said. "In his first five games of the season, DK averaged 76.6 receiving yards per game, a pace that would have given him 1,225 yards through 16 games had he kept it up. But later came a four-game stretch from hell: 43 yards in Week 8 vs. Jacksonville, 26 yards in Week 10 vs. Green Bay, 31 yards in Week 11 vs. the Cardinals, and 13 yards on one reception in Week 12 vs. Washington. And don't forget Metcalf's would-be 62-yard touchdown catch vs. the Rams last month had Wilson not underthrown him." 
But with Wilson rounding back into form (1,311 yards, 12 touchdowns, two interceptions over the last five games) and the run game finally operating the way the Seahawks are used to, more opportunities have opened up for Metcalf and the rest of the offense.  
"'Knowing Rashaad Penny is able to do what he does, and then you've got DeeJay Dallas and (Travis) Homer coming in there and backing him up, it really just puts a lot of stress on the defense to worry about the run and the pass,'" Metcalf said in Calkins' story. "'It just basically has opened up a lot more for big pass plays.'" 
Calkins also suggests that the reason Metcalf's numbers have decreased is simply because defenses are paying him that much more attention, à la Randy Moss.  
"Moss was the greatest receiver of his era but never led the NFL in receiving yards. Not because he wasn't the best in the game, but because defenses were so terrified of his ability that they paid extra attention to him, thus opening the field up for his teammates. Metcalf isn't Randy Moss, but he's one of the closest things we've seen to him in terms of pure athleticism." 
"This season has been the ultimate 'down year' for a lot of people in Seahawks jerseys," Calkins writes. "DK has been no different. But given his talent, you have to think there will be a revival. The Seahawks just hope it will come next year."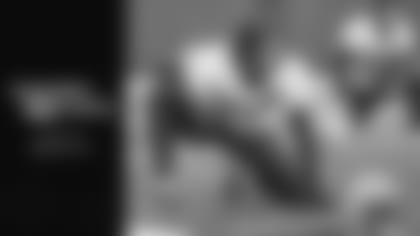 Listen To The Seahawks Insiders Podcast
Hosted by sideline reporter Jen Mueller and Seahawks Senior Digital Media Reporter John Boyle, the Seahawks Insiders podcast takes an in-depth look at each week's Seahawks game and analyzes the previous week's matchup. Available on Spotify, Apple Podcasts, and wherever else you get your podcasts.
Seahawks 2021 Game Changers Presented By Symetra Finishes Season Strong
The Seahawks 2021 Game Changers cohort wrapped up at our final home game of the year with a gameday experience for local Boys & Girls Club members. Game Changers presented by Symetra encourages Washington youth and teens to empower their peers and communities through interactive leadership programs. Last month, the 2021 Game Changers cohort learned about different jobs and opportunities in the sports world culminating with an immersive behind the scenes tour of Lumen Field, among other events.
Kickoff Event at the Boys & Girls Club with Ben Obomanu and Gee Scott
Seahawks Legends Panel with Ben Obomanu, Walter Jones and Jen Mueller
Mental Health Panel with Seahawk's psychiatrist Charisse Williams and Symetra executive Kelli Burns
Seahawks Dancers Panel discussing careers beyond dance, and community involvement
Sports Career Panel & Stadium Tour with Seahawks and Symetra staff
Attending the Week 17 Seahawks game vs. the Lions at Lumen Field
Thank you to Symetra for their partnership on this important program which makes a big impact!
Social Post Of The Day
Former Utah State teammates, members of the Seahawks' legendary 2012 draft class and Super Bowl XLVIII champions Bobby Wagner and Robert Turbin were inducted into the Utah State Athletics Hall of Fame, classes 2021 and 2022, respectively.