The Seahawks held their second full-team practice of training camp Thursday, though again it was more of a walk thru than a full practice, with the offense and defense working separately. Seahawks coach Pete Carroll said the Seahawks get closer to full-speed practice on Friday, then the pads should go on early next week, but for now here are five observations from Thursday's practice:
1. Rookies are holding their own despite the lack of offseason workouts.
One of the big concerns when it comes to preparing for a season without the benefit of an offseason workout program or preseason games is whether or not rookies will be able to get up to speed in time. And while we won't know until the regular season if Seattle's rookie class is truly ready to contribute, there have been encouraging signs early from several members of the rookie class, including two offensive players who have earned praise from both Carroll and quarterback Russell Wilson—running back DeeJay Dallas and guard Damien Lewis.
Dallas, a fourth-round pick, is getting ample opportunity to shine with Chris Carson and Rashaad Penny both absent, while Lewis looks to be a serious contender for the starting job at right guard. Carroll liked what he saw from his rookies when it came to embracing virtual team meetings, but he also wasn't sure how much they would retain when they got to camp. So far, he has been impressed.
"When we got here, we didn't know what would be the retention without any work on the field," Carroll said. "We've had a lot of walkthrough opportunities so far to kind of figure out how much did carry forward; this is this is as far along as we've ever been. And I would never have been able to guess that that would be the case, but it was because we dug in so much and our coaches were so consistent and were so creative, these guys demonstrate the attitude that you want, where they were hungry to learn, so we get here and we jumped right into it. We didn't have to tippy toe it all."
2. The running back depth is strong even without Chris Carson and Rashaad Penny.
Starting running back Chris Carson isn't at camp this week while tending to a family issue, and Rashaad Penny is on the physically unable to perform list due to the knee injury that ended his 2019 season, but despite the absence of their top two backs, the Seahawks really like what they have in that position group. Travis Homer, who took over the starting role at the end of last season with Carson and Penny both sidelined, is joined by free-agent acquisition Carlos Hyde, as well as Dallas. That trio is impressing coaches early, and the group will be really deep when it's at full strength.
"Homer had a really good finish to our season," Carroll said. "He had he had a really good year on special teams showing his competitiveness and his toughness, but when he got a chance to play (running back) late in the year, he did really well. He had an incredible offseason, he's just as jacked as he's ever been. And he's the kind of kid that he's so tough and his mentality is so strong, that he's going to help us at the running back spot. He's got great perimeter speed, he's catching the ball really well, he really hits the line of scrimmage, so he's there. To add Carlos Hyde to this group is really something for us. You've been around us enough, you know the style that we run with, and we've loved the way Chris Carson has run, well they're very similar in their in what they bring. So it's a downhill one-two punch and those guys, the speed that we get from Rashaad, all of the variety of plays that Rashaad runs, and then with Homer, it's a nice mix. Interestingly to add to that is that DeeJay Dallas has made a really good first impression. He's very versatile, he catches the ball well, he runs well, runs routes real well—has a background of running routes as a receiver, has a quarterback background going back to high school. He's got a real versatility to him, so I'm anxious to see what he can do. He's over 220, 222 or something like that, so he's stout enough, but he he's made a good first impression with this. We're anxious to see what happens we get in the pads and all that. So it's a very, very competitive group.
3. DK Metcalf continues to hone his craft.
As good as DK Metcalf was as a rookie, both he and Carroll have made it clear that they see a lot of potential for growth in the receiver heading into Year 2. And while Metcalf will always get attention for his unique combination of size and speed, he's also working hard to do the little things to be a complete receiver. One small example of that came early in Thursday's practice. While the rest of the receivers were catching passes from quarterbacks, Metcalf spent several minutes working one-on-one with receivers coach Nate Carroll. Metcalf wasn't running routes or catching balls during that time, but working over and over on just the first couple of steps of his get-off from the line of scrimmage. And as anyone who watched Doug Baldwin embarrass cornerbacks over the years can attest, those little details can turn themselves into big plays.
4. The return jobs could be wide open.
Tyler Lockett is one of the league's best return men, but he's also Seattle's No. 1 receiver, so it's possible the Seahawks could decide to take receiving duties away from him this year. That was a consideration last season as well, but Lockett opened the season as the primary returner. Eventually a combination of leg injury and illness led to the Seahawks using other players, primarily Homer on kickoffs and David Moore on punts, in the return roles in place of Lockett, and if the Seahawks go that route to start this season, there appears to be a lot of candidates for those job.
Among those fielding kicks early in practice—and this is not a complete list—were Homer, Dallas, Moore, receiver John Ursua, receiver Phillip Dorsett and receiver Aaron Fuller. Finding a player or players in whom he has confidence to make good decisions and take care of the ball will be a must for Carroll if he's going to take Lockett out of the return roles for good.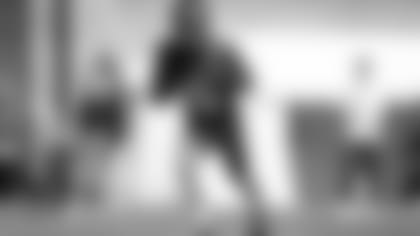 5. Rookie QB Anthony Gordon is off to a good start.
Russell Wilson can be so impressive in practice that sometimes over the years, the drop-off from his play to that of the backups is pretty obvious. And while nobody is going to threaten Wilson for his starting job, it appears very early in camp that the Seahawks have some impressive throwers behind Wilson, both in veteran Geno Smith, who was the backup last year, and in Anthony Gordon, an undrafted rookie out of Washing State. With the very significant caveat that they were throwing on air and not against a defense, all three were very accurate throughout Thursday's practice, with the ball rarely hitting the ground.
Gordon will have a tough time unseating Smith, who has starting experience and familiarity with the offense, but he has looked good in his first couple of days, and the real question could become whether or not he plays well enough to make the Seahawks decide to keep a third quarterback on their roster instead of two.
Photos from the 2nd practice of Seahawks 2020 Training Camp, held on Thursday, August 13 at Renton's Virginia Mason Athletic Center. Seahawks Training Camp is presented by Safeway.