The Seahawks built a big lead in Sunday's home opener and looked to be on their way to a 2-0 start, but the Titans were able to battle back to win 33-30 in overtime.
In addition to that final score, here are 12 numbers that helped tell the story of Sunday's loss:
15
Seattle's lead at halftime, making Sunday's game the first Seattle has lost when leading by 15 or more at half since surrendering a 17-point lead against the Rams in 2004.
10
Penalties committed by Seattle for 100 yards, a huge factor in the loss.
20
Tackles made by linebacker Bobby Wagner, which is not only a career high but also a new franchise record, breaking his own mark of 19 sent in 2019. Wagner also had a career-best 16 solo tackles.
6
First downs for Seattle's offense in a second half and overtime that saw the Seahawks struggle to move the ball outside of a long touchdown pass to Freddie Swain. The Seahawks were held to 174 yards in the second half and overtime after having 11 first downs and 223 yards in the first half. Tennessee, meanwhile, had 24 first downs and 345 yards in the second half and overtime.
182
Rushing yards for Derrick Henry, who also had three touchdowns in the second half. That matches the highest individual rushing total allowed by the Seahawks under Pete Carroll, matching Adrian Peterson's total in a 2012 game won by Seattle.
178
Receiving yards by Tyler Lockett, who now has 278 yards and three touchdowns in two games.
2
Touchdowns of more than 60 yards scored by Lockett in the past two games, making him the fourth player since 1990, along with Jerry Rice, Randy Moss and Steve Smith Sr., to record multiple touchdowns of 60 or more yards in his team's first two games of a season.
12
100-yard receiving games by Tyler Lockett, who now has two of the five highest single-game totals in team history, with his 200-yard game last season ranking second all-time, and Sunday's game raking fifth.
23
Career touchdown runs for Chris Carson after he scored twice on Sunday, moving him ahead of Ricky Watters for the sixth most rushing touchdowns in franchise history.
146.9
Russell Wilson's NFL-leading passer rating through two games Wilson also leads the league in yards per attempt (11.1), ranks third in touchdowns (6), second in touchdown percentage 11.1, fifth in completion percentage (74.1) and is tied for fewest interceptions (0).
95
Receiving yards for second-year receiver Freddie Swain, a career high. Swain also had a career high in receptions with five, and his 68-yard score was the longest catch of his career.
7
Tackles made by defensive tackle Al Woods, a new career high for the 11-year veteran.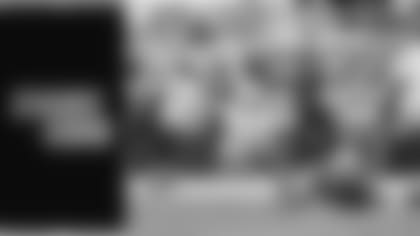 Re-live Each Game With The Seahawks Rewind Podcast
Re-live every Seahawks game this season with game highlights, player and coach postgame interviews, and a whole lot more. Available on Spotify, Apple Podcasts, Stitcher and wherever else you might get your podcasts.
The 12s packed Lumen Field to watch the Seattle Seahawks take on the Tennessee Titans in the 2021 home opener on September 19.