The Seahawks kicked off training camp on Wednesday, taking the field at the Virginia Mason Athletic Center to begin preparation for their 13th season under the leadership of Pete Carroll and John Schneider.
"You can see the work that we did in the offseason paid off," Carroll said. "We had a nice clean day today to get started. Guys knew their stuff, and we were able to just go with the installation and get a lot done on the first day… It's a big opportunity to finally get going. I'm really thrilled about the energy these guys have brought. The coaches did a really good job to get us to this point, so we're off and flying."
Here are seven observations from Wednesday's practice, as well as a few injury updates from Carroll:
1. DK Metcalf is present but not practicing.
Throughout the offseason, Carroll and Schneider said multiple times that the goal is to get an extension done for receiver DK Metcalf, who is heading into the final year of his rookie contract. That's still the plan, but the deal isn't done yet, and as a result Metcalf was present at practice, but not participating.
"We're working," Carroll said of the negotiations. "I don't have any update for you, but we're working… There's a lot of work being done, like right now."
While the ideal situation would have been to have a deal done before Wednesday, it's hardly unusual for a negotiation to linger into camp. That was the case in 2019 with Bobby Wagner, who got a deal done in the first week of camp, and also last year with Jamal Adams, whose deal got done a little further into camp.
2. Running backs Rashaad Penny & Kenneth Walker III look explosive.
When talking about the 2022 team as a whole, Carroll said, "It's a very, very fast team. I don't know if we've been faster." And while that statement holds true at several positions, it was perhaps most evident on Wednesday from the running backs, and from Rashaad Penny and rookie Kenneth Walker III in particular.
Penny ripped off a few long runs that looked a lot like the long runs he had late last season as he was the NFL's most productive back over the final five games of the season.
"Rashaad's in great shape," Carroll said. "He weighed 237, just cut and sharp and fast, and excited because he's had such a great offseason. He looked terrific. He couldn't wait to get out here and just run. He wanted to just show us that he could go. He looked just like he did when we finished up at the end, so that was really fun to see that."
Walker also looked fast in the open field, but what stood out most was his burst in confined spaces. On one particular run, Walker took a handoff and his read initially took him to the left, but Walker then stopped, cut back to the right and exploded through a hole and into the open field.
"He's got legitimate quicks," Carroll said. "His burst and his speed, that's documented, you can see it, and he's got good feel. It's going to be a fantastic opportunity to see those guys play. It takes more than one… That's a good position group for us."
3. Geno Smith still the early leader in the QB competition.
As was the case in offseason workouts, Geno Smith opened camp working with the No. 1 offense, and Carroll confirmed that the veteran is still leading in that battle, but Drew Lock is right on his heels.
"Geno is in the lead right now, he's ahead, and he isn't looking back, he's going for it," Carroll said. "And Drew's not going to take a back seat, so something's going to happen. Jake (Eason) will be there if we need him. It's going to be exciting to see."
Carroll said of that competition: "We've got guys who are talented. Geno, we've known that for years that he was talented when he was playing behind Russ. When he had his chance last year to get going—he'd been on ice for quite a while—he did some great things, and we saw it through the offseason as well. Drew had a very, very good offseason with us, he's just behind in the learning, so he's just catching up. But he's a really talented football player. They're not exactly the same, but they're both big guys who can throw and run, so we're just going to have to wait and see what happens."
4. Smith turned in one of the best plays of the day on offense.
As Carroll mentioned, all of Seattle's quarterbacks have a lot of arm talent, and Smith showed off his ability on what might have been the best throw of the day by any quarterback. On the play, Smith sprinted out to his right, then with a defender bearing down on him, he fired a side-arm pass down the sideline that hit Tyler Lockett in stride for a big gain.
Carroll noted that an important difference between camp and offseason workouts is that quarterbacks have to deal with pressure, and that particular play featured Smith making a great throw with a defender in his face.
5. Sidney Jones IV had a nice pick.
In addition to quarterback, cornerback might be one of the most competitive positions on the team when it comes to starting jobs, and Sidney Jones IV, who is looking to retain a starting job after starting 11 games last season, got off to a good start with the first interception of camp. Jones, who along with Artie Burns worked with the No. 1 defense, just like in offseason workouts, made a good play to adjust to a ball that thrown behind receiver Marquise Goodwin and tipped. After plucking the ball out of the air just before it hit the ground, Jones took off for what might have been a pick-six had it been a real game.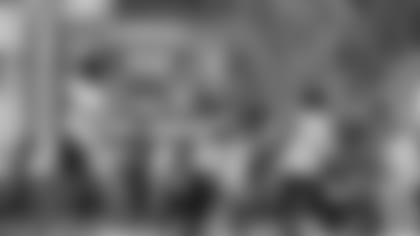 6. New-look helmets for safety.
One change at camp this year that was hard to miss was the padded caps, called Guardian Caps, that were strapped onto the helmets of offensive and defensive linemen, tight ends and linebackers.
While some teams have used Guardian Caps in practice in the past, this year the NFL is requiring players at those positions to wear them in practices up to the second preseason game. The goal is reduce the number of potentially damaging hits to the head those players might experience in practice.
Carroll acknowledged that the new caps took some getting used to from a visual standpoint, but said, "There's no question that they should help. Both sides of the ball wearing those things, they're taking three weeks of hits off of guys."
Asked if the Seahawks would voluntarily wear them beyond the required time, Carroll said that decision hadn't yet been made: "We're going to take in all the information and follow the science there."
7. Pete Carroll in a visor?
Throughout his career in Seattle, Carroll has never been one to wear a hat or visor, unlike plenty of other football coaches. That changed to kick off camp in 2022, with Carroll sporting a Seahawks visor.
The reason behind the change? A promise to his wife, Glena, who would like to see her husband avoid so much sun on his face.
"I promised I would cover up," Carroll said. "I've been so stupid for so long, I've got to cover up a little bit."
Injury Notes: Carroll provided updates on the players who opened camp on the Physically Unable To Perform List. Cornerback Tre Brown, whose rookie season was cut short by a knee injury, is "close, but not ready today," Carroll said, adding "it's not going to be a long haul. He's running and he's working hard, so he's really encouraged he can make it back soon, so we think that should happen… Rookie outside linebacker Tyreke Smith has a hip injury but could be off the PUP list "very soon," Carroll said… Linebacker Jon Rhattigan is "going to be a while" having suffered a season-ending knee injury late in the season… Rookie tackle Liam Ryan is also "going to take a while" due to a foot injury suffered in offseason workouts.
Linebacker Ben Burr-Kirven, who was waived with a failed physical designation a day earlier, cleared waivers and reverts to Seattle's injured reserve list. Carroll explained that Burr-Kirven, whose 2021 season was cut short by a knee injury, had surgery to deal with a nerve issue, which means a longer recovery… Second year receiver Dee Eskridge did not start the season on the PUP list, but was limited in what he did on in the first practice due to being "just a little bit tight in his hamstring," Carroll said.