The Seahawks held one of their more spirited practices on Saturday with pads back on, with a bit of post-play shoving and jawing taking place on a couple of occasions, though nothing close to an actual fight occurred. Next up is a mock game at Lumen Field on Sunday—tickets are still available at Seahawks.com/trainingcamp, or fans can buy tickets at the stadium on Sunday—which will be the closest thing yet to real football, particularly with a crowd there to make some noise.
Before turning our attention to the mock game, here are six observations from Saturday's practice at the VMAC:
1. Receiver depth stepping up.
While nothing is set in stone, it seems like a pretty safe bet that Tyler Lockett, DK Metcalf, D'Wayne Eskridge and Freddie Swain will be on the team come September, but after those four, it's a wide-open battle for the last roster spot or two at receiver. And on Saturday, several of the players vying for a roster spot—or perhaps a chance to stick around on the practice squad—took turns stating their case. Penny Hart, who was on the roster for most of last season, got things started with a great, leaping grab on a slightly underthrown deep ball from Geno Smith—in Smith's defense he was throwing into a pretty stiff headwind—that was good for about a 40-yard gain. Later, former University of Washington receiver Aaron Fuller went up to make an impressive catch while twisting into the air to adjust to another throw that was affected by the wind. Last but not least, Darece Roberson Jr. helped the offense convert on a fourth-and-1 situation by making a leaping touchdown catch on a well-placed fade pass from Smith.
Of course, the top receiver were their usual playmaking selves, and Lockett turned in one of the best catches of the day, turning to haul in a well-placed back-shoulder throw from Russell Wilson on the sideline.
2. Throwing the challenge glove?
One receiver not mentioned above is Travis Toivonen, but depending on who you ask, he might have had the day's best catch, or perhaps just a great snag that was out of bounds. With the offense working in the red zone, Smith fired a pass toward Toivonen, who went undrafted out of North Dakota in 2020, and Toivonen laid out while dragging his feet for what looked to be a great touchdown catch. Officials ruled that he was out of bounds however, making it an incomplete pass, but most of the offense, as well as Seahawks coach Pete Carroll disagreed. Carroll even went so far as to pull a glove out of his back pocket and throw it in the air as if it were a challenge flag. Alas, the ruling appeared to stand, as practice continued moments later with no review.
3. Carlos Dunlap II dominates in pass-rush drills.
When the Seahawks put pads on for the first time earlier in the week, veteran defensive end Carlos Dunlap II was getting a day off, meaning he wasn't able to show his stuff the first time offensive and defensive linemen went at it in padded pass-rush drills. Dunlap was in action on Saturday, and he provided a good reminder of why he's a two-time Pro-Bowler with 87.5 career sacks, consistently winning his reps and getting past his blockers, sometimes making it look pretty easy.
4. Nick Bellore, defensive playmaker?
As mentioned earlier in the week, Bellore has been getting reps at linebacker—his former position before he moved to fullback—due to injuries at linebacker, and on Saturday he turned in a great play, reading a short pass to a tight end and flying to the ball to make the stop for no gain or a slight loss. With assistant linebackers coach Aaron Curry leading the way, several coaches and defensive players ran to Bellore to congratulate the fullback moonlighting as a linebacker on the big stop.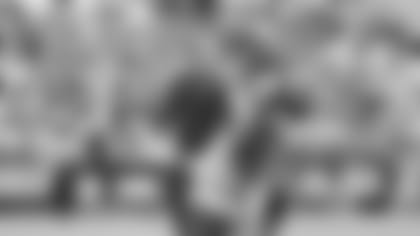 5. The Seahawks did not unearth their backup kicker on Saturday.
With a game-like situation a day away, kicker Jason Myers and punter Michael Dickson rested their legs on Saturday, so when the Seahawks had a few kicking situations late in practice, receivers John Ursua and Tyler Lockett gave it a try, and, well, it did not go well. Ursua did make solid contact with his three attempts, but he missed them all. Lockett also missed his one kick.
Asked what he thought of Ursua's kicking form after practice, Dickson said, "Not good. He missed all of them."
6. Personnel updates.
Defensive tackle Robert Nkemdiche, who has been dealing with a groin injury, was held out again, as were defensive tackle Poona Ford, defensive end Aldon Smith, center Ethan Pocic and running back Rashaad Penny. Tackles Jamarco Jones and Cedric Ogbuehi both left practice with apparent injuries. Linebackers Cody Barton and Jon Rhattigan also continue to be out with injuries. We should get more information on those injuries Sunday when Pete Carroll addresses the media following the mock game. Returning to action after a day off Friday were guard Gabe Jackson, defensive end Benson Mayowa and tackle Stone Forsythe. Safety Jamal Adams and left tackle Duane Brown continue to be spectators at practice.