The Seahawks were back in action on Wednesday, and for the second practice in a row, it was a strong showing for the quarterbacks, which leads our five observations from the 11th practice of training camp:
1. The quarterbacks were dialed in in the red zone.
Dating back to Saturday's mock game, the Seahawks have been getting some strong play out of quarterbacks Geno Smith and Drew Lock, and that was especially evident during a red zone/blitz session in which the two quarterbacks combined to throw four touchdown passes in quick succession.
Smith got things started with a quick slant to Tyler Lockett that, thanks to it's low placement, was nearly impossible to defend. Smith quickly followed that up with a touchdown pass to DK Metcalf, who used some nifty footwork in the back of the end zone to barely get both feet down in bounds.
Not to be outdone, Lock hit Lockett for two touchdowns on a pair of throws that both demonstrated great touch.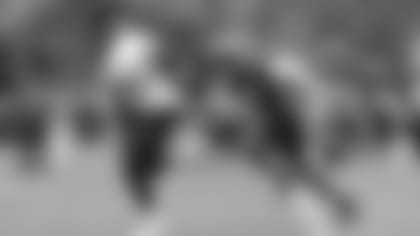 2. The tight ends look like they can be weapons in the quick passing game in particular.
It was a spectacular play, but one of the better offensive plays of the day featured Smith recognizing an oncoming blitz, and beating it by firing a quick strike over the middle to Will Dissly, who due to that blitz had a lot of room to run. It was one of several throws from both quarterbacks that were both on time and accurate to tight ends, a continuing theme in a camp in which Dissly, Noah Fant and Colby Parkinson all look capable of making big contributions to the offense.
3. Shelby Harris comes with receipts.
Shelby Harris met with the media after practice, and the veteran defensive end stepped to the podium making sure that his torn undershirt was still hanging out of the front of his jersey. The reason? He wanted to make it known, jokingly, that rookie tackle Charles Cross might have had to hold him during practice.
"I'm showing you what Charles Cross did to me today," Harris said with a smile. "I'm leaving this out there, so you know Charles Cross did this to me today… I'm not a ref, I'm not a zebra, I'm not wearing the stripes, but I just want to let him know my shirt got ripped somehow today."
On a more serious note, Harris has been impressed with what he's seen from the first-round pick.
"He's a really solid rookie," Harris said. "Big, strong, physical hands, good feet. Obviously, playing at Mississippi State, they didn't run the ball much, but they pass protect. A good pass protector, strong, good bend, athletic, really everything, he has all the physical traits you want in an offensive tackle. And, every game, every snap, every practice rep, he's just going to keep getting better and better."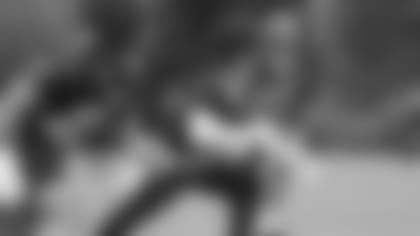 4. Nick Bellore, Athlete.
At 33, Nick Bellore jokes that he is in the "get off my lawn stage" of his football career, but the 12th-year veteran showed he still has plenty of athleticism left in his legs despite being a self-proclaimed "dinosaur" by NFL standards. Playing linebacker, his original position in the NFL, which he switched back to last season after spending recent years at fullback, Bellore made one of the more impressive plays of the day on defense. Better known for his play on special teams, Bellore showed off some impressive coverage chops, dropping into coverage before displaying a Tariq Woolen-esque (maybe?) vertical leap to bat away.
Always the comedian, Bellore got up and playfully limped back toward the defensive huddle while grabbing his hamstring.
5. Legends in attendance.
Wednesday's practice was one of the "Legends Days" during camp, and several fan favorites showed up to check out the day's action, catch up with some former teammates and coaches, and show a little love to the 12s.
Among the legends in attendance were Doug Baldwin—and his adorable 2-year-old daughter—K.J. Wright, Kam Chancellor and Jermaine Kearse. As has been the case a few times in camp when Avril has been around since his retirement, he spent some time on the field before practice started, passing on advice to Seattle's young pass rushers.
The Seahawks took to the practice field for Training Camp practice #11 as they gear up for their first preseason game against the Steelers.