The Seahawks were back in action Saturday in front of a big crowd at the Virginia Mason Athletic Center, and after practice Seahawks coach Pete Carroll stopped in front of the berm to address the crowd, telling fans, "We need you" and imploring them to bring the energy and noise to games this season.
Carroll also told the fans, "There's so many exciting things on this football team, I hope you could tell today. So many different guys can do so many things, we're really excited about it. This is probably the fastest team we've ever had, and we're going to show you what that speed means when we get to our ballgames."
And speaking of fast, here are five observations from practice No. 3, starting with the play of one of those speedy players:
1. Tyler Lockett continues to be really good at football.
OK, so this isn't exactly a hot take or anything, but sometimes it's worth pointing out a great performance even when it comes from a player from whom you've come to expect great things.
Early in the team portion of practice, Geno Smith hit Lockett down the sideline with a very nice throw that Lockett secured while displaying his usual great footwork around the sideline, and that was just the start of a very productive day for the veteran receiver.
Lockett was particularly good in what was an extended red-zone session, catching a quick slant from Smith for one touchdown, then elevating over safety Josh Jones for another score, moments before getting open for yet another touchdown from Smith. Lockett nearly made it four red-zone scores on a fade to the back of the end zone but, thanks in part due to good coverage by Artie Burns, was unable to secure the catch.
2. It was competitive in the red zone.
As mentioned above, Lockett went off in the red zone, and there were some other good moments for the offense, including a nice Drew Lock-to-Colby Parkinson touchdown over the middle, and great back-shoulder touchdown catch by Marquise Goodwin on a ball from Lock, one of several nice connections between those two on Saturday.
But the defense definitely had its moments in the red zone as well, including a great pass breakup by Coby Bryant on a fade to the much-taller Parkinson, a diving pass breakup by Ugo Amadi and a few nice coverage plays from Burns going against the likes of Lockett and DK Metcalf.
While the defense had plenty of good moments, for defensive coordinator Clint Hurtt, one touchdown by the offense in a red-zone session was one too many.
Asked to assess the defense in the red zone, Hurt said, "50-50. I don't want to give the offense anything. This is our team, I love them, so I want them to do great all the time. But from a competitive nature, when we get between the white lines, I want to kick their ass every day. But there were some good things that were done, obviously we've got some things to continue to clean up, but that's all in a good day's work."
3. Coby Bryant continues to shine.
So far in camp, Sidney Jones IV and Artie Burns have been the cornerbacks with the No. 1 defense, and both have played well, but those two also have a pair of rookies pushing them in Coby Bryant and Tariq Woolen, and things will get even more competitive whenever Tre Brown gets back from the PUP list.
And throughout the first week of camp, Bryant, the 2021 Jim Thorpe Award winner as college football's top defensive back, has looked really sticky in coverage. As mentioned earlier, he had one of the best defensive plays of the day when he broke up a pass intended for the 6-foot-7 Parkinson, and he also had several other nice moments, including great coverage on a deep ball that, despite a good throw Drew Lock, fell incomplete with Bryant smothering Cody Thompson.
It's way too soon to predict who will start at corner in Week 1, but the rookies are showing that it's going to be competitive throughout camp.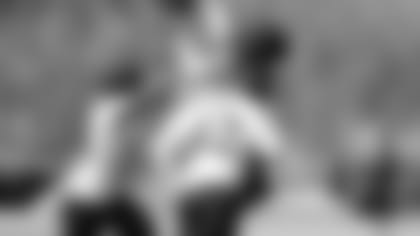 4. Josh Jones had an impressive interception.
With Jamal Adams away getting his hand checked out and with Quandre Diggs getting a veteran rest day, Josh Jones was working as a starting safety on Saturday and he ended up making one of the best plays of the day on defense.
On a deep pass over the middle to Noah Fant, Jones and Jordyn Brooks both had good coverage but the ball still appeared to squeeze between the two defenders and into Fant's hands, but before Fant could secure the catch, Jones reached in and took the ball away for the pick.
5. Kenneth Walker III showed off his hands.
Kenneth Walker III was unquestionably one of the best running backs in college football last season, but one question that came up when Seattle selected him was how much he could help in the passing game.
Walker caught only 13 passes for 89 yards last season at Michigan State, and had six catches in his previous two seasons at Wake Forest. Based on what he has shown so far in camp, however, those limited receiving numbers had less to do with ability than they did opportunity, because Walker has looked good catching the ball in camp. Most notably, he secured a nice touchdown catch in a red-zone session when he turned to locate and snag a bullet of a back-shoulder throw from Lock.
The Seahawks take the field on day 4 of Training Camp on Saturday afternoon and some familiar faces returned to the field.