The Seahawks held their penultimate practice ahead of Saturday's preseason game against the Denver Broncos, a Turnover Thursday practice that, appropriately, ended on an interception. More on that play and other observations from Day 16 of Seahawks camp:
1. Ugo Amadi and other DBs were making plays.
Late in Thursday's practice, Ugo Amadi made a nice play to break up a sideline pass intended for John Ursua, and Amadi wasn't done after making that play. A few plays later, on what ended up being the final play of practice, Amadi broke on a short pass intended for DK Metcalf and intercepted the ball just before it reached Metcalf's awaiting hands.
And Amadi wasn't the only defensive back showing off his playmaking abilities on Thursday. Rookie Tre Brown, who was getting some reps with the No. 1 defense, made a great play to elevate and swat away a pass intended for Metcalf, while earlier in the day Damarious Randall went over tight end Dominick Wood-Anderson to break up a pass.
2. DK Metcalf is very, very fast.
No, this is not exactly breaking news, but every so often it's worth recognizing how rare Metcalf's combination of size and speed is. That was very much on display on one short reception that saw Metcalf catch a pass in the middle of the field, then accelerate past everyone for a long touchdown. On a related note, second-year linebacker Jordyn Brooks can move himself, and he too showed really impressive speed giving chase and nearly, but not quite, keeping up with Metcalf.
3. Dee Eskridge is starting to flash his speed too.
In his third practice back from the PUP list, Dee Eskridge was more involved in Thursday's work and had a few catches in 11-on-11 sessions, including one short pass turned long catch-and-run that allowed him the rookie receiver to show off his speed.
"I feel like it suits me perfect," Eskridge said of the short passing game. "As my college tape shows, I was getting the ball quick in my hands and making things happen. I feel like I can continue to do that in this offense."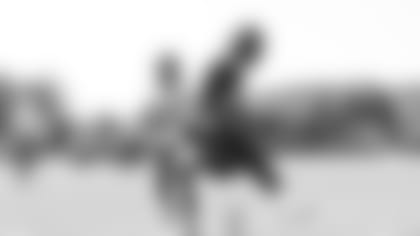 4. Carson & Penny look like a dynamic duo.
With Rashaad Penny out for more than a week, the Seahawks haven't been a full strength at running back for a while, but Penny is back this week, and with him and Chris Carson both getting a lot of touches Thursday, it was a good example of how explosive Seattle's running game could be. In addition to Penny breaking off a couple of long runs that showed off his speed, Carson also was impressive, as always particularly on one long run that featured a great open-field cutback that left two defenders grasping at air as he ran by them for a long gain.
5. Some important offensive players were back in action.
In addition to getting Eskridge and Penny back, Seattle's offense also saw Tyler Lockett return after missing some time with a groin injury that Seahawks coach Pete Carroll clarified was not a strain but rather soreness. Also back was Jamarco Jones, who had missed time with back spasms, then returned Tuesday before sitting out Wednesday. Jones' return means the Seahawks had what has been their starting line for much of camp, with Jones at left tackle in place of Duane Brown, who continues to sit out practice.
Photos from Seahawks Training Camp practice, held on Thursday, August 19 at Renton's Virginia Mason Athletic Center. Seahawks Training Camp is presented by Safeway.