The Seahawks continued preparation for their second preseason game, and as head coach Pete Carroll detailed a day earlier, they're getting healthier heading into Saturday game against the Broncos with several players returning to action this week. Here are five observations from Wednesday's practice:
1. Jamal Adams is making up for lost time.
As Carroll said Tuesday when Adams made his training camp debut after signing a four-year contract extension, "He was involved probably more than we thought he would be today." And a day later, Adams was even more heavily involved taking a lot of the first-team reps in 11 on 11 drills. Normally a player starting out camp might ease into things the first few days, but Adams seems eager to get in as much work as he can, and as was the case in camp last year, the All-Pro safety is unrivaled when it comes to practice intensity and energy.
2. Al Woods is a strong human.
At 6-foot-4, 330-pounds, veteran defensive tackle Al Woods is one of the biggest players on Seattle's roster, and as was evident in Wednesday's practice, he's also one of the strongest. Maybe it's the extra strength that comes with having a cattle ranch back home in Louisiana, maybe it's just the "old man strength" a player develops over a decade in the league, but whatever gives Woods his power, it was on full display during pass-rush drills when, on one rep, he got low on center Kyle Fuller, drove him back and nearly lifted the 320-pounder off his feet before tossing him to the ground, drawing loud cheers from his teammates.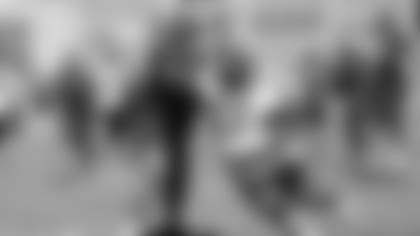 3. Poona Ford is a force of nature.
Ford's height, or lack thereof, was a factor in him going undrafted in 2018, but the 5-foot-11 defensive tackle plays plenty big at the line of scrimmage, including one play on which he threw up one of his long arms to bat down a Russell Wilson pass at the line of scrimmage. That came a few plays after a Rashaad Penny run that saw Ford slide down the line to meet Penny as he hit the hole. The collision, despite not being close to an in-game hit, still packed enough force to knock Penny sidewise and off of his feet.
4. DE Metcalf?
No, that's not a typo, but rather the position that DK Metcalf was very briefly dabbling in during practice. Early on during individual drills, Metcalf did some work with defensive line coach Clint Hurtt, in particular working on hand-fighting technique. It's something receiver Doug Baldwin used to do regularly during his career, explaining that it helped him as a receiver because better prepared him to beat press coverage at the line of scrimmage.
5. Championship siblings.
Among the guests watching Seahawks practice Wednesday was Stanford guard Anna Wilson, the younger sister of Russell Wilson. And between those two Wilsons, the family has earned a ton of hardware. Anna Wilson, the Pac-12 co-defensive player of the year last season, most recently won the NCAA championship, the Pac-12 regular-season title and the Pac-12 tournament with the Cardinal in 2021, and she previously won conference tournament titles in 2019 and 2017, and won gold at the FIBA Women's U17 World Championships in 2014. Russell Wilson, of course, won Super Bowl XLVIII with the Seahawks, won an NFC championship the following year, and has won four NFC West titles. Wilson also won a Big Ten championship while at Wisconsin, and he won state championship as a senior in high school.