The Seahawks were back in action Wednesday afternoon as they continue to prepare for their preseason opener. Players weren't in pads, so contact was at a minimum on what was one of the hottest days since practice began two weeks ago. Here are five observation's from Wednesday's practice:
1. Russell Wilson and DK Metcalf are in sync.
If Wilson and Metcalf are still going through any growing pains with a new offense, it hasn't shown of late, with those two connecting frequently in recent practices. With Tyler Lockett getting an apparent rest day—he had his helmet, which would imply no injury, but didn't do much of anything in practice—the Wilson to Metcalf connection was even more obvious.
One prime example of how connected those two are came in the red zone when Wilson fired a pass well before Metcalf was finished with his route, then just before the ball arrived Metcalf turned and found the ball at the last moment, making a sideline grab.
2. L.J. Collier had a strong practice.
With a pretty deep rotation at defensive end, it has been hard at times for any one player to stand out, but on Wednesday L.J. Collier made his presence felt on a few occasions, both in the running game, shooting into the backfield to blow up a run play, and as a pass-rusher, getting to Russell Wilson for a "sack." Heading into his third season, Collier is looking to build off of a strong sophomore campaign in which he started every game, and practices like Wednesday's showed he has the potential to make big plays both on the edge and as an interior pass-rusher.
3. Cody Thompson is taking advantage of his chances.
Thompson, a former undrafted free agent who has spent time on Kansas City and Seattle's practice squads the past two seasons, has been moving up in the receiver rotation of late, and with Lockett not working on Wednesday, Thompson got even more work, including with the No. 1 offense. Thompson has had a few impressive catches in practice this week, including a touchdown that saw Wilson thread the needle between two defenders, and Thompson hang on in traffic despite some contact. Thompson will be just one of several receivers battling for a roster spot who will be worth keeping an eye on in the preseason.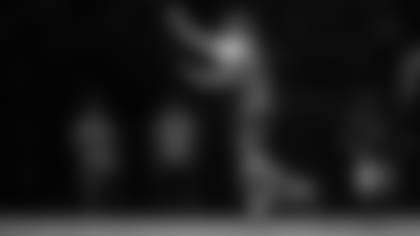 4. Aaron Donkor is looking more comfortable.
Aaron Donkor, a German linebacker who was allocated to the Seahawks as part of the NFL's International Player Pathway Program, was a basketball player who didn't start playing football until he was 21, so he has a lot of catching up to do, but he has been showing up more and more in practice of late, a sign that he's starting to get more comfortable with this relatively new sport.
Donkor flashed a couple of times in Sunday's mock game, including a blitz that probably should have been ruled a sack, but with quarterbacks off limits to contact, Wilson escaped and completed a pass down field. On Wednesday, Donkor had tight coverage in the end zone on what ended up being an incomplete pass to Colby Parkinson. After the play defensive end Carlos Dunlap II shouted Donkor's name a couple of time, then Bobby Wagner walked over to congratulate his fellow linebacker, walking with him back to the huddle while dispensing some advice.
5. Personnel updates
Guard Pier-Olivier Lestage, who opened camp on the non-football injury list—he had offseason surgery for a sports hernia injury—was on the field for the first time, though he looked to be limited as he eases his way back. Starting guards Gabe Jackson and Damien Lewis were back after getting a rest day on Tuesday.
As mentioned earlier, Lockett was present but didn't do much, though that appeared to just be rest and not an injury. Also among those sidelined were defensive tackle Robert Nkemdiche, running back Rashaad Penny, receiver Penny Hart, cornerbacks D.J. Reed and Damarious Randall, tackles Cedric Ogbuehi, Jamarco Jones and Tommy Champion, safety Marquise Blair, and linebacker Cody Barton.