The Seahawks were back in action following an off-day, kicking off their week of preparation for Saturday's preseason game in Las Vegas. The Seahawks spent a significant portion of the day working on third-down situations, which leads our five observations from Tuesday's practice:
1. There's a big emphasis on third down.
When Seahawks coach Pete Carroll was asked about Shane Waldron's offense this offseason, one thing he pointed to was that there was going to be a big emphasis on third down. That emphasis was very evident throughout Tuesday's practice when the offense spent a lot of time in 11-on-11 and 7-on-7 drills running third-down play after third-down play.
For the most part, it was a strong showing for the offense, particularly the No. 1 unit, and not at all surprisingly, Russell Wilson went to DK Metcalf often and with a lot of success. That combo turned in one of the plays of the day for the offense, with Metcalf using his height and athletic ability to go way up and snag a pass over Marquise Blair, who had good coverage on the play.
"One of the first things we talk about when we talk about third downs, it's really everybody has to win the one-on-ones," Carroll said. "Whether you're a one-on-one pass rusher or pass (protection), the guy running the route, the guy covering the route, it comes down usually to that guy's got to make the play, so everybody's got to do right. So it's really emphasis on, you've got to come through and do what you're supposed to do to fit together with the play, so execution is really the key. We want to we want to make sure that we're fast with the football and don't allow the rush to be a factor, get the ball out. So that means guys have to win on their routes, and we're going to have to beat tight coverage. We're playing a lot of aggressive coverage to make everybody have to work and show who they are, and their abilities and stuff right now. It's a good part of camp for us in that regard, and today was a good day for all of that emphasis."
2. Ugo Amadi "is really on his game."
Ugo Amadi took over the nickel corner role last season after Marquise Blair went down with a season-ending ACL injury, and he played well enough that he's in an open competition for that role with Blair, who is back and healthy. Given that Blair won the role last year in camp he might be considered the favorite, but Amadi certainly isn't going down without a good fight.
On Tuesday, Amadi turned in more strong play, including an impressive display of awareness and athletic ability on a play that saw him initially blitz, then after recognizing that a quick pass was coming, drop a couple of steps before jumping to bat down the pass at the line of scrimmage.
"Ugo is really on his game," Carroll said. "As a matter of fact, I talked to him about that today, how much more he knows now and how much more where he is, his ability to disguise and utilize the calls and stuff. He's just way ahead where he's been, and he has looked really good. It's a real good battle between those two guys. Marquise, we've always been excited about what he can do and how he can play, whether it's at safety or nickel, but Ugo's not just giving it up, he's competing like crazy."
3. Jason Myers can still kick a football really far.
In case anyone forgot, Jason Myers supplied a good reminder on Tuesday that he is one of the league's best kickers from long range. OK, he's good from every range, as was evident in a 2020 season that saw Myers make all 24 of his field goal attempts, but Myers has always been known as one of the best in the NFL from long range, having made 20 of 32 attempts from 50 or more yards, including four of six attempts in his two seasons with Seattle, and 6 of 7 in 2018 with the Jets.
In Tuesday's practice, Myers wasn't just accurate as usual, he finished one kicking session by drilling a 52-yarder, with room to spare despite kicking into a significant head wind.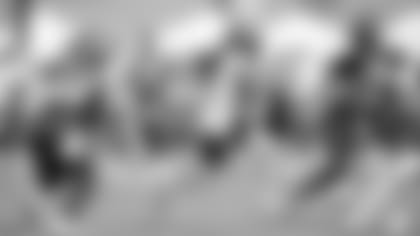 4. Alex Collins looks explosive.
Alex Collins, a fifth-round pick of the Seahawks in 2015 who went on to find success as a starter in Baltimore, returned to the Seahawks late last season and helped provide a spark to the running game despite being out of the league in 2019. Collins has backed that up with a strong camp this summer, and on Tuesday he again looked fast and decisive, including on one long run that drew big cheers from the crowd.
"Alex is doing really well," Carroll said. "We loved him as he had a chance to kind of spark last year at the end of the season. He has done nothing but good stuff. He's a really good football player. He's got great sense, he's got terrific feet, he catches the ball well, he's a willing and able blocker in pass protection. He's got a great spirit he brings to the team. He's doing really well. I'm fired up about him."
5. Personnel updates.
The Seahawks had a long list of players sidelined on Tuesday, though several of those were only for rest, including starting guards Gabe Jackson and Damien Lewis, and defensive end Kerry Hyder Jr.
The Seahawks remain thin at tackle with Cedric Ogbuehi, Tommy Champion and Jamarco Jones sidelined, and with Duane Brown still sitting out. Also on the offensive line, center Ethan Pocic is still sidelined by a hamstring injury.
Carroll said Pocic's return could come in a manner of days, but added that he won't play in Saturday's preseason game. Also out Saturday is Ogbuehi, who has a bicep injury that could keep him out a couple of weeks, Carroll said.
The Seahawks are also still without linebackers Cody Barton and Jon Rhattigan, which means more work at linebacker for fullback Nick Bellore.
Also among the group not practicing were cornerback D.J. Reed, defensive tackle Robert Nkemdiche, cornerback Damarious Randall, running back Rashaad Penny and receiver Penny Hart.
On a positive note, Carroll said rookie receiver D'Wayne Eskridge has been running well as he tries to make his way back from the toe injury that has him on the physically unable to perform list.
"He had a really good day again," Carroll said. "This was the fifth day in a row of him running and conditioning without any problems. That's a really good sign. We're trying to make sure--because he has not been able to run in a conditioning manner over the offseason like we would like--we're trying to make sure he's in good shape so once he's back out here he can sustain. It's all very positive and he's going in the right direction."