Just a handful of days removed from the opening game of the 2008 season, and nobody can claim the Seattle Seahawks are dull, that's for sure.
Losing starting split end Nate Burleson to a knee injury and right guard Rob Sims to a torn pectoral muscle for the season, the personnel wheel has continued to spin as the Hawks prepare for Sunday's home opener with the San Francisco 49ers.
With Burleson and Sims going on injured reserve for the season, along with the waiving of punter Ryan Plackemeier, running back Justin Forsett (signed by Indianapolis) and wide receiver Jordan Kent (re-signed to the practice squad), the Seahawks signed punter Jon Ryan, and wide receivers Samie Parker and Billy McMullen.
Coach Mike Holmgren reiterated that injured rehabilitating wide receivers Deion Branch (knee) and Doug Baldwin (shoulder) aren't likely to play until Game 4 in New York on Oct. 5, that leaves cram courses for Parker and McMullen, to support youngsters Courtney Taylor and Logan Payne very likely versatile quarterback Seneca Wallace as well.
Although he'd rather not go the receiving route with Wallace, because he's so valuable as Matt Hasselbeck's backup, he may not have a choice. And considering the solid performance of Charlie Frye during the preseason, he's more inclined to be OK with it than before. And that's not to mention returning punts - another job dominated by Burleson - as well.
"Normally speaking, I don't really want to do that," Holmgren said. "The only reason I can think about doing it now, there's two reasons: 1) it's a little bit of a unique position at the wide receiver position, and then Charlie did OK in the preseason. He stepped it up and he played pretty well. It's still hard, it's still a difficult decision."
Furthermore, with Sims out, Floyd Womack will move into the starting lineup at right guard. The good news is Womack has been the starting right guard before, and he'll start next to right tackle Ray Willis, as Sean Locklear gets another week to rest his sore knee.
And with running back Mo Morris also out, Julius Jones will not only get the start, but the opportunity to shine in his regular season debut at Qwest Field. In other words, things will be interesting for the offense, with the focus on the defense to set the tone against the 49ers.
"I think over the years, there have been moments certainly where you're going in a little thin at a position," Holmgren said. "But here's the good thing: we still have our quarterback walking around. He's pretty good. And our defense, which we were counting on anyway, to kind of hold us together until, certainly after the bye until we get our receivers back. They're intact. So, I suppose I've been in worse situations before. When your quarterback goes down, that's a big deal. And that hasn't happened to us. We've had more injuries than what might be fair early, but hey, we'll just keep playing and see what happens."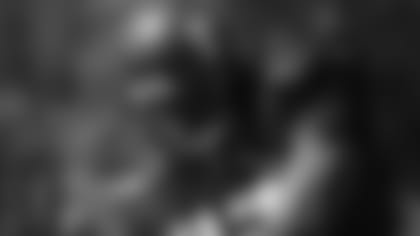 The question comes from the new guys - Parker and McMullen, not to mention the transition for Wallace. Parker comes from Kansas City and has no experience in the West Coast offense, but McMullen - although not having played in a regular season game since 2006 - went through camp with Jim Zorn at Washington, played in Philadelphia for Andy Reid and in the Minnesota offense as well.
"I have been in this offense for a little while," said the 6-4, 215-pound McMullen. "All the terminology is pretty much the same - just trying to add what I can to the offensive end and special teams. "It helps out a lot (when) you hear a play in the huddle and there is no second guessing."
Parker, the former Oregon star with return capabilities, has more game experience than McMullen, but virtually no familiarity with the West Coast offense.
"As much time as you can get with the quarterback the better it will be," Parker said. "I tried to get a couple extra routes today after practice just to work on things and see how he wants routes ran. So I can know how I can be a reliever or when he under pressure he can come to me."
More likely, this will be a significant change for Wallace. Not just spot route as he has done from time to time when injuries have pinched the numbers. This time around, his knowledge of the offense and kick-return capabilities figures to be significant factors in the game for himself and the new guys.
"From splits, to knowing what Matt wants on certain routes, my job is to help those guys out and when they're out there playing they will be making all the plays for us," Wallace said. "I'm confident and I just have to go out there and be able make sure everything is correct. No busted routes, and after that you are just playing football. You have to catch the ball."
Mike Holmgren on how quickly players can lose their jobs in the NFL:
"It's really hard on the players. But, you're competing, it's not civil service. Your future is very much day-to-day, week-to-week, whatever you want to call it. Sometimes it's not all together fair, but it's the nature of our business. The players absolutely know that. It's up to us then as an organization to try and do the right thing and be as fair as we possibly can, and at the same time, balancing the thing with trying to win a game. It's hard."
The Seahawks announced Thursday afternoon that team physician Dr. Ed Khalfayan had completed successful surgery to repair Rob Sims' torn right pectoral muscle and rehabilitation time would be 4-6 months. ... New punter Jon Ryan, who averaged 44.5 yards the past two seasons in Green Bay, is the new holder for snapper Jeff Robinson and kicker Olindo Mare. ... The Seattle Seahawks have reached a one-year agreement with Starline Luxury Coaches and King Country Metro Transit to provide game day bus service from park-and-ride lots. Fares will increase by $1 each way, making it an $8 round trip. ... The Seahawks signed former Oregon State running back Yvenson Bernard to the practice squad and released defensive tackle Kevin Brown.