Good morning, 12s. Here's a look at what's happening today – Wednesday, Sept. 23 – for your Seattle Seahawks.
Ugo Amadi Joins 710 ESPN Seattle's Bob, Dave and Moore For Seahawks Spotlight
Entering Sunday night's game against the Patriots, Ugo Amadi was listed as the third free safety on the Seahawks' official depth chart behind Quandre Diggs and Marquise Blair. After the final whistle blew, Amadi led all Seahawks defenders with eight solo tackles.
Diggs was disqualified from the game in the first quarter after a helmet-to-helmet collision. That forced Blair into a bigger role. Then, Blair went down with a torn ACL in the second quarter. Amadi then entered in the nickel role, and he certainly made the most of it. In addition to his eight solo tackles, Amadi had one tackle for a loss and was a key contributor against the Cam Newton-led offense. Amadi totaled 13 solo tackles in his entire rookie season last year.
In their weekly Seahawks Spotlight, 710 ESPN Seattle's Bob, Dave and Moore interviewed Amadi. During the nine-minute interview, Amadi discussed his feelings after being forced into the game, the challenge of playing Cam Newton and what the celebration was like after the win. He also reflected on how he's grown as a player since his rookie year, practicing against Russell Wilson and why he's such a big Mike Tyson fan.
On the feeling of being thrown into the game:
"It definitely was an exciting feeling, just because our motto around here is to always just stay ready, even for the guys who aren't getting as much reps as the starters are. I'm sorry about what happened to my brother Marquise, it was very unfortunate for him, but my prayers go out to him for a speedy recovery. But that game right there was very thrilling. I'm sure you guys were all excited watching from the TV, I know you guys were feeling the pressure through the TV as well. It was just an exciting game to be a part of. For me to be put into the fire, God willing I was able to preserve through all those snaps I was playing."
On how difficult it was to play against Cam Newton:
"It's always hard to stop a running quarterback, because they're always unaccounted for on the defense. So when you have a mobile quarterback, you have to call certain things that you usually wouldn't just to stop the run game. But then that opens up other stuff behind it as well. He's a good quarterback, he's been thriving in that type of system since he was in college. Our hats off to him, he really carried that team, but our defense stuck together and we pulled through to get the W."
On the celebration with the defense after getting the stop:
"That celebration with my team after that stop was like when your mom makes pizza rolls for you when you come home. Oh my gosh, man. Like, 'we got it.' Just super excited, such a job well done. That's just the way you show how you can finish."
On his new clothing line that he began over the summer:
"During COVID, I was just thinking about stuff, like 'Man, I have such a unique name. I should get a logo made.' If you think about Russell Wilson, his is a 3 with the R and W. So I hit up my guy Will. He made a few with the Ugo and 28 and I didn't like it, but when he showed me the football one, I was like 'That's the one.' I gave a hoodie to my coach. … I'll get a lot of comments in public about it, too, like 'Oh, I like that logo.' But most people think it's a football, but it's really my name."
Snoqualmie Casino Debuts "Seahawks Pit"
The Snoqualmie Casino, located just east of Seattle, officially opened its new "Seahawks Pit" last week. The Seahawks Pit includes three Seahawks-themed Blackjack tables, cards and three large televisions. Seahawks drink glasses and dealers dressed in Seahawks garb definitely makes for a fan-friendly experience. Snoqualmie Casino became the first casino to form an official partnership with the Seahawks back in 2018.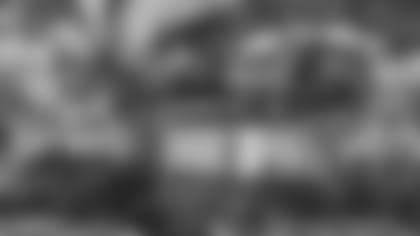 Social Post Of The Day
Blitz the Seahawk isn't eligible to vote, but that didn't stop him from encouraging you to make your voice heard on National Voter Registration Day.
Go behind the scenes with team photographer Rod Mar as he shares moments from the Seattle Seahawks' home-opening win over the New England Patriots at CenturyLink Field. Eye on the Hawks is presented by Western Washington Toyota Dealers.