Here's a look at what's 'out there' for today – Wednesday, October 2 – about your Seattle Seahawks:
Seahawks Floating Pep Rally
If you're looking for some pregame activities before the Seahawks' Week 5 matchup, or if you plan on sailing from Bremerton to Seattle tomorrow and have some flexibility on timing, look no further (and don't even think about taking the fast ferry).
Washington State Ferries (WSF) will be hosting their annual floating pep rally on Thursday that will take place on the 3 p.m. boat sailing from Bremerton to Seattle. Special guest and Seahawks Legend Edwin Bailey will be on board for fans to meet as they make their way to the Emerald City by way of nautical voyage.
Bailey will be accompanied by the music played by Kingston and West Seattle high school bands, and fans will have an opportunity to participate in a Seahawks chant as the vessel arrives in the city. There's even a competition for fans aboard to compete for the title of 'Most Decked Out Fan,' so be sure to come out in force wearing your Seahawks gear.
A press release from Washington State Department of Transportation reads, "12s are invited to wear team colors and bring their stadium voices as they make their way to the 5:20 p.m. Thursday Night Football game against the Los Angeles Rams at CenturyLink Field. This is the fifth year WSF has hosted the popular party that will climax upon entry into Colman Dock at 4 p.m."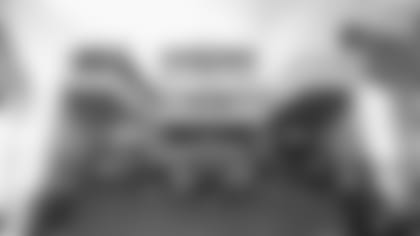 The floating pep rally is also a part of a greater cause, as WSF wishes to thank its customers for their patience during recent Colman Dock construction changes. Fans that plan on sailing back to Bremerton after the game are encouraged to beat the post-game scramble and buy ferry tickets in advance for their return trip home.
Social Post Of The Day
Today's 'Social Post of the Day' comes from our official Twitter account, as we post a video of Seahawks safety Tedric Thompson sharing a donation opportunity from Lyft, for his foundation, the Tunnel Vision Foundation.
More From Around The Web
Bob Condotta at The Seattle Times shares his notes ahead of the Seahawks' Thursday night matchup.
Arrive Early To Thursday's Game
If you plan on attending the Seahawks' Thursday night game at CenturyLink Field, we encourage you to show up early and be in your seats by 4:50 p.m. This way, you won't miss any of the ceremony when Paul G. Allen gets inducted into the Seahawks Ring of Honor prior to kickoff. Even Coach Carroll said he wants you there early.