Good morning, 12s. Here's a look at what's out there today — Tuesday, December 28 — about your Seattle Seahawks.
Robert Nkemdiche Joins 710 ESPN's 'Wyman & Bob'
At 5-10, the Seahawks will notch their first losing season since 2011, and first since Russell Wilson and Pete Carroll teamed up in 2012. Sunday's loss to the Bears eliminated the Hawks from playoff contention for just the second time in the Wilson-Carroll era, and first since 2017.
Still, some Seahawks players are finding ways to feel proud about the season so far, and remain optimistic for the remaining two weeks. One of those players is defensive tackle Robert Nkemdiche, whom the Seahawks signed in April in one of a string of moves meant to help bolster the defensive line. Nkemdiche recorded a season-high seven tackles in Week 2 against the Titans, but has played sparingly for most of the season since then. Nkemdiche assisted on two tackles on 18 snaps during Sunday's loss to the Bears.
On Monday, Nkemdiche joined 710 ESPN's "Wyman & Bob" to discuss his upbeat and optimistic perspective of the season, despite the Seahawks being in last place in the NFC West and set to miss the playoffs for just the second time in the last decade. Click here to listen to the full podcast episode, and check out some of the highlights below:
On staying upbeat during a down season and how he'd feel if the team were 10-5 rather than 5-10:
"The Seahawks are still going to attack this week and get ready to face the Detroit Lions next weekend. We're excited for the opportunity that we have in front of us. We have to make sure we attack it with focus and intensity and get ready to go out and try to get a win … Just stick around, and we'll make sure we get this thing right, man. We'll get it right. And if we were 10-5, I'd probably be speaking different languages. I'd be hyping us up in Japanese, I'd be hyping us up in Spanish, I'd learn new languages just to show my appreciation. I would love to be 10-5. We do this to win, and at the end of the day, that's the focus. That's the focal point. Hopefully I'll be here to see what happens."
On if players are still playing for pride even though they'll have a losing record:
"Yes, indeed. Especially being under the coaching staff we're under, that's kind of how they keep us — they keep us always searching to be better. And we just stick with that attitude, just keep pressing forward on top of that. Everybody's playing for just the love of the game and just to show what you've got. Show that, regardless of the situation, you've always got to make sure you don't sit back and just let bad situations happen to you. You've got to push through and find another way to win … Having pride about what you put on tape and how you present yourself on the field."
On if he has to "dial back" his big personality after losses:
"It's not so much dialing it back, it's more so … I want to make sure I put that energy, that dialback, towards what we could've done to win. I don't dial back necessarily, I just channel it and shift my focus somewhere else … I do have to be a 'Debbie Downer' when we lose, I definitely do. When we came in yesterday [Sunday] I was dancing, when we came in after the game I was like a sad puppy."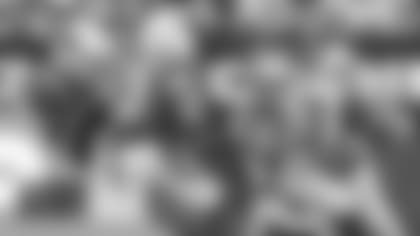 Listen To The Hawk Talk Podcast
Every week, Michael Bumpus and Nasser Kyobe release two podcasts analyzing the Seahawks previous game and previewing the next Seahawks opponent. Available on Spotify, Apple Podcasts, Stitcher and wherever else you might get your podcasts.
Social Post Of The Day
Russell Wilson shows his support for Jason Myers after the Seahawks kicker tweeted his regret about missing a key field goal in Sunday's loss to the Bears.
Go behind the scenes with team photographer Rod Mar as he shares moments from the Seattle Seahawks' 25-24 loss to the Chicago Bears on December 26, 2021 at Lumen Field. Eye On The Hawks is presented by Western Washington Toyota Dealers.