Good morning, 12s. Here's a look at what's out there today — Tuesday, January 4 — about your Seattle Seahawks.
John Clayton Talks Rashaad Penny's Hot Streak With 710 ESPN's 'Wyman & Bob'
In their 2021 home finale, the Seahawks put on a show for the 12s Sunday against the Lions at Lumen Field, reaching paydirt six times in the 51-29 rout. The defense intercepted Lions quarterback Tim Boyle three times on the afternoon, while Russell Wilson tied a season-high with four touchdown passes against zero interceptions. DK Metcalf caught a career-high three touchdowns and Tyler Lockett added one more as the Seahawks exploded for 497 yards of total offense, their most all season.
But even with all the big plays made through the air, the offensive attack again centered around running back Rashaad Penny, who eclipsed 135 rushing yards for the third time in the past four weeks and finished the game with a career-best 170 yards and two touchdowns.
"It was a complete game, and that's something they really haven't had until this game," Clayton said. "They all had fun, they did all the right things. It was the perfect type of game, because it was very good on offense, it was good on defense, and so overall that turned out to be a very good victory. And one that gets them six wins, and even though it's a disappointing season, it gives them some optimism now for at least the beginning of the offseason."
For Clayton, the main source of that optimism lies in Penny's recent breakout and what it could mean for the Seahawks going forward. "When you look at his last four, five games, he's been one of the best running backs in the league," Clayton said. "He's been one of the most productive backs — more productive than Dalvin Cook and Alvin Kamara, guys like that. I think he deserves credit."
Clayton also credits Adrian Peterson as one of the big influences on Penny's growth. The Seahawks signed Peterson to the practice squad on December 1, a move that Pete Carroll at the time said had a "remarkable influence" on the running back room. "If you're Rashaad Penny, you know that here is a Hall of Fame running back, one of the greatest who's ever played the game and he's giving you advice and you listen — and then not only do you listen, but you succeed by it — that's pretty good. That's why I think [Peterson] was able to help."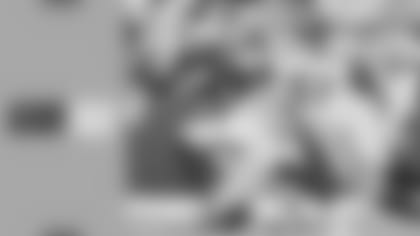 Listen To The Hawk Talk Podcast
Every week, Michael Bumpus and Nasser Kyobe release two podcasts analyzing the Seahawks previous game and previewing the next Seahawks opponent. Available on Spotify, Apple Podcasts, Stitcher and wherever else you might get your podcasts.
Social Post Of The Day
Bob Condotta of the Seattle Times noted Monday that Nick Bellore played a season-high five snaps in Sunday's win, which apparently left him feeling pretty sore the next day:
Go behind the scenes with team photographer Rod Mar as he shares moments from the Seattle Seahawks' 51-29 win vs. the Detroit Lions on January 2, 2022 at Lumen Field. Eye On The Hawks is presented by Western Washington Toyota Dealers.