Good morning, 12s. Here's a look at what's happening today – Tuesday, Nov. 2 – for your Seattle Seahawks.
Nate Burleson Gives Week 8 Game Ball To Geno Smith
Riding a three-game losing streak, the Seahawks were in desperate need of a victory against the Jaguars in Week 8.
Plenty of players on both sides of the ball played well to help secure the win, but quarterback Geno Smith stood out. He totaled three touchdowns in the 31-7 victory, two passing and one rushing. The ninth-year signal caller finished 20 of 24 for 195 yards after completing his 14 attempts, the longest streak to begin a game in the league this season.
Seahawks Legend Nate Burleson, who currently works for NFL Network and CBS, joined Good Morning Football on Monday to hand out some Week 8 awards. After going through some "Toe Drag Swag" nominees, Burleson handed out his Week 8 game ball.
"I'm giving (my ball game) to a guy who balled out, and I think some didn't expect it: Geno Smith," Burleson said. "Russell Wilson wasn't playing, and I don't know if you were paying attention to this game, but I was watching it live. It was one completion after another and another, he got to 10, 11, 12, 13, 14 straight completions. He was on fire. I don't care who it's against. You could say 'Oh, it's the Jags defense.' Listen, when you're playing football, you have to go out there and do your job. He did that to the best of his abilities and got his team off to a fast start.
"That ball to DK Metcalf was one of the best balls of the season so far. Shoutout to Geno Smith, who has been through a lot, and as a No. 2 quarterback behind Russell Wilson, I think this week he proved that he still has a lot of football left."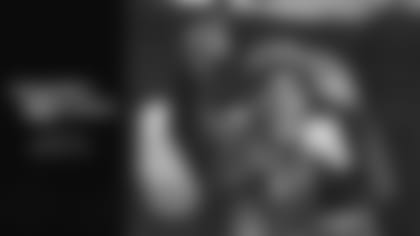 Listen To The Seahawks Insiders Podcast
Hosted by sideline reporter Jen Mueller and Seahawks Senior Digital Media Reporter John Boyle, the Seahawks Insiders podcast takes an in-depth look at each week's Seahawks game and analyzes the previous week's matchup. Available on Spotify, Apple Podcasts, Amazon Music and wherever else you might get your podcasts.
Social Post Of The Day
Russell Wilson shared a great update on his injured finger -- especially considering he's eligible to return from IR after the bye week:
Go behind the scenes with team photographer Rod Mar as he shares moments from the Seattle Seahawks' 31-7 win over the Jacksonville Jaguars on October 31, 2021 at Lumen Field. Eye On The Hawks is presented by Western Washington Toyota Dealers.