(Photo above via NFL.com)
Here's a look at what's "out there" for today - Thursday, May 19 - about your Seattle Seahawks:
Wilson, Sherman Highlight NBA/NFL Player Comparisons
The NBA Conference Finals got underway this past week with the Golden State Warriors and Oklahoma City Thunder battling it out in the West, a series that's tied 1-1, and the Toronto Raptors and Cleveland Cavaliers matching up in the East, a series the Cavs lead 1-0.
Following game one between Toronto and Cleveland, Cavs forward Kevin Love made a postgame comment comparing teammates LeBron James and Kyrie Irving to the former USC tandem of running backs Lendale White and Reggie Bush. The remark encouraged the NFL.com staff to come up with 11 NFL/NBA comparisons and two Seahawks stars made the list.
The League site likens Seattle quarterback Russell Wilson to the play of NBA MVP Stephen Curry, the point guard for the Warriors, and relates Seattle cornerback Richard Sherman to Golden State power forward Draymond Green. Here's NFL.com's explanation:
Steph Curry: Golden State Warriors point guard -- NFL comparison: Russell Wilson
Like the Seattle Seahawks star quarterback, Steph Curry is an undersized player with the skills to dominate a big man's game. The way Curry often sets up the Warriors' offense with his world-class handle is reminiscent of Wilson's playmaking Houdini act on many Seahawks' possessions. In addition to their ability to weave through defenders, both franchise men are marksmen from long range. Curry recently broke his own NBA record for three-pointers made in a season while Wilson had the NFL's top passer rating in 2015, throwing ten 30-yard+ touchdowns (#SexyDeepBall). Relatively overlooked coming out of college, the highly-endorsed Curry and Wilson are now superstars on and off the court and both have the celebrity relationships to match.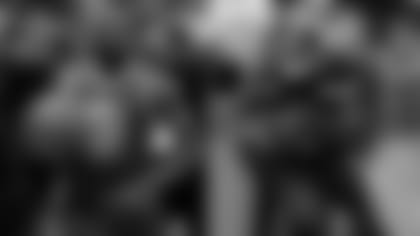 (Photo above via NFL.com)
Draymond Green: Golden State Warriors power forward -- NFL comparison: Richard Sherman
A defensive superstar, Draymond Green is the Richard Sherman to Steph Curry's Russell Wilson. A second-round draft pick, Green was overlooked by many NBA teams much like the Seahawks' cornerback who didn't hear his name called until the fifth round of the 2011 NFL Draft. Now an All-Star, Green is a big contributor offensively, but it was on the defensive end where the former Michigan State Spartan made a name for himself. Plus, Draymond talks a big game too like his "Beats by Dre" brandmate, Richard Sherman. Neither player ever has an issue being loud about their successes.
Tweet Of The Day
Today's "Tweet of the Day" comes from Seahawks cornerback Tye Smith, a 2015 draft pick of the Seahawks who says he's now "officially" graduated from Towson University.
More From Around The Web
The Seahawks are in the final week of 'Phase Two' of the voluntary offseason workout program, when on-field workouts include individual player instruction and drills as well as team practice conducted on a 'separates' basis.