Good afternoon, 12s. Here's a look at what's out there today — Thursday, October 21 — about your Seattle Seahawks.
Michael Dickson Joins 710 ESPN's "Wyman & Bob"
Michael Dickson has been one of the league's best punters since being drafted by the Seahawks in 2018 and exploding onto the scene with a first-team All-Pro season. He's also been involved in some of the more unique kicking situations you'll see in the NFL, such as the drop-kick kickoff against the Bears in 2019 and the now-famous "double punt" against the Rams that had the whole league buzzing earlier this month.
Aesthetics aside, Dickson's punts have been effective this season as he leads the NFL with 1,554 total punting yards, with 14 of his league-leading 33 punts downed inside the 20 yard line, good for second in the league behind Denver's Sam Martin (15). On Wednesday, Dickson joined 710 ESPN's "Wyman & Bob" show to talk about the double punt against the Rams and another improvisational punt from the Week 1 game against the Colts, his journey from playing Aussie rules football to the NFL, and more.
On what was going through his mind during the "double punt":
"Pretty much, I was just ready to re-punt. I had thought that it could be okay, but there was no point in me getting caught up in the moment. I really had to try and center myself and be ready to go out and hit a different kind of punt when I went out there. Just trying to stay calm and forget about the play, and was just ready to hit the next one … I'm just glad that it worked out and we could flip the field, and turn a bad play into a decent one."
On what happened during the Week 1 punt against the Colts that also required some improvisation:
"I was hitting the punt — I aim right and I hit low left to get the returner not being able to field the ball. So it looks like a little bullet pass in the AFL [Australian Football League] where it goes low and long. I was going to hit it that way, and the snap was a bit to my left shoulder, so it brought my eyes to the left side of the protection just by watching the ball. And I saw, what looked like to me at that split second, a guy getting through the protection. As soon as I saw that, and I knew I was hitting it that way … I said 'If I hit it now, it's going to get blocked.' So I tried wheeling around, kind of broke the tackle and tried hitting a similar ball … At the time I thought I saved a block, but I probably might've been able to get it off."
If he has specific punts that are harder to catch:
"There's definitely punts I hit that are tough to catch. There's a couple more that I have up my sleeve that I'll just use situationally. I'm going to probably start incorporating those a bit more, hopefully get some muffs and fumbles and stuff. So I'm going to start hitting some of those, I just haven't used them that much this year, so I'll start incorporating those a bit more."
On the transition from playing Aussie rules football to being a punter:
"I grew up playing Aussie rules football. I played that for about 10, 11 years of my life, got to a pretty high level in that, wanted to go professional in that and just kind of fell short. I was playing on a reserve professional team my last year of Aussie rules football and could kind of see that I wasn't going to go pro. And that's when I decided to take up punting, because my best skill in that sport was my kick. I had great distance on those balls, had a lot of power in my kicks in that sport. So I knew that there'd be some transfer of skills coming over to this sport — I didn't know I'd pick it up that quick."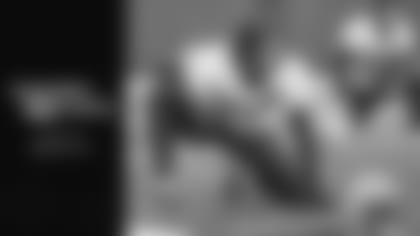 Listen To The Seahawks Insiders Podcast
Hosted by sideline reporter Jen Mueller and Seahawks Senior Digital Media Reporter John Boyle, the Seahawks Insiders podcast takes an in-depth look at each week's Seahawks game and analyzes the previous week's matchup. Available on Spotify, Apple Podcasts, and wherever else you get your podcasts.
Social Post Of The Day
Pro Football Focus shows how reliable DK Metcalf has been for quarterbacks Russell Wilson and Geno Smith so far this season.