Following the 11th practice of Seahawks training camp presented by Bing at Renton's Virginia Mason Athletic Center, Darrell Bevell took time to meet with the media. Here's three things we learned from the Seahawks offensive coordinator:
1. Marshawn Lynch Won't Play Much, If Any, On Friday Night
This shouldn't come as too much of a surprise. Marshawn Lynch's preseason carries have been extremely limited during his time in Seattle, and for good reason. The "Beast Mode" running back shoulders a significant load of the team's offense during the regular season. There's no reason to put Lynch at risk of injury by running him when the club kicks off exhibition play this Friday against the Denver Broncos at CenturyLink Field.
Besides, as Bevell noted today, Seattle needs to see what it has in a pair of young running backs fighting for roster spots behind Lynch, backup Robert Turbin, and third-year pro Christine Michael, who's also expected to get his fair share of touches through preseason. Rookie running backs Thomas Rawls and Rod Smith have been working behind the veteran trio through the first 11 practices of training camp and Bevell said both are in line for duty against the Broncos this week.
"We need to see them out there, that's the biggest thing," Bevell said. "How well they have picked up our offense, where they are with it. Protection will end up being a key as well. Route-running ends up being a key. What type of abilities do they have outside of just running the ball, being able to catch it. But then we want to see them as runners."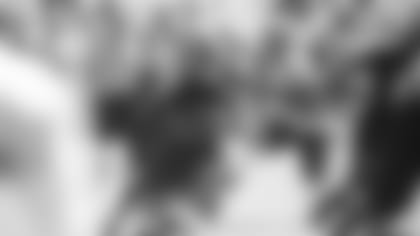 The two players differ quite a bit in size - Rawls stands 5-foot-9, 215 pounds and Smith measures 6-foot-3, 231 pounds - and in style of play.
"Rawls has done a really nice job," Bevell said of the player head coach Pete Carroll called a "real bright spot" of rookie minicamp. "He's got really quick feet. You can see him making cuts in the hole, you can see him making cuts within the holes at the second level.
"Smith is a bigger guy," Bevell added. "Seems to be more of a longer strider, get him out in space and see how well he runs. Seems like he runs behind his pads really well. We're not tackling, so we want to be able to see that. When he lowers his pads, how many of those tackles is he going to be able to come out the other side of?"
2. They're Not Going To Do Anything Special With Jimmy Graham
After the Seahawks acquired Percy Harvin in a 2013 trade with the Minnesota Vikings, Seattle went on to cater specific plays in its offense to the unique skill set of the dynamic wide receiver. Harvin was featured on sweep plays out of the backfield, bubble screens, and quick outs near the sideline in an attempt to take advantage of his speed and shiftiness in open space. It proved successful in the team's regular-season opener against the Green Bay Packers last year, but ultimately the move didn't work out as well as the two sides had hoped, and the Seahawks wound up trading Harvin to the New York Jets last October.
Incorporating Jimmy Graham into the offense this year will be a much different story. That's what Bevell said of the three-time Pro Bowl tight end the Seahawks traded for this offseason.
"I think the cool thing about Jimmy is we can just plug him in," said Bevell. "We really don't have to do anything special. He's special as a player being able to fit in the offense. He's picked it up very well and we can run the exact same routes that we've been running and just kind of plug him in.
"I don't think we're going to have to do anything just to target him to get the ball," Bevell added of the 6-foot-5, 265-pounder. "Obviously, the quarterback knows where he is at all times, so more balls will probably be going in that direction. But we're able to just fit him in."
3. He Wants To See Consistency From Chris Matthews
We all saw Chris Matthews' massive potential when he hauled in the first four catches of his NFL career in Super Bowl XLIX against the New England Patriots. Had the result of that game been a little different, Matthews likely would have been in the conversation for Super Bowl MVP, as those four grabs went for 109 yards and a touchdown.
Up until that point, Matthews had logged just 28 snaps as he bounced back and forth between the Seahawks practice squad and active roster. Matthews said he started to take strides when he realized the importance of practice here in Seattle.
"Last year was a lot of ups and downs for me," Matthews told 710 ESPN Seattle in June. "I was just trying to figure out what was best for me. How can I fit in? The biggest thing was when I understood practice means a lot here. You practice hard, you play hard, is what a lot of people say here. I picked that up and embraced it."
In 2015, Matthews says he's ready to prove he's more than just a one-game wonder. At 6-foot-5 and 218 pounds the Seahawks think Matthews has the physical traits to be the big wideout within their offense. Bevell hinted at what Matthews admitted earlier this year when asked what he's looking to see out of the wide receiver this season.
"I just want to see him show up every day and that's what I talk to him about every day," Bevell said. "We don't want to have a situation where we come out here and he has one good day and then he disappears for two or three and then, 'Oh, there he is again. He's out here.' We want to make him make himself be known. ... He has ability, there's no question. He's got size. He's got great catch radius and all that. But we want to make sure he's showing up each and every day."
Due to lightning in the area, the last 30 minutes of Day 11 of Seahawks Training Camp was moved to the indoor practice facility.