The temptation is always there for the Seattle Seahawks coach staff.
There is something different about Seneca Wallace, he of the plethora of football skills as the backup quarterback to Matt Hasselbeck. Everybody knows he may very well be the best punt-returner on the roster ... but he's never returned a punt.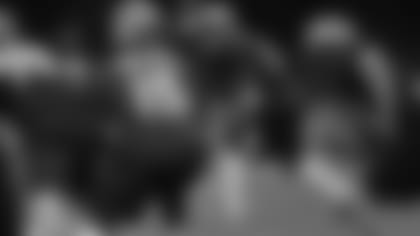 He's caught a few passes, one a huge 28-yard reception from Hasselbeck that helped the Seahawks win the NFC Championship game over Carolina in 2005.
Nonetheless, the 5-11, 205-pound package of speed, agility and a fabulous throwing arm spends most of game day trying to keep the idle from overdrive as he watches game after game entering his sixth season since the Seahawks took him in the fifth round of the 2003 draft out of Iowa State. But it also speaks volumes about him that he never really did consider going anywhere else and signed a contract extension during training camp 2007 that prevented him from being a free agent this summer.
Instead, he remains in the shadow of Pro Bowl quarterback Matt Hasselbeck.
"There were a few teams that were interested in me as a quarterback and a lot of other teams that were thinking about other positions," Wallace said. "But I wasn't worried about that. My main thing was playing quarterback. Yes, I would like an opportunity, but I'm still young and can still play. It was a decision to stay part of a championship caliber team and the team that drafted me. Matt's a great quarterback and it helps me get better in the big picture."
This season could be different, however. When the Seahawks dealt a draft choice to the Cleveland Browns in September for Charlie Frye, the hope was Frye could prove learn the system well enough last season and through training camp to create a push for "Free Seneca," signs so to speak. Frye has made substantial strides, but coach Mike Holmgren has to be sold on him completely before he turns Wallace loose as a punt-returner and/or wide receiver.
"I think Charlie's a good football player," Holmgren said. "If Charlie can show me enough in the preseason where now he's comfortable with what we do, then more than who was the second quarterback, it allows me to use Seneca in other roles. Because then I'm confident I can stick Charlie into the game if I had to and he could play. That will be the challenge for both of them. While they're competing, it's pretty much the way it is right now."
Obviously Wallace would like to play, but he also understands the circumstances and respects Holmgren so much for drafting him as a quarterback in the first place when others were looking at him as just a pure athlete who compiled a school record 6,201 total offense in just two years after going to Sacramento City Junior College.
Watching him perform brings to mind an exceptional point guard capable of dribbling circles around everybody, but so strong he could take somebody to the hole and dunk in a flash. He was a three-time letterman in basketball as a prep star, only lettering twice in football, which was his first love. Wallace never played baseball seriously and regrets it now. It all comes down to him understanding what the team wants and needs from him.
"Right now I'm focusing on camp right here as the quarterback," he said. "As the season goes on if (Holmgren) does need me, he knows that I'm there for him. If somebody does get nicked up, he knows that he has somebody right there in the hole for him."
All the possibilities are there for offensive coordinator Gil Haskell, who knows better than to daydream about the possibilities for the Seahawks. He's just thrilled to have him as an insurance policy for Hasselbeck. It was obvious two years ago when Hasselbeck was sidelined with a knee injury and Wallace was 2-2 in the four starts.
"The main thing is, you can't lose big players," Haskell said. "Two years ago we should have won three of those games when he started. That's big. That says a lot about him. He's a wonderful passer and he's capable of winning as a starter.
"I'll tell you what's happening in football but it won't happen here with us. A college coach is going to come into the NFL and put in that shotgun offense like what they're running over at the University of Washington, and this guy might be the best guy to ever do something like that. He's a great passer, and he's a very smart guy. He's just playing behind Matt and we're lucky to have him. Holy cow, we need him a lot. He's a very good quarterback and he's still getting better all the time."
The good news isn't quite 28 yet and he's taken very few shots. Consequently, he's learning and improving and not getting beat up as he would have if he had been playing all these years at wide receiver or returning kicks. Instead, he's fresh and just as athletic as ever.
Yes, I would like an opportunity, but I'm still young and can still play ... and I'm staying younger longer because I'm healthy," Wallace said. "Some day, I'll get my chance."
Quarterback Matt Hasselbeck on five new offensive coaches and the expansion of the playbook as a result:
"You know, maybe we did something one way in the past, but whoever the coach is that came in, or maybe the group of coaches talked about it with Gil or Mike and collectively they've decided, 'Hey, let's try something new.' And as players, we've got to buy into that 100 percent. We've got to kind of go with the flow and be as coachable as possible, even thought we may be used to doing it one way."
The morning practice was the longest of camp so far, 2 hours and 10 minutes with intermittent sprinkles of rain. ... Wide receiver Nate Burleson made one of the plays of the day, snatching a long pass down the left sideline from Matt Hasselbeck with just his left hand. ... Wide receiver Courtney Taylor was back at practice Tuesday morning after sitting out Monday with a tight hamstring, but was back on the sidelines before practice ended. . ... Running back Julius Jones continued to show toughness, continuously challenging linebackers and defensive backs turning the corner, and Steve Vallos continued to show progress at center, eliminating the bad snaps and coming off the line strong on blocks. The guard-turned center will continue running with the first team until Chris Spencer (shoulder surgery) and/or Chris Gray (strained back) return over the next week. ... In the afternoon practice, second-year tight end from Oregon State Joe Newton was impressive with a number of catches, including a diving catch up the seam from Wallace. ... Second-year cornerback Josh Wilson picked off a pass intended for veteran free agent Bryan Gilmore and was home free for a touchdown in the afternoon.
The Seahawks will hold their annual team scrimmage on Saturday at Qwest Field beginning at 11 a.m. Tickets will be available at all Ticketmaster outlets in the Puget Sound region and ticketmaster.com. Ticket prices are $12 for adults, $5 for youth (ages 6-17) and children under the age of five are free. Qwest Field gates open for the 90-minute scrimmage at 9 a.m.
All proceeds from the scrimmage will benefit "Play It Smart" programs in King & Pierce Counties. The Seahawks, in partnership with the National Football Foundation, fund "Play It Smart" programs at Clover Park and Rainier Beach High Schools during the 2008-09 school year. ... Single tickets for the 2008 regular season go on sale Monday at 10 a.m.