The Seahawks head to Houston this weekend, their first trip there since a wild comeback win in 2013. The Seahawks will be looking to win a second straight, while the Texans are looking to bounce back from a shutout loss, their 10th defeat in their past 11 games. To learn more about the Texans, Seahawks.com reached out to Texans insider and lead writer Deepi Sidhu with five questions about this week's opponent:
Q: For Seahawks fans who haven't been paying attention to the AFC South, what have been the biggest factors in the Texans being 2-10 at this point of the season?
Sidhu: This offseason, new General Manager Nick Caserio brought in over 50 new players throughout free agency, the draft and in training camp. On the field, a lot has changed and there is very little continuity: a new quarterback, new offensive line, new running backs, new 4-3 defensive scheme. However, the defense, which struggled early in the season, has played pretty well, ranking in the top five in takeaways, to keep the offense in the game.
The lack of production on offense is the biggest concern. The Texans have been shut out twice this season and went on a four-game road stretch without scoring a touchdown. Perhaps, it boils down to the inability to get the run game going or maybe it's the injuries on the offensive line or at quarterback propelling rookie Davis Mills into the lineup in Week 2. Either way, the offense has struggled to find the endzone and sustain drives. Tyrod Taylor led the Texans to a decisive win over the Jaguars in Week 1 before suffering a hamstring injury in Week 2. Mills started six games, but was unable to get his first career win, and then Taylor returned off IR in Week 8. This week, the Texans split reps between the quarterbacks to see if another quarterback change was needed. Taylor hyperextended his wrist last Sunday against the Colts, but neither he nor Mills were able to put together a scoring drive in the Texans' 31-0 loss to Indianapolis.
Q: What's the quarterback situation for the Texans this week, and if it's Davis Mills getting the call, what has the rookie shown in the games he started?
Sidhu: On Friday, Head Coach David Culley announced that Mills would be the starting quarterback not only against Seattle, but for the rest of the season. In his previous eight games (six starts), Mills completed 65.5 percent of passes for seven touchdowns and eight interceptions. He had his best game in Week 5 against the New England Patriots. Mills completed 21-of-29 passes (72.4 percent) and posted career highs in passing yards (313), passing touchdowns (three) and passer rating (141.7). He became the first rookie quarterback in NFL history to finish a game with 300-plus passing yards, three-plus passing touchdowns and a passer rating of 140.0 or higher. It's no surprise with a 2-10 record, the Texans want to see the rookie develop over the rest of the season.
Q: Maybe this is stating the obvious, but how big of a factor have turnovers been for Houston this season, both good and bad, with the Texans ranking in the top seven teams in the NFL in both takeaways and turnovers committed?
Sidhu: After finishing at the bottom of the league last year with just nine takeaways, the Texans wanted to improve in that category and made it a point of emphasis all year, starting in the offseason. Defensive Coordinator Lovie Smith has been known for producing defenses that force a ton of turnovers and this team is no different. With 14 interceptions and seven fumbles, Houston's defense has put the offense in a lot of short-field positions. The downside is that the offense has also had its share of turnovers (13 interceptions, seven fumbles) so the Texans are barely above water with a plus-one turnover differential through 12 games. In Week 11 at Tennessee, Houston forced five takeaways (four interceptions, one fumble recovery on special teams) and didn't turn the ball over which resulted in a 22-13 win against the Titans. However, in four games this season, the Texans have turned the ball over more than they have taken it away and that has resulted in losses.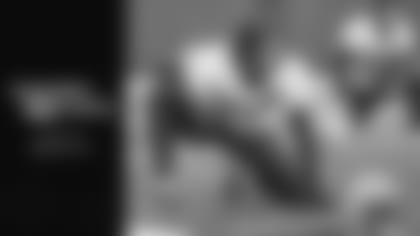 Listen To The Seahawks Insiders Podcast
Hosted by sideline reporter Jen Mueller and Seahawks Senior Digital Media Reporter John Boyle, the Seahawks Insiders podcast takes an in-depth look at each week's Seahawks game and analyzes the previous week's matchup. Available on Spotify, Apple Podcasts, and wherever else you get your podcasts.
Q: What has veteran center and longtime Seahawk Justin Britt brought to Texans in his first year in Houston?
Sidhu: Justin Britt has been one of the bright spots of free agency. Earlier, this season Tytus Howard moved to left guard from right tackle where he started for the last two seasons. Howard credited Britt for his guidance and advice, since he made the exact same move with Seattle. Britt brings toughness, grit and experience to the middle of that line which saw three new starters from 2020. Britt missed three games with a knee injury that landed him on IR, but he returned last week against the Colts. With both starting tackles on IR, Britt's return was much-needed among a new offensive line unit.
Q: What are a couple of the matchups you're looking forward to seeing on Sunday?
Sidhu: I'm looking forward to seeing Russell Wilson against this defensive front which has come up with sacks, interceptions and big plays against quarterbacks this season. Sunday will be a big test for second-year defensive player Jonathan Greenard who is perhaps the biggest standout on defense this year with a team-high eight sacks. He is recording a sack for every 20.5 rushing snaps he plays, the second-best pace in the NFL.
I'm also looking forward to seeing two Australian punters in the same NFL game! Texans punter Cameron Johnston is currently leading all AFC punters in Pro Bowl votes and in a 2-10 season, he has averaged 42.9 net yards per punt, the third-highest average in the AFC (sixth in the NFL).
Take a look back through history at the Seahawks' matchups against the Texans as the two teams ready to face off during Week 14 at NRG Stadium.