Curious who plays in each game and how much they play, as well as what the distribution of playing time might mean? Throughout the season, we'll post the snap counts for the Seahawks the day after each game and take a look at what stood out.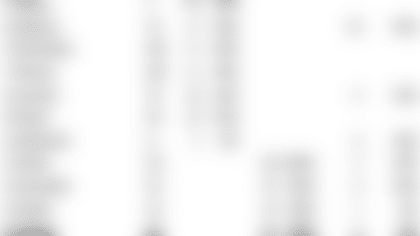 Offense
Four of five linemen, as well as Russell Wilson, played all 61 offensive snaps. Bradley Sowell started again at right tackle and played 75 percent of the snaps before being replaced in the fourth quarter by Garry Gilliam, who played the rest of the way. Seahawks coach Pete Carroll said the move was made because the competition at that spot "is still on" and they wanted to see how Gilliam would play.
While the Seahawks have leaned heavily on receivers Doug Baldwin, Jermaine Kearse and Tyler Lockett over the past three years, there was a subtle shift in the playing time this week, with Lockett being featured more in two-receiver sets than in the past. All three receivers started the game with the Seahawks in a three-receiver set, but unlike most games in the past when Baldwin and Kearse lead their position group in playing time, Lockett was No. 2 in playing time this week, albeit by only one snap, with Baldwin playing 70 percent of the snaps, Lockett playing 62 percent and Kearse playing 61 percent. Lockett made the most of his opportunities, catching seven passes for a career-high 130 yards, including a 57-yard touchdown. "I just wanted to see more," Carroll said of Lockett playing more in two-receiver sets. "He has been so good, and we just wanted to see more of him to see if he could continue to create impact and he certainly did, so it was a good decision."
Facing a defensive front they respect a great deal, the Seahawks frequently used multiple tight ends, as was evident in four tight ends playing 10 or more snaps, with Luke Willson leading the way at 62 percent, followed by Jimmy Graham (61 percent), Brandon Williams (18 percent) and Nick Vannett (16 percent). Backup guard/tackle Rees Odhiambo was also used as an extra blocker on two plays.
Running back Thomas Rawls had his biggest workload of the season in terms of playing time (93 percent), while fullback Marcel Reece played 16 percent of the snaps in his second game with the Seahawks.
Defense
With the Seahawks subbing in backups late in the game, cornerback DeShawn Shead was the only player on the field for all 60 defensive snaps. Kam Chancellor, K.J. Wright, Bobby Wagner and Richard Sherman all played 90 percent of the snaps before getting a break late in the fourth quarter, while Steven Terrell played 88 percent.
Frank Clark led the defensive-line rotation at 72-percent playing time, followed by Michael Bennett (68 percent) who left the game early with what Carroll described as a neck injury after the game. Jarran Reed was next at 65 percent, followed by Cliff Avril and Ahtyba Rubin (62 percent), Cassius Marsh (50 percent) and Tony McDaniel (22 percent).
Jeremy Lane played 70 percent of the snaps with the Seahawks in nickel for much of the night, while strongside linebacker Mike Morgan played 20 percent.
Special Teams
Brandon Williams played 95 percent of the special teams snaps and recorded a team-high three tackles in the process. Cassius Marsh, Dewey McDonald and Kelcie McCray all played 81 percent of the special teams snaps, followed by Neiko Thorpe and Kevin Pierre-Louis (76 percent), and Jeron Johnson and DeAndre Elliott at 57 percent.
Seahawks players and coaches react in the locker room following a 24-3 NFC West-clinching victory over the Los Angeles Rams.