It was the first play from scrimmage on his first start in the NFL and Seahawks rookie fullback Owen Schmitt couldn't believe how well it worked.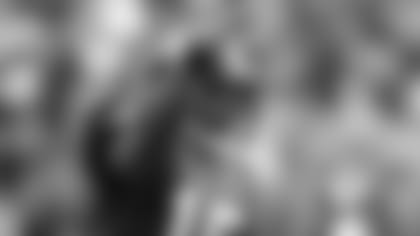 Quarterback Seneca Wallace dropped back to pass, Schmitt had to pick up a blitzing linebacker, and Wallace pump faked. Wide receiver Koren Robinson did a cha-cha and then exploded up the field pass befuddled cornerback Sheldon Brown. Wallace hit him in stride, Robinson cut back against the grain to beat safety Brian Dawkins. He got a block from Bobby Engram and completed the 90-yard touchdown – the longest pass play in Seahawks history.
What did all of those players on the Seahawks have in common?
None of them are starters and they all collaborated on an electrifying play to start the game Sunday, despite the 26-7 loss to the Philadelphia Eagles at Qwest Field. It got the crowd on their feet and provided some hope at least for the first half of a lopsided defeat.
"I think that's the fastest I've ever run trying to catch up with Koren to congratulate him for scoring," said Schmitt, the fifth round draft choice playing in place of Leonard Weaver, the latest injured starter – out with a foot injury.
"I was pumped. On the blitz, I just reacted. That's what you've got to do. It was about knowing their scheme, the reaction and just getting the job done."
It was even more so for Robinson, who set the record six years ago on an 83-yard score from Trent Dilfer. Since then he's been released, signed by the Minnesota Vikings, released; signed by the Green Bay Packers, released; and then re-signed by the Seahawks and ultimately starting at split end in the wake of starter Nate Burleson's knee injury and surgery.
"It's not as much fun if you don't win," said Robinson, who led the team with four receptions for 105 yards. "You can have all the catches you want, but if you don't win man, it's basically all for nothing in a sense. I don't think I have (on a first play). That was special. And soon as I saw him (Brown) chop down – driving – I thought, 'Uh-oh, this is big.'"
Wallace, in his third start while Pro Bowl quarterback Matt Hasselbeck rehabs the bulging disk in his back, saw the same thing Robinson did – Brown go for the fake.
"Koren made a great play," Wallace said. "I saw the corner bite big time. I just threw the ball and Koren did the rest. I knew it was going to be a big play. I didn't know it was going to be a 90-yard touchdown, but it was."
Also playing big in place of starters were Engram for Deion Branch at flanker; Darryl Tapp at left defensive end for Patrick Kerney; and D.D Lewis at middle linebacker for Lofa Tatupu.
"It becomes a little more difficult," Seahawks coach Mike Holmgren said. "Weaver dressed, but I was going to use him unless I had to. He was a little tender. I thought Lofa was going to be able to play, but they worked him to this morning and it was felt that he could have played, but he really ran the risk of hurting it more – his groin, so he was inactive. And then you know about Kerney (shoulder). In our current state, it hurts when you lose a couple of those guys."
But for one play … the first play, it gave life to a group trying to grind out a win.
"We just didn't make enough plays," Wallace said. "It's week to week. Last week we made some plays. We're going in the right direction. I'm going in the right direction. That's how I feel. We've just got to make the plays. I do my best to get the ball into the receivers' hands. I do my best. They do their best. That's all we can ask."