Seahawks coach Pete Carroll joined the Brock and Salk Show Thursday to talk about the recently-concluded NFL draft, which saw his team add 11 new players, as well as a few other offseason topics of note.
1. The Seahawks' level of competition "is going to be as heightened as we've ever had it."
As you might expect from the always-optimistic Carroll, the Seahawks coach is very excited about what his team has added this offseason and is looking forward to seeing what this year's crop of rookies, as well as the team's free-agent additions, can add to the team's level of competition.
"We're looking forward to putting it together," Carroll said. "To couple what we did in the draft with the moves we made in free agency, and the young free agent guys also that complement the draft. We did a lot of things that we're really excited about. I think we're getting better. Almost every phase of this team should be better."
Part of having a more competitive roster can be that current starters are a little uncomfortable having their status challenged, and that's just fine with Carroll.
"You know that somebody is after you and coming for your job, so you've got work hard, be diligent, be on it," he said. "I think it's going to be as heightened as we've ever had it, so I think it looks really good."
The level of competition should be particularly heightened in the defensive backfield where the Seahawks added four draft picks, all in the third and fourth rounds, to a group that already includes Pro Bowlers Earl Thomas, Kam Chancellor and Richard Sherman. The Seahawks didn't draft all of those defensive backs specifically to push those players; instead it was just a matter of seeing good value in the draft at defensive back when those picks came along.
"We're trying to build this roster to make it as competitive as we can," Carroll said. "We haven't changed our tune on that at any time since we've been together, because that's the way you do it for us, it's the way we think, it's the way we operate. Sometimes there are opportunities where guys come to you, and even though you have another good player at that same position, it's rare you would get a guy like that at that level, and we take him… We're not just drafting for the future, we're not just drafting for right now.
"This was a very strong draft in the DB section, so it just kind of happened that we had opportunities to get guys. We may put together one of the great backup groups you've ever seen and that may be what this is for the future, that would be a great thing that happens. But meanwhile, we're going to allow these guys to compete to start, and that pushes Earl and it pushes Kam and it pushes Sherm and it pushes everybody out here, that's how that goes, and they know that. This whole program is built on competition, and they expect that to happen. People don't really like that, that's just the way it is. We didn't set out to try to redo the secondary for right now or for the future, we just had an opportunity to get some great players who can add to this team and make us more competitive."
2. Carroll's thoughts on what he has seen in Phase 2 of offseason workouts.
While teams are pretty limited in what they can do so far in offseason workouts, Carroll has seen some glimpses of things he likes out of his team. Right now, offensive and defensive players can't go against each other—they're playing "on air" as Carroll put it—but there's still something to be taken away from getting a good look at players after the offseason.
"We're just really seeing movement, but we can get a sense for some stuff," Carroll said. "First off, you see a really competitive group at the running back spot, there's a bunch of guys there that are all but healthy. Eddie (Lacy)'s not full health, but in Phase 2 he's able to do almost everything we're doing, so he's involved. With a healthy Thomas Rawls and a healthy C.J. (Prosise) and Alex (Collins) and the rest of the fellas, that looks really good. The receiving group, there's some exciting stuff going on there. I think (rookie receiver) Cyril Grayson is going to be somebody we're going to watch, because he's just so fast and so sudden, and he's very natural at catching the ball, so that's a fun guy to add to it.
"I'm surprised to see how quick and explosive Jimmy (Graham) looks. He looks the best he's ever looked. He looks trimmer than he has looked, but he's just as heavy or a little bit heavier, because he has just worked out so beautifully. He's had offseason of health and well-being and he just looks like he's on fire. Luke (Willson) and Nick (Vannett) are coming back raring to go, we're going to expect to see more out of Nick Vannett."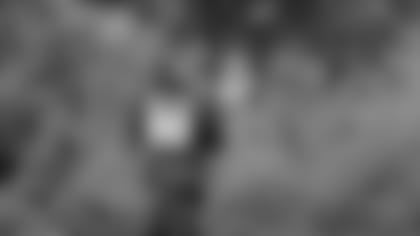 And while the Seahawks did not add any linebacker help during the draft, they did sign three free agent linebackers earlier in the offseason, something that will help the team, both in terms of depth and on special teams, but perhaps also at strongside linebacker.
"Michael Wilhoite is a really nice football player with a lot of versatility," Carroll said. "Right now he's learning the Sam (strongside) position. We know he can play Mike and Will. Terence Garvin, he's also playing the Sam position with Michael. He shows us some really good flexibility, he's a former DB, he's got good movement skills, good hitter, good teams guy. And Arthur Brown has been added too. So we added three guys who all have experience that are versatile and are very good special teams guys. That's a real addition to our team, that's a big boost. Where we've been really young in the backup spots the last couple of years, these guys have been around and add experience that we like."
3. Health updates on several players coming back from injury.
As Carroll mentioned when talking about running back Eddie Lacy, some players coming back from injuries are able to do more in this stage of workouts because they aren't at full tempo. Free agent offensive lineman Luke Joeckel, who had season-ending knee surgery last season, is participating now even though he'll be more limited when things ramp up in Phase 3, Carroll said.
On Tyler Lockett, who had surgery to repair a broken leg sustained in Week 16, Carroll said, "Of course we're hoping that Tyler makes a great comeback, he's worked really hard and he's on track to do that, but that's still a ways out until we see him go full speed; he is running now."
Carroll said Chancellor is "coming off double ankle surgery, which was cleanups in his ankles that he's had problems with for years, so he's not back to full speed, but he's working."
Thomas, who also broke his leg last season, but did not need surgery, is "working really hard, it's really great to have him in here so we can really keep an eye on all the progress that he's making. He's a little bit ahead of Tyler right now, he's partaking in some of the conditioning drills and stuff like that, so everything's on course. All those guys should be back with it."
Defensive lineman Dion Jordan, another free-agent addition who is recovering from a knee injury, is "going to be a while before he's ready to go," Carroll said.
4. The Seahawks have "all kinds of flexibility" when it comes to their offensive line.
So what will Seattle's offensive line look like when the season starts? No one is able to predict that just yet, but by adding Joeckel and Oday Aboushi in free agency and drafting Ethan Pocic in the second round, Carroll sees a lot of intriguing options, especially since so many candidates for starting jobs can play multiple positions.  
With Joeckel able to do more now than he will be later this offseason, Carroll said, "there's a focus on the new guys to get them in spots so we can gain some information and they can gain some access to the notebooks and all."
Asked for a current O-line depth chart, Carroll wouldn't provide that, but he did offer a bit more clarity on where they see certain players fitting in the competition that will take place in offseason workouts and training camp.
"Luke is playing left tackle and left guard for us in the rotations, knowing he can start at both places," Carroll said. "… On the left side, you're going to see (Rees) Odhiambo working at guard and tackle on the left side. We're already starting to project when you get down to a seven- or eight-guy rotation on game-day, we need flexibility, so we're already working with that."
Carroll continued on, saying George Fant will continue to compete at left tackle, while Mark Glowinski, last year's starting left guard, "is playing on the right side right now, his natural position in college."
Germain Ifedi, Last year's first-round pick, continues to work at right tackle after playing right guard as a rookie, "and we're really excited to see how that goes," Carroll said. "We drafted him knowing he could play right tackle, so we'll see how that works. Aboushi has been very flexible, and we'll see him at right guard to start off, and see how that fits together with Glow, so that competition is on. The guy with the most flexibility in his background is Pocic, so we're going to start him on the right side and see how that works out, knowing that we may move him around… We just have all kinds of flexibility."
5. Second-round pick Malik McDowell has a chance to be "a really special player… who has tremendous upside."
The Seahawks made Michigan State defensive lineman Malik McDowell their first pick in the draft with the 35th overall selection. The common refrain about McDowell is that, at his best, he looked like a top-15 type talent for the Spartans, but battled consistency issues. That's something Carroll and general manager John Schneider acknowledged after the draft, but it's safe to say Carroll is very excited about the kind of player McDowell can be if he and his coaching staff can get the most out of him.
"You have to understand what happened to him," Carroll said. "He got hurt going into this last year. He had a monster year as a sophomore, that's when people were touting him as one of the top five guys in the draft. He came into the season with a high-ankle sprain that just, as we know, it just almost debilitates you, but he kept playing and kept battling. We see the whole body of evaluation as being one that tells us a story that we have a great guy here potentially.  He's 20 years old, he's going to be 21 in June or something like that, he's just getting started. We had extensive meetings with him too to find out really the core of this guy to figure out what he's all about. He loves to play, it's important to him, he wants to be great. He's not going to be a flashy, rah-rah type of guy. He likes to see himself fit in, it's really important that he fits in. What we're seeing is a guy who has tremendous upside in a body frame that's much different than the guys that we've had. The instincts that he shows to find the football and disengage from blocks and make plays is something that gives us a chance to have a really special player."
As for where McDowell fits—he joked after being drafted that "I don't even know what position I play, truthfully"—Carroll described something of a Michael Bennett-type role, noting McDowell will play the 5-technique defensive end spot, as well as being an interior pass-rusher in nickel packages.
"He'll play both spots," Carroll said. "He has played all three spots throughout his years, so we can see the flexibility. He has played a lot of nose tackle (at Michigan State), which totally diminishes his ability, that's just the way they had to play him. When we see him in the right spots that we're going to feature him at, we know we've got a prospect who's going to be really good for us."
6. The relationship between the team and Richard Sherman is "as good as it's ever been."
Carroll and Schneider were both open and honest this offseason when it came to the fact that they had discussed trading Sherman, though all along they said such a move was unlikely to happen. With the draft having come and gone, the chances of moving Sherman now "is like zero percent," Carroll said. And even after having those conversations about a trade both with Sherman and with other teams, Carroll says the team's relationship with Sherman is as healthy as ever heading into the All-Pro corner's seventh season with the Seahawks.
"I think it's as good as it's ever been," Carroll said. "We've spent really significant time working through the stuff that we wanted to talk about from last year; he was open and willing to talk about it. Also, there was conversation about it—that we were, as is everybody on our team is available to somebody who wants to come get them if they want to trade for them. We don't want to trade guys, we want to keep our guys, but we have to—in an effort to always work to be better to help our team—we have to listen and all that, so we went through that process, very open conversation about that, there was no animosity at all.
"I know Sherm is really looking forward to getting back on the field, competing and battling. He's talked really clearly about his focus going forward, he wants to really recapture the intensity that he has always brought, and he feels like he can do that. He adjusted some two or three years ago, and we think it's time for us to continue to dig into him and make sure that he is really at the height of his game, intensity wise. That may worry you guys; it doesn't worry me at all. I love that thought. But there a times to make good decisions and good choices in regard to supporting his teammates and his team and all that, and he's really on point. So I am excited to see that element in our team this year coming back. We need his experience and his playmaking. And any of that trade talk stuff, John did a great job of just letting you guys know what was going on, and we played it out and we did exactly we what needed to do—we got him back playing for us."
The Seahawks continued 'Phase 2' of their voluntary offseason workout program on Thursday, May 4 and Friday, May 5 at Renton's Virginia Mason Athletic Center.