The Seahawks finished Day 6 of training camp lighter than they started it, having shed their shoulder pads midway through practice. Here are six observations from Friday's practice, with the first three coming from team reporter John Boyle, and the final three from digital media content manager Tony Drovetto.
1. Day 6 was a bit less spirited… In a good way.
The energy and tempo of Friday's session was as upbeat and lively as ever, but one thing that stood out was a lack of extracurricular activity happening after the play. During the course of the past few practices, there had been a few occasions where offensive and defensive linemen showed their frustration with each other after the whistle. Maybe everyone got that out of their system, or maybe it was the fact that players took of their pads off midway through practice, but whatever the reason, things were a bit more orderly both in pass-rush drills and 11-on-11 sessions. At one point, Michael Bennett, a player at the center of some of the recent dust-ups, was helped up by center Will Pericak, with Bennett then offering a friendly pat on the helmet as a thank you. Later, Bennett could be seen giving Pericak pointers after the two faced off in a one-on-one drill.
2. The O-Line shuffle.
While the first week of training camp featured the same starters on the offensive line to open team drills—from left to right, Garry Gilliam, Mark Glowinski, Justin Britt, Germain Ifedi and J'Marcus Webb—offensive line coach Tom Cable emphasized that things are far from settled, and that the coaching staff wants to get a look at different combinations of players in different spots.
"You're going to see a guy go left and a guy go right, a guy at left guard," Cable said Tuesday. "So we're just moving people around a little bit still."
On Friday, the Seahawks did a lot more of "moving people around," using a number of different combinations of players, particularly at the two tackle spots, with the first-team offense. Early in practice, rookie Rees Odhiambo, who up to this point has mostly played left guard, worked with the first-team offense in place of Webb. Webb later went back in with the first team, but at one point later in practice, Gilliam moved over to right tackle—his position last season—and rookie George Fant got a brief look with the starters at left tackle. Terry Poole also got a bit of time with the first-team at right tackle. Bradley Sowell, who had previously done most of his work at left tackle, also spent time on the right side Friday.
It's too early in camp to read too much into anything the Seahawks did with their line combinations, but that shuffling of lineups is a good reminder that Cable and company won't be afraid to change things up to find the right combination of players.
On the defensive side of the ball, the rotation continued at strongside linebacker, with Eric Pinkins getting the first look with the starters. Pinkins made the most of his day with the first-team defense, making a few nice plays, including an interception in 7-on-7 drills. At another position still up for grabs, DeShawn Shead was back with the starters at right cornerback after Tharold Simon worked there Thursday. Shead, like Pinkins, took advantage of the opportunity with a nice practice that included pass breakups two plays apart, the first coming on a diving effort on a short pass to running back Christine Michael, and the second in one-on-one coverage down the sideline on a pass intended for Jermaine Kearse.
3. Jermaine Kearse shines.
While Shead won the aforementioned battle with Kearse, the receiver otherwise had a standout day, hauling in multiple tough catches in tight coverage. On the final play of practice, Russell Wilson threaded a pass between double coverage and Kearse hauled it in for a touchdown, capping a strong practice with yet another impressive catch. Friday's practice was a good reminder of how big it was for the Seahawks to re-sign Kearse this offseason after the receiver became an unrestricted free agent.
"It is huge," receiver Doug Baldwin said earlier in camp. "In the big picture it is huge because we have that consistency. Jermaine knows the system. He knows the ins and outs. He knows those little intricacies we talk about nonverbally when on the football field, not only with myself, but also with Russell Wilson. Then he has that leadership capability in the locker room, which makes it a lot easier on the rest of the guys because he pulls the young guys in a way that some guys can't and we really benefit from that, from his leadership. So it was huge to get him back."
[wysifield-embeddedaudio|eid="410816"|type="embeddedaudio"|view_mode="full"]
4. Jon Ryan An Early Arrival
Archie Eversole's "We Ready" boomed in the background as Seahawks players started to trickle out of the locker room for the sixth practice of training camp. Punter Jon Ryan, however, Seattle's oldest player at age 34, was already present, having set foot on the field a good 30 minutes prior to begin stretching and running along the shores of Lake Washington well before the rest of teammates, something he's done at each practice to date.
"I've just always had a thing where I've got to work a little bit harder than everyone else," said Ryan, who's readying for his ninth season with the Seahawks. "I don't have the same natural ability now that I'm in my mid-30s and I'm older than everybody else, too. So in my head I've just got to work a little bit harder than everyone else to keep up."
Head coach Pete Carroll preaches an 'Always Compete' attitude at all times, but Ryan finds himself in the unique spot of being the only player at his position on Seattle's roster. He agreed to a new four-year contract with the Seahawks earlier this offseason, so his immediate future in Seattle is fairly certain. But Ryan said he's still "competing with every other punter out there" because he knows how important a quality special teams unit is to a Carroll-coached club.
"I know they're committed to me, but I'm always trying to get better," he said. "In my head I'm competing with every other punter out there and every other special teams unit out there. I want to help this special teams unit become the best special teams unit, so that's kind of where my drive comes from."
While Seattle's offensive and defensive players take part in individual drills with position coaches and reconvene for 11-on-11 team sessions, Ryan spends a large majority of each practice by himself. As a punter, you might think Ryan's primary focus throughout practice would be on booting the football. But he said it's actually on his "drop," what Ryan called "the most important part of punting."
"Eighty percent of punting is in your hands," Ryan said. "So you're constantly working on your drop, maybe 100 of those a day. It's the most boring thing you could possibly do, but that's the biggest part of your technique, just working on your drop."
Off the field, Ryan has taken on another project as he enters his 11th NFL season, having launched the Kickin It With Jon And Greg podcast earlier this week on Seahawks.com with his close friend Greg Woodman.
"We're going to cover everything from football to family to Chuck E. Cheese's to 1990s rap music," Ryan said. "We pretty much run the gamut of everything. On previous podcasts we've talked about video games, water slides, our wives, kids, nieces, nephews. We pretty much just talk about everything and we never really know where the podcast is going. We kind of start in one direction and it ends completely somewhere. So expect the unexpected."
5. It's All About The Ball
In an 11-on-11 drill near the end zone, quarterback Russell Wilson found Paul Richardson near the sideline. The Seattle wideout made a move up field and dove for the goal line, but not before cornerback Marcus Burley swarmed in to knock the football loose. Richardson and Burley battled for the football as a pile formed on top of them both. Even Wilson came over and attempted to wrestle the ball out, finding himself near the bottom of the scrum. The offense wanted a touchdown called, thinking Richardson had extended the ball over the goal line, but Carroll's ruling reigned supreme, with the Seahawks coach signaling a turnover for Burley and the defense.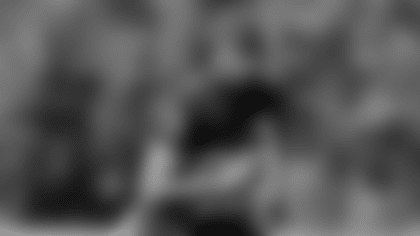 6. Doug Baldwin An Eager Onlooker
According to Carroll, wideout Doug Baldwin was held out of Thursday's practice because he "got stepped on the back of his leg." Carroll indicated Baldwin would be "fine," and although he wasn't practicing again Friday, the individual running Baldwin was doing with Seattle's athletic trainers was encouraging. Baldwin ran well in a straight line, with high knees, and from side to side on Friday and also caught light passes without complication. He spent a majority of team drills standing directly behind the quarterback, intently watching each snap.
At this point in camp, Carroll said the club will err on the side of caution as "little nicks" like Baldwin's pop up.
"Right now we make the choice to really hold guys out," Carroll said Thursday. "We don't want to push any of those kinds of aches and pains at all at this point."
Look through the best photos from the sixth day of training camp held at Virginia Mason Athletic Center.