Jimmy Graham was on the field and in a helmet for the Seahawks' 10th practice of training camp, with the Seattle tight end taking part in early individual workouts at Renton's Virginia Mason Athletic Center. The long-awaited return of the former Pro Bowler leads our six observations from Wednesday's workout, the first five of which come from digital media content manager Tony Drovetto and the final one from digital media intern Taylor Foster.
1. A "Very Sweet" Return For Jimmy Graham
Graham, who started camp on the team's Physically Unable to Perform list as he continued to rehab from offseason surgery on his knee, was cleared to work out on Wednesday, when he was seen running routes on air and catching passes from quarterback Russell Wilson, as well as participating in position drills without the defense present.
"Probably the best it's ever felt," Graham said of how it felt to be back on the field. "When you're away from it for as long as I've been, it's very sweet when you get an opportunity to do it again."
Graham's knee operation came late last season after he suffered a torn patellar tendon in a November game against the Pittsburgh Steelers, a setback that ended Graham's first season in Seattle early, as he finished 2015 with 48 catches for 605 yards and three touchdowns.
Like running back Thomas Rawls, who started camp on PUP and practiced for the first time on Tuesday, the Seahawks won't rush Graham in his return from injury. But throughout the offseason the club has said it expects both players to be ready for the regular season opener against the Miami Dolphins on Sept. 11, and the pair's presence on the practice field this week marks another major step in each of their comebacks.
https://twitter.com/TheJimmyGraham/status/763510069833019393
2. Doug Baldwin, Defensive Lineman?
Doug Baldwin was back on the practice field Wednesday, an encouraging sign that he's on his way to full health after he had the back of his leg stepped on last week. But the wide receiver was seen playing out of position in the early portion of practice, going through pass-rushing drills with Seattle's defensive linemen, a workout heavy on hand, hip and shoulder technique that defensive line coach Travis Jones says "is critical to rushing" but has applications on the offensive side of the football, too.
"When [offensive] linemen are stabbing their hands to block us, being able to turn that shoulder but continue to keep our hips going vertical to rush the passer is critical to rushing," said Jones. "It's very similar to a receiver trying to get off the line from a DB that's pressing. So Doug, he kind of took it upon himself and I continued to work with him, talking to him about what we're doing, and he was like, 'You know what, this is probably helping me a little bit.' So he's come out there and repped it, and it's pretty cool for him to hop out there."
Baldwin said the idea to start working with the defensive line came from conversations with Seahawks veterans Cliff Avril and Michael Bennett, two of the NFL's top pass rushers who use their hands to shed opposing O-linemen and get to the quarterback.
"It's very similar for me, not only on offense as a receiver, but also on special teams," Baldwin said of what he takes away from the D-line drill. "On special teams I play punt return, where basically I'm trying to pass rush and go block the punt, so I'm trying to use their technique. But also offensively, when defensive guys are trying to put their hands on me, using the techniques that Cliff and Mike have taught me about my hand placement on the defensive back's hands and trying to get myself around them."
Baldwin weighs anywhere from 50 to 100-plus pounds less than most of Seattle's defensive linemen, but during the drill coach Jones said he'll come after Baldwin like any other player in his position group.
"I'm trying to punch him the same way I'm punching the other guys," Jones said. "He's got to have the ability to get his shoulders turned and get away from that guy that's pressing. …  If you can maintain, get by the guy, and get set in your lane to run that particular route, then the better you are with the timing of the quarterback. So it's kind of cool."
Baldwin is the first receiver Jones has had take part in the pass-rush drill to start practice, but not the first offensive player.
"Marshawn [Lynch] used to come over and do it at times, because it's the same thing for him if a linebacker is trying to jam him on a route that he's trying to run," said Jones. "So it's the same thing. [Baldwin] is trying to get away from the DB and we're trying to get away from the O-lineman, so it's a correlation between the positions in that particular moment."
Added Baldwin: "I didn't know Marshawn did the drill. Doesn't surprise me, though."
3. Jarran Reed Goes Down, But Tweets "I'm Perfectly Fine"
At one point during Wednesday's practice, rookie defensive tackle Jarran Reed, who the team traded up to select in the second round of the 2016 draft, was carted off the field toward the training room. Defensive coordinator Kris Richard, who met with the media after practice, didn't have an update on Reed's apparent injury. But two hours after practice ended, Reed sent out an encouraging tweet to 12s concerned about his status:
4. Personnel Watch: OL, LB, DE, DB
In 11-on-11 team drills, the Seahawks rolled out the same starting offensive line as seen throughout camp, with Garry Gilliam at left tackle, Mark Glowinski at left guard, Justin Britt at center, Germain Ifedi at right guard, and J'Marcus Webb at right tackle. But Bradley Sowell, who Carroll said is "competing for playing time to start," also saw reps with the ones at both tackle spots. Veteran guard Jahri Evans, meanwhile, the six-time Pro Bowler Seattle signed this past weekend, saw work with both the first- and second-team offensive lines as he continues to compete for a spot.
At strongside linebacker, Eric Pinkins was the first man up in what has been a three-player competition between Pinkins, Mike Morgan and Cassius Marsh. Brock Coyle, who returned from an oblique strain, and Steve Longa each ran with the first unit at middle linebacker in place of Bobby Wagner, who appeared to have been given the day off. At defensive end, Marsh and Frank Clark were first up at defensive end with Avril and Bennett appearing to have the day off. And in the secondary, DeShawn Shead was the team's starter at right cornerback opposite Richard Sherman, while strong safety Kam Chancellor saw more work after nursing a groin injury in recent days.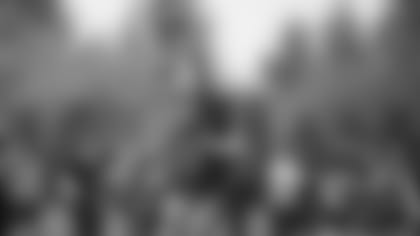 5. Paul Richardson, Tye Smith Highlight Plays Of The Day
Paul Richardson continued what has been a strong showing this camp in his return to health, leaping up to make an impressive grab of a Wilson thrown ball near the sideline over cornerback Richard Sherman. Cornerback Tye Smith recorded a diving interception of former Skyline High School standout Jake Heaps on a ball thrown over the middle of the field. And wideout Montario Hunter, who was added to the roster just before the start of camp, made a few nice grabs off the arm of Wilson in team drills.
6. #SeahawksSalute
The Seahawks and USAA welcomed more than 100 Navy members to the 10th day of training camp through a partnership with USAA. The military members from the Navy Region Northwest were invited to watch practice from the sidelines and at times invited onto the field to cheer on players running drills.
https://twitter.com/ciara/status/763436735669805056
Following training camp, the Seahawks held a private meet and greet session for the sailors to sign autographs and take photos with players. After the meet and greet with players, the practice fields were opened to the Navy sailors to partake in the USAA's NFL Boot Camp.
"It is great to see members of our military here and we really appreciate all that they do for us," said offensive coordinator Darrell Bevell. "It is good to be able to celebrate them as they are here today."
The Navy Region Northwest is the Seattle Seahawks sponsored branch of the 2016-17 season.
The Seahawks and USAA hosted local Navy service members at Training Camp practice on Wednesday, August 10 at the Virginia Mason Athletic Center.